India's Place in the Sun: The International Solar Alliance
India is set to lead the International Solar Alliance, but its task is not without challenges.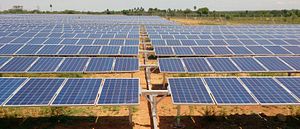 India is placing a big bet on solar energy. During his first year in office, Prime Minister Narendra Modi quintupled India's goal for solar. His new budget announces a 2.45 times increase in the national lending facility for solar. The outcome of India's solar bet will radically affect the chances for success of Modi's prized "Power for All" and "Make in India" initiatives. The use of solar innovation to meet India's energy goals may well determine whether India is able to supply electrical power for all and have enough energy to support increased manufacturing output.
India's leadership in establishing the International Solar Alliance (ISA) which was launched at the UN Climate Change Conference in Paris last fall, is a part of New Delhi's big bet on solar. The ISA could have significant  geopolitical implications. Most developing nations are like India: blessed with an abundance of sunshine, but cursed by a lack of electrical power. India has been playing catch up to China on efforts to combat climate change ever since Chinese President Xi Jinping, with President Obama at his side, announced China's intent to reach a peak of greenhouse gas emissions in 2032. India has been unwilling to make such a commitment, but did announce a goal of obtaining 40 percent of its electricity from non-fossil fuels by 2030 at the Paris climate change summit.
India's leadership on solar may provide a way for it to surge to the head of the pack on energy and the environment. However, the ultimate success of India's big bet on solar will require additional research, available financing, and viable solar projects that will tie together the aforementioned research and financing to benefit consumers.
India's dream is to transform a portion of the solar radiation with which it is bombarded (some 150,000 gigawatts per year) into usable electricity. The difficulty has been the cost of this transformation – particularly in comparison to the cost of power from India's large supplies of low caloric, dirty coal and lignite. The cost of solar per kilowatt hour dropped from a 2012 Planning Commission estimate of Rs. 10.4 – 12.5 to Rs. 4.3 in the latest round of "reverse auctions" (low bid wins). Still, there have been numerous coal-fired power providers that have signed power purchase agreements with state distribution companies between Rs.2.25 and 3.0 per kilowatt hour. Thus, continued technological development is needed to make solar solutions price-competitive with coal.
Furthermore, additional research is needed to solve solar's constancy problem. No solar power can be created when the sun does not shine; this could be because it is night time, because of inclement weather, or, increasingly in India, because air pollution obscures the sun. Thus, power storage technology must be developed further if energy from the sun is to be available even when the sun is not shining or is obscured.
The need for further solar technological development drove the announcement at the Paris summit regarding the need for "Mission Innovation." Under this initiative, twenty countries accounting for over 80 percent of world renewable energy production pledged to double their research on clean energy over five years. Although the United States and France led the announcement of "Mission Innovation," India is a member and Modi was front and center in announcing the program. Also meant to complement this increased governmental research was an announcement of 28 private sector investors as a "Breakthrough Energy Coalition." These investors pledged to provide early-stage, patient capital for clean energy development.
Within this context, Modi took the lead in organizing the International Solar Alliance. The avowed purpose of the ISA is "to address the specific needs of the solar resource rich countries located between the Tropic of Cancer and the Tropic of Capricorn." Modi had first broached the idea for a coalition of tropical developing countries at an India-Africa Forum Summit held in New Delhi in October 2015. His theme for the Forum was to bring "one-third of humanity …together under one roof." The unspoken sub-text was that this coming together would be under Indian leadership. An "alliance of solar rich countries" was to be a part of India's reach for stronger international leadership on a "south-to-south" basis.
By the time Modi was ready to announce the International Solar Alliance in Paris, the host of the summit, French President Francois Hollande, saw the ISA as a vehicle for French interests as well. Thus, Hollande played a major role in the ISA announcement. Other developed nations, including the United States, the United Kingdom, and the Netherlands followed suit and became members of the ISA steering committee, as did China. Thus, the original focus of the ISA as a coalition of tropical developing nations was broadened, to include non-tropical, developed countries.
When Hollande came to India in late January 2016, he and Modi rode the New Delhi Metro to the Indian National Institute of Solar Energy in suburban Gurgaon. There they laid the foundation stone of the headquarters for the ISA. India pledged $30 million over five years to get the organization up and running while France announced 300 million euros for solar research.
However, the question remains as to exactly what the International Solar Alliance will do. The initial ISA working paper positioned the organization as a sort of high-level consultative group, focusing on best practices, standards, and training programs. One difficulty with this approach was that there already exist several international organizations for this purpose. Most notable among these is the International Renewable Energy Agency (IRENA).
Headquartered in Abu Dhabi, IRENA has 145 member nations and strong backing from Arab nations. Behind the scenes, some of these nations had expressed concern about competition and duplication from the new organization. Thus, the first meeting of the ISA Steering Committee after Paris was in Abu Dhabi with IRENA–an attempt to quell some of these concerns. Both sides agreed that they should work together, but did little to avoid duplication by the two organizations or come up with specifics for their cooperation. When the Crown Prince of Abu Dhabi visited India in February, the two sides felt it necessary to recognize "the importance of ensuring synergies between the ISA and IRENA"–indicating that those synergies were yet to be determined.
India can at best ensure that the ISA is supplemental to the activities of IRENA, the International Energy Agency, the Renewable Energy and Energy Efficiency Partnership, REN21, and similar organizations by concentrating on the practical aspects of solar power application that will benefit developing nation consumers. ISA and India can stand at the nexus between the increased research pledged by the Mission Innovation countries and the financing announced by the Breakthrough Energy Coalition. Solar technology needs to be adapted to the conditions and economic realities of India and other ISA developing countries. Commercially viable solar enterprises should be developed and should adapt the new technologies and relate them to available financing. Without these enterprises, new technology is unlikely to be disbursed at the village level on an economically sustainable basis. The challenge is not so much the availability of funds as it is the creation of projects worthy of investment. The ISA can be instrumental in meeting this challenge.
The linkage between solar technology, finance, and consumer application is where the ISA's value add to international solar efforts lies. It is also where India's solar leadership can be most important. Recent statements from Indian officials indicate that they intend to promote extensive private sector involvement in the International Solar Alliance and plan to raise as much as $1 trillion for solar power. It is plain that such a vast sum cannot be raised from public sources alone and can produce economically sustainable results only through private sector investment. The Renewable Energy Investment Program (RE Invest), sponsored by the Indian Government with the support of the United States and others, is the sort of program that could be internationalized through the ISA in conjunction with Mission Innovation and the Breakthrough Coalition. A series of solar energy innovation incubators of the kind presently under consideration for the Indian National Institute for Solar Innovation would be another such program..
There are however impediments to be overcome if India is to exercise international leadership through the International Solar Alliance.
The first is indicated by the RE Invest program, which has been less than fully successful in getting participants to fulfill their pledges of solar investment in India. Primarily, this is because India simply has not yet fully accepted the principle that projects must assure a long-term, knowable income stream that provides sufficient commercial dividends to attract investment. There still is an over-reliance on the prospect of government-subsidized finance that will not have to be paid for at market rates.
A second difficulty lies with India's continued insistence on creating the majority of new electric power from coal-fired plants. This reliance on increased coal use undermines India's leadership on solar. How can others believe in India's leadership on solar if India is pursuing increased power from coal as a primary method of meeting its energy needs?
Finally, India's position on protectionist measures for its local solar entrepreneurs undercuts the internationalization of solar development. India has just lost to the United States at a World Trade Organization case on local content and preference for local Indian solar entrepreneurs. India's case was plainly doomed from the start as being outside WTO rules and yet New Delhi now says it will not accept the initial result and is intent on appealing. The irony is that the restrictions that are the subject of the case are ones explicitly rejected by Modi when he was chief minister of Gujarat. It was Modi's insistence on openness and non-discrimination that was a major part of Gujarat's success in leading on solar and providing electricity to every village in the state. Unfortunately, India's new budget continues the protectionist trend by raising import duties on industrial solar equipment and components.
In spite of these unresolved difficulties, the International Solar Alliance can be a tremendous step forward for India on the world energy and environment stage. If India, with the cooperation of the other nations that constitute the ISA steering committee, can give practical, value-added substance to the ISA's mission, its position as a world leader will be significantly enhanced. Standing at the junction of technology, finance, and consumer application, India, through its domestic solar bet and the International Solar Alliance, can have a transformative effect on the application of solar power and earn its place in the sun.
Raymond Vickery is a Global Fellow, Woodrow Wilson International Center for Scholars; Of Counsel, Hogan Lovells; Senior Advisor, Albright Stonebridge Group; and was Assistant Secretary of Commerce, Trade Development in the Clinton Administration. He is the author of India Energy: The Struggle for Power, (Wilson Center Asia Program 2014) and an advisor on Indian energy innovation incubators.