Modi and Xi in Mamallapuram: A New Agenda?
Can the 'Chennai Connect' succeed the 'Wuhan Spirit'?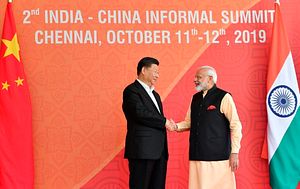 On October 11, 2019, Chinese President Xi Jinping met with Indian Prime Minister Narendra Modi in the southern Indian city of Mamallapuram to hold a second "informal summit," following up on a previous such summit in Wuhan, China, in 2018. The purpose of the summit, as described by Chinese Ambassador to India Luo Zhaohui, was for the two leaders "to have a free exchange of views without fixed topics. They will talk about major issues, they will have free atmosphere with each other which is a very good format for discussion." However, while the summit had no formal agenda, several important issues will always be at forefront when these leaders meet.
Both President Xi and Prime Minister Modi raised a number of bilateral issues with each other during this informal summit. One key priority that India likely raised was the issue of India's rising trade deficit with China and China's non-tariff barriers. India's trade deficit with China "accounts for almost a third of India's overall trade deficit" and India has pointed to China's non-tariff barriers on pharmaceutical products and IT services as key irritants in the trade relationship. India's foreign secretary, Vijay Gokhale, has also testified to the Parliamentary Standing Committee on External Affairs that China has "millions of nontariff barriers. They keep bringing up new ones. If you see the last ten years, the trade deficit has grown; it has not come down," and accused China of dumping goods in India. Although both leaders announced the creation of a "High-Level Economic and Trade Dialogue mechanism," India will continue to push China to ensure progress on rectifying trade imbalances between the two countries.
Linked to the issue of trade, both countries also discussed the ongoing negotiations in the Regional Comprehensive Economic Partnership (RCEP). The RCEP, a proposed regional trade agreement between the members of the Association of Southeast Asian Nations, South Korea, Japan, Australia, New Zealand, India, and China. While negotiations began in 2012, reports have indicated that differences between India and China on market access have slowed down negotiations. India has demanded that an "equitable agreement," specifically that the agreement address India's growing trade deficit with China, and the equitability extend to India's comparative advantages on services and investment. While India's foreign secretary did state that Chinese President Xi Jinping did "note" India's concerns, recent reports have indicated that "chapters on trade remedy measures, trade competition, trade in service, rules of origin, investment and e-commerce have yet to be concluded."
One issue that was not raised in the press releases following the summit but hung in the background was China's interest in ensuring Huawei's participation in India's 5G trials, and eventual 5G network. India has not yet announced whether Huawei, which has been embroiled in controversy regarding its proximity to the Chinese state and potential for surveillance exploitation, would be allowed to join India's 5G trials. Huawei, for its part, has pledged that it will sign a "no back door" agreement with the Indian government, to abate its concerns regarding surveillance. However, India will also need to balance China's overture on Huawei with India's own history of suspicion regarding Huawei, and the pressure it will face from partners such as the United States. Therefore, whether both leaders can have a frank discussion on Huawei and reach an understanding will test the merits of such informal summits.
Among the more contentious issues that was likely discussed during the summit, particularly given the timing, was China's stance on Kashmir. Following India's August 5 decision to revoke the autonomous status of the erstwhile state of Jammu and Kashmir, China made a number of statements regarding the decision in the lead-up to the summit. On October 5, less than one week before the summit between President Xi and Prime Minister Modi, China's ambassador to Pakistan stated that "We are also working for Kashmiris to help them get their fundamental rights and justice. There should be a justified solution to the issue of Kashmir and China will stand by Pakistan for regional peace and stability."
China followed up this statement with a joint press release during the visit of Pakistani Prime Minister Imran Khan to China, which noted "The Chinese side responded that it was paying close attention to the current situation in Jammu & Kashmir." Although India has pushed back on both accounts, India will have liked prioritized reiterating to China that any administrative changes regarding Jammu and Kashmir are India's internal issues, and that "it is not for other countries to comment on the internal affairs of India." Moreover, while External Affairs Minister S. Jaishankar had traveled to China immediately after the August 5 decision to communicate India's position, China's continued statements mean that Prime Minister Modi will have likely used the opportunity to reinforce, as directly as possible, India's position to President Xi in their conversations.
Finally, the longest-standing issue between India and China bilaterally remains the contested border along the Line of Actual Control (LAC). While the border is the longest disputed border in the world, it has also "been virtually free of violence since… the 1962 border war." Both countries have maintained that "although the border dispute between the two countries was still the biggest flash point in bilateral relations, they would not let the dispute prevent the two countries from cooperating on other issues." Although both countries have held multiple rounds of talks since the 1980s, progress has been slow. As Dr. Rudra Chaudhuri of Carnegie India notes, "The border has not been delimited in any of [the LAC's four] sectors. That is to say, India and China have not formally agreed to the outer limits." Given this limitation, and the informal nature of the summit, the statement went only so far as to say that both countries would "ensure peace and tranquility in the border areas."
Given the breadth of the issues that face both leaders in the upcoming summit, Prime Minister Modi and President Xi face several key issues despite the lack of a formal agenda for their summit in Mamallpuram. While the informal nature of the talks has been designed to lead to some frank discussions between the leaders on these issues and build confidence between both countries, it remains to be seen whether such informal summits achieve their desired result or inhibit real progress on these issues.