Indonesia Will Not Join US Anti-ISIS Coalition: Envoy
Jakarta unlikely to be part of the grouping in the foreseeable future.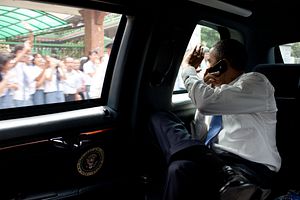 Indonesia is unlikely to join the U.S.-led coalition against the Islamic State (IS, or ISIS) in the foreseeable future, a leading Indonesian diplomat told a forum in Washington, D.C. Thursday.
Indonesia, the world's largest Muslim-majority nation, continues to battle a rising IS threat in the country, with deadly attacks in Jakarta in late January killing eight, including the four attackers. Yet, as I have noted previously, the country has thus far not joined fellow Southeast Asian countries Malaysia and Singapore as part of the U.S.-led Global Coalition Against ISIL, which now boasts 66 members.
Speaking at an event this week, Arto Suryodipuro, the deputy chief of mission at the Indonesian embassy in the United States, said he did not expect Indonesia to join the coalition anytime soon.
"In my view, in the foreseeable future, Indonesia may choose not to join," Suryodipuro said in response to a question from The Diplomat.
Suryodipuro added that Indonesia sees its contribution to the IS fight mainly in terms of winning the ideological battle between violent extremists and the population. Jakarta, he said, was very well-placed to contribute to this "soft approach," given the large numbers of Muslims within Indonesia, the country's own successful democratic transition, and its reputation for tolerance and pluralism.
"[O]ur contribution is in the form of a soft approach," he told the forum, which was organized by the Center for a New American Security and the Asia Society Policy Institute. "What we are doing with the United States is to try to accentuate these points, both in the United States and Indonesia."
He also said the United States and Indonesia were looking to expand cooperation in this area, including through more bilateral exchanges between officials as well as joint efforts globally.
One example of bilateral cooperation, Suryodipuro highlighted, was the establishment of a Council on Religion and Pluralism, an innovative mechanism designed to promote pluralism, tolerance, and moderation agreed upon by Washington and Jakarta. The initiative was discussed by both sides during Indonesian president Joko "Jokowi" Widodo's visit to the United States last October.
Suryodipuro said that he hoped that the initiative would be resourced and implemented soon, with the broad participation of not only religious leaders, but individuals from other areas as well such as business.
"We are hoping that sometime soon enough, it will come into play," he said.
He also emphasized that apart from this, the United States and Indonesia also cooperate in other areas ranging from intelligence to political cooperation across regional and international fora.
"Our cooperation is wide-ranging," he said.