Is the Japan-India Military Aircraft Deal Dead?
Tokyo says it has no immediate plans to sell US-2 amphibious aircraft to New Delhi.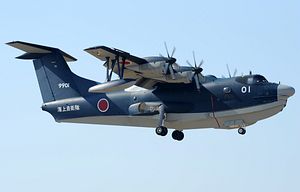 A Japan-India defense deal over the procurement of 12 ShinMaywa US-2 amphibious search-and-rescue aircraft for the Indian Navy is facing additional delays and an uncertain future, according to Japanese diplomatic sources interviewed by The Hindu newspaper.
Japan has no plan for "selling or delivering" the US-2 maritime surveillance aircraft in the immediate future and the issue was not discussed during recent Foreign Secretary-level talks between the two countries, Japanese officials in Tokyo said last Saturday.
"There is no decision about its delivery nor did the Foreign Secretaries discuss the timing of the delivery," Yasuhisa Kawamura, Director General of Press and Public Diplomacy of Japan, said, according to The Hindu.
In a joint statement released by Japanese Prime Minister Shinzo Abe and Indian Prime Minister Narendra Modi in December 2015, both leaders committed themselves to deepen defense cooperation between the two countries "including through two-way collaboration and technology cooperation, co-development and co-production."
The statement specifically named the US-2 maritime surveillance aircraft as an example of a future project on defense equipment and technology cooperation. According to Indian defense sources, the $1.65 billion defense deal was slated to be signed in the first quarter of 2016 with the first two aircraft delivered off-the-shelf and the remaining ten built under license in India.
Given its range of 4,500 kilometers (2,796 miles), the Indian Navy was tentatively planning to station the US-2 aircraft off the Andaman and Nicobar Islands in the Bay of Bengal, from where they would have been able to conduct surveillance patrols of the eastern Indian Ocean region. "For India, the primary attractive feature of the US-2 is its versatility and its usefulness in maritime search and rescue operations due to its short take-off ability," my colleague Ankit Panda explained back in November 2015
Negotiations over the purchase of the aircraft already began in 2011, as the The Diplomat summarized last year:
Negotiations for a US-2 sale to India began in Japan under the Democratic Party of Japan (DPJ) governments of Naoto Kan and Yoshihiko Noda. The amphibious aircraft sale issue was swiftly picked up by Abe's government, which has sought to expand Japan's role as a defense exporter in Asia. In April 2014, the Abe administration formally altered Japan's decades-old self-imposed ban on selling arms, which effectively blocked Japanese firms from participating in global defense commerce. (For more background on Japan's export policies, see here.)
Despite the recent lack of progress, a contract could still be signed this or next year. As with any other defense deals involving India, next to concerns over offset requirements and technology transfers, the major hurdle remains successfully navigating through the myriad of layers of bureaucratic red tape, something that Japanese defense contractors, given Japan's self-imposed ban on exporting military hardware, have very little experience in doing.