Islamophobia Could Destroy Singapore: Minister
Minister's warning comes amid heightened terror fears in the city-state.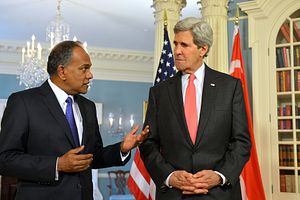 Islamophobia could be destructive to Singapore's social fabric if terror attacks fracture the trust among local communities, the city-state's home affairs minister warned Wednesday.
Speaking after a closed-door dialogue with students at an Islamic school, Singapore's home affairs and law minister, K Shanmugam, said that non-Muslims in Singapore could start developing fears about Muslims internally as a reaction to terror attacks across the world.
"People will be too politically correct to express them, but internally they will start looking at Muslims different. And that is something that will be destructive to the soul and spirit of Singapore that we have created," he said.
He noted that following each of the recent terrorist attacks in the United States and Europe, the number of attacks against Muslims went up three-fold.
Shanmugam, who was formerly foreign minister, added that the students he had met with also raised the topic of Islamophobia in Singapore, which he regarded a "significant risk."
To prevent Islamophobia from developing, Shanmugam said that non-Muslims had "an obligation" to reach out to the Muslim community to make sure the bonds are strong.
"Whatever it is, we are Singaporeans together and that trumps everything else," he said.
This is not the first time Shanmugam has warned about the threat of Islamophobia. In January, after speaking with the Bangladeshi community at a mosque in Geylang, he told reporters that many of them were worried about the repercussions for the community in the wake of the arrests of 27 Bangladeshi nationals in late 2015. In his remarks, he urged Singaporeans to guard against Islamophobia, saying that there was no reason that an entire religion and everyone who practices it "should be viewed in a certain way."
Shanmugam's warnings come amid rising concerns in Singapore about the threat from the Islamic State. Earlier this month, he delivered an address on the potential for a terrorist attack in the city-state and outlined what the government was doing about it. In his remarks, he emphasized that countermeasures should include both a security response and a community response focused on enhancing social cohesion and reducing intolerance that could lead to self-radicalization.
As part of that community response, he said that Singapore would launch a new national program called "SG Secure," a new national movement to sensitize, organize, train, and exercise Singaporeans to better insulate them from attacks. According to Shanmugam, the initiative, which will be rolled out later this year, will attempt to ensure that the country's citizens are equipped with the right skills and help spread the message of vigilance, cohesion, and resilience to others.