Why Singapore Is a Terrorist Target
The Islamic State has been upfront about its goal to attack the city-state.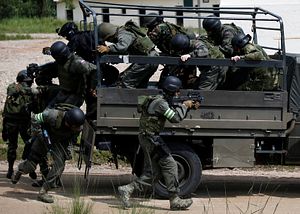 In a 2011 article titled "Why S'pore is an iconic target for terrorists," I posited a number of reasons why terrorists are attracted to the idea of striking Singapore. Senior government officials in the republic have also been giving such warnings, especially the coordinating ministers for national security.
An attack on Singapore would not be novel, as the republic had been targeted by terrorists in the past. There was the January 31, 1974 hijacking of the Laju ferry by the Popular Front for the Liberation of Palestine and Japanese Red Army as well as the March 1991 hijacking of a Singapore Airline plane by Pakistanis. Singapore-born terrorist Mas Selamat had plans of hijacking a plane and crashing it into Changi Airport. Abu Umar of Mujahidin Indonesia Barat had planned attacks on the Singapore embassy in Jakarta.
As to why Singapore has been targeted in the past by Islamists, I listed a few primary considerations in my previous article.
First, Malay extremists viewed Singapore as an illegal creation. In this view, the city-state was historically part of Malay land but was transformed into a Chinese majority kafir entity through colonial machinations.
Second, and related, Singapore is also believed to have been illegitimately occupied by infidels, especially the Chinese majority, which is seen to be anti-Malay and anti-Islam. Along the same lines, Singapore's native population, the Malays, are alleged to be oppressed and marginalized by the numerical majority, especially through various government policies.
Finally, Singapore is also believed to be hostile to Malay-Muslim interests at the regional and global level, especially through its close ties with the West, the United States, and even Israel, which are viewed by extremists as enemies of the Muslim world and Islam. Singapore's participation in the "global war on terror," including its proactive policies to neutralize the threat posed by the Jemaah Islamiyah and the Islamic State in Singapore and the region at large, are viewed as evidence of this orientation.
Hence, for a host of reasons, Singapore has been presented by extremist groups as a legitimate terrorist target. In attacking Singapore, jihadists hope to eliminate an "infidel enemy" of the Muslims and Malays, as part of the bigger war to create a regional and global Islamic State.
Singapore as a Target of the Islamic State
Since 2014, the security situation has actually worsened for Singapore and it has become an even more likely target of attack. While in the past, the most likely perpetrator of a terrorist attack on Singapore was al-Qaeda and its regional affiliate, mainly the Jemaah Islamiyah. Today, it is the Islamic State (ISIS) and its network of affiliates in the region and probably beyond. In June 2017, the Singapore Ministry of Home Affairs released the Singapore Terrorism Threat Assessment, which clearly stated that ISIS was the most serious threat to Singapore.
Since Abu Bakr al-Baghdadi declared the creation of the so-called Islamic State and caliphate in June 2014, Singapore has been directly and indirectly targeted for attacks. Singapore's national flag was included in a list of the "enemies," members of a coalition at war with the Islamic State. A number of targets for attack in Singapore have also been identified, including the Singapore Stock Exchange and its sprawling port. Singapore has also been clearly listed as part of the Islamic State's Southeast Asian province (or wilayat) under its emir, Isnilon Hapilon.
Ideologically, Singapore has been consistently labeled as being part of the "crusader coalition," being a "disbeliever" and a "thaghut" (enemy) and hence, a legitimate and just target for attack. As Singapore is part of the "Operation Inherent Resolve" coalition that is fighting the Islamic State in Syria and Iraq, a consequence of this has been the call on local, regional and global jihadists to punish Singapore for being at war with the Islamic State. Some members of the coalition that have suffered the Islamic State's retributive attacks include the United Kingdom, United States, Germany, France, and Belgium.
Additionally, Singaporeans are said to be fighting for the Katibah Nusantara, Islamic State's Southeast Asian military wing in Syria and Iraq, as well as fighting alongside extremists in Mindanao, the Philippines. The Singapore authorities have detained a number of Singaporeans who have pledged support for ISIS and were prepared to fight for its causes, including militarily. A number of Bangladeshi foreign workers in Singapore were also detained for supporting the Islamic State, including its military struggle.
Singapore's perception of the Islamic State's threat has also risen due to a number of jihadi attacks in the Southeast Asian region that were linked to the Islamic State. This includes the various military attacks in the southern Philippines, including the currently ongoing Marawi crisis, the grenade attack in Kuala Lumpur, and two violent attacks in Jakarta that were linked to the Islamic State.
While being directly attacked in Singapore by Singaporeans who support the Islamic State is a possibility, equally chilling is the belief that ISIS fighters from elsewhere in the region may also carry out an attack in Singapore. An example of this was the so-called "Batam Plot," where a number of Indonesian jihadists were planning to bomb the Marina Bay Sands casino in August 2016.
Singapore Remains an Iconic Terrorist Target
For the Islamic State, a terrorist attack on Singapore would be strategically and psychologically a great achievement, as this was something that even al-Qaeda failed to do in the past. It would also signal to other terrorists that despite all the counterterrorist measures, Singapore is "hittable." ISIS would also hope to punish Singapore not only for supporting Western efforts in the "war on terror" but also for the robust counterterrorism measures the republic has put in place domestically, which have led to many arrests and made the ground infertile for ISIS propaganda and support.
Singapore is also seen as an attractive target as it remains a major regional and global financial capital and a hub for international multinational corporations. It is seen as the capital of capitalism in the region and a key node in international trade. A successful attack on Singapore's shipping business, especially its oil industry, would represent a psychological boost for the jihadists, proving that Singapore is not only vulnerable but also penetrable. A successful attack on Singapore would also damage the tourism industry, representing a major blow to the city-state.  The fact that the late commander of Katibah Nusantara, Bahrumsyah, recently called for an attack on Singapore is something that is not to be dismissed.
With the likely end of the Islamic State in Syria and Iraq, as Mosul and Raqqa are poised to fall in the coming weeks, the danger posed by returning ISIS fighters is likely to heighten the security threat to Singapore. If many of these fighters have succeeded in remaining below the radar, they will be difficult to identify. Returning fighters could include Singaporeans as well as many Southeast Asians, who enjoy visa-free travels within ASEAN. There could also be potential threats from ISIS fighters originally from western Europe, Australia, India, and China.
A successful ISIS attack on Singapore would send shock waves around the world, signalling that one of the most tightly policed states could be attacked. While the Islamic State has been transparent in its intention to attack Singapore, it is also clear that the republic has been doing its utmost to ensure that such an attack fails. Yet security planners know that the terrorists are in an advantageous position — they only need to succeed once but Singapore must succeed all the time in ensuring each planned attack fails. This is all the more urgent as battle-experienced jihadists are always thinking of new ways to hit Singapore.
As no one state can prevent a jihadi attack, regional cooperation is likely to become even more important as Singapore tries to deter and prevent returnees, including fighters from Mindanao, from launching attacks.
Bilveer Singh, Ph.D., is an associate professor at the Department of Political Science, National University of Singapore; an adjunct senior fellow at the Center of Excellence for National Security, S. Rajaratnam School of International Studies, NTU; and president of the Political Science Association, Singapore.