Report: Torture in Kazakhstan Persists
Despite Astana's bold promises, recent Amnesty report says the use of torture "remains largely unchecked and unpunished."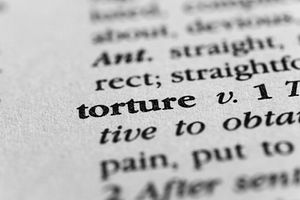 Just over a year ago, Askar Shakirov, Kazakhstan's human rights ombudsman, sat down with the pro-government Astana Times to assess the state of human rights in the country. Amidst claims that Kazakhstan had made formidable strides toward improving its domestic rights situation – and including the outlandish claim that President Nursultan Nazarbayev's initiatives are "always aimed primarily at protecting the rights and interests of the citizens" – Shakirov hailed the country's improvements in combating torture, pointing to recent legislation passed to aid torture victims. "In Kazakhstan, human rights are a key component of the state policy," Shakirov concluded.
To be fair, Shakirov's claims weren't necessarily without merit: Kazakhstan has, indeed, passed assorted legislation nominally geared toward eliminating torture. The improvements, according to Amnesty International in a report issued this week, were "positive revisions."
But according to the same report, despite both Shakirov's and Astana's claims, these revisions were heavy on rhetoric and light on impact. As Amnesty International found, "Despite the introduction of legislative safeguards against torture and procedures for assessing complaints … the use of torture and ill-treatment by law enforcement bodies in Kazakhstan remains largely unchecked and unpunished."
All told, Amnesty uncovered nearly 400 specific complaints of "torture and other forms of ill-treatment" between 2013-14, almost certainly an underestimate of the total instances of torture in Kazakhstani detention centers. More disconcertingly, "a very small number eventually result[ed] in prosecution." The reasons for such lack of prosecution are predictable, and unsurprising: lack of political will, a dearth of mechanisms for monitoring complaints, and rampant "bureaucratic ping pong," with assorted departments passing cases and allegations around, foregoing any responsibility. There "is little doubt that torture and ill-treatment remains a pervasive problem in Kazakhstan that is sustaining a prevailing culture of impunity," the report added.
The cases of torture discussed in the report present a diverse array of complaints, from both men and women and multiple ethnicities. (However, most of the cases discussed "do not belong to the majority Kazakh ethnicity.") Likewise, these cases aren't necessarily limited to the past three years – the report highlights the plights of those arrested after the 2011 Zhanaozen massacre, which saw more than a dozen protesters killed by government forces. Those detained, according to the report, described instances of "being stripped naked, made to lie or crouch on a cold concrete floor, doused with cold water, and beaten and kicked by security officers, often to the point of losing consciousness. They would then be doused with cold water again and beaten at regular intervals in cycles lasting for hours."
Amnesty's report further highlights a handful of individual cases since Zhanaozen, putting names to those on the receiving end of the "human rights violations by the police and security services[.]" One Kazakhstani, Konstantin Mukhin, alleged that law enforcement officers in 2014 tortured him to extract a confession for the murder of a young girl. Mukhin, per the report, "was beaten, humiliated and threatened with sexual abuse, causing him serious psychological trauma." Another, Anatoly Krivobokov, was reportedly beaten in his kidneys and head, after which one officer "held his legs and the other placed a plastic bag over his head to suffocate him until he lost consciousness. They repeated this five or six times." And another Kazakhstani, a 22-year-old identified only as R.O., was burned with both an iron and a cigarette lighter before, like Krivobokov, being suffocated with a plastic bag.
While torture, contra Shakirov, remains rife within Kazakhstani prisons, Amnesty did note something of a silver lining. There "are concrete steps, and easily deliverable changes, that Kazakhstan could introduce, within the current institutional framework, to tackle torture and ill-treatment far more effectively than it has done to date." Among such changes are enforcing extant mechanisms – including those Shakirov mentioned – as well as building upon the work of non-governmental organizations in monitoring and combating the instances of torture that arise.
Until such changes arise, though, the allegations of torture will remain, and almost certainly increase, no matter how many pledges the loyal ombudsman may cite. As Amnesty concluded, "Unfortunately, these bold promises have not been borne out by reality." In Kazakhstan, the reality of torture unpunished "remains fundamentally unchallenged."