UN Chief Begins Central Asia Tour Amid Rights Concerns
Ban Ki-moon is traveling to all five Central Asian states and will work hard to avoid one big elephant.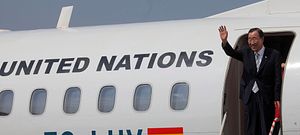 United Nations Secretary General Ban Ki-moon is traveling through Central Asia this week. The trip, Ban's second to the region, will route through all five Central Asian capitals in as many days. Human rights organizations hope Ban takes the opportunity to press regional leaders on human rights issues. The safe assumption is that Ban will avoid, as much as possible, that elephant in the room.
Ban's itinerary is quite full: a water conference in Tajikistan, a meeting of religious leaders in Kazakhstan, a conference on parliamentarism in Kyrgyzstan, and an address at the University for Humanities and Development in Turkmenistan. Along the way, he will meet with all five regional presidents and a number of prime ministers, foreign ministers, and other high level officials.
Ban said in an interview that he is visiting the region to "support and promote a common response to the many cross-border challenges the region faces, including environmental issues, water and energy, drug trafficking and trans-boundary crime."
On human rights, I welcome the engagement by countries of the region with UN human rights mechanisms, but I believe that much more needs to be done. I will encourage the leaders to uphold and implement the international obligations to which they have committed.
At his first stop in Central Asia, Tajikistan, Ban spoke at a conference on water–a vital and at times contentious resource in the region. "Water is life. Water is health. Water is dignity. Water is a human right," he said. Not really the issue right groups such as Amnesty International and Human Rights Watch have urged him to tackle. Ban went on, according to the UN's write-up of the visit, to underscore his "support for the Government's continued engagement with the UN on human rights mechanisms."
While the rest of his regional visit is still ahead, it's safe to assume his talking points in Kazakhstan, Kyrgyzstan, Uzbekistan and Turkmenistan will be along the same lines. Rights watchdogs are not convinced that this approach–light comments on rights and endless encouragement through engagement–are enough.
Europe and Central Asia advocacy director at Human Rights Watch, Veronika Szente Goldston,  said in a statement that "Ban should press for concrete steps to end abuses, such as releasing people wrongfully behind bars, allowing rights groups and journalists to do their work, and ending impunity for torture."
Amnesty International focused its own statements on Uzbekistan, asking Ban to "confront Uzbekistan's leadership on the country's appalling human rights record during his visit this Friday." John Dalhuisen, director of Amnesty International's European and Central Asia Program, said in a statement that "even with Ban's impending visit, the Uzbekistani police and security apparatus continues to brazenly commit acts of torture. What will it take before the Karimov regime takes its human rights commitments seriously? For more than a decade, Uzbekistan has thumbed its nose at every UN attempt to confront it with its grievous human rights abuses."
There is no shortage of human rights violations in the region: last week in Uzbekistan Elena Urlaeva, a prominent Uzbek human rights activist, was detained and abused by police, and Azam Farmonov was given an arbitrary extension on his arbitrary prison sentence. Human Rights Watch highlighted several specific cases they say Ban ought to bring up:
Among the individual cases the secretary-general should take up are: the opposition leader Vladimir Kozlov in Kazakhstan, the human rights defender Azimjon Askarov in Kyrgyzstan, the independent lawyer Shukhrat Kudratov and the opposition leader Zayd Saidov in Tajikistan, the political dissident Gulgeldy Annaniyazov in Turkmenistan, and the human rights defender Azam Farmonov in Uzbekistan.
Rights organizations have become increasingly disillusioned with the rhetoric coming out of the United States ('strategic patience'), the EU, and the UN. Last week, Andrew Stroehleinm, Human Rights Watch's European media director, vented in a dispatch that he's been hearing for 15 years the mantra that "you have to look at the glass half full rather than half empty."
But, he writes, "if you need a water-level-based analogy for the state of human rights in the region, the dried-up Aral Sea is a more fitting one."