Sexual Violation Under Cambodia's Khmer Rouge
New evidence confirms a brutal legacy of forced marriages and state-sponsored rape.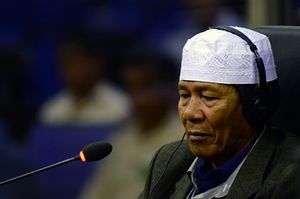 For decades, the Khmer Rouge – the infamous ruling party of Cambodia in the mid- to late-1970s which orchestrated a genocide there – along with its sympathizers have sought to play down allegations of state-sponsored sexual offenses. They argued, rather curiously, that their leader Pol Pot, as well as his lieutenants, were simply disinterested and had modeled themselves on the life of a eunuch.
Those arguments were always received with a healthy dose of skepticism. In recent months, the Khmer Rouge Tribunal, a court established to try the most senior regime officials, has lifted the veil on the crude and atrocious behavior inflicted by the communist cadre against ordinary Cambodians who had the misfortune to fall within Pol Pot's cultural cross-hairs.
Now, that legacy of forced marriages and state-sponsored rape has been captured at a small exhibition staged at S-21, the notorious extermination camp in Phnom Penh where thousands were processed before being sent to their deaths in the so-called Killing Fields in the outskirts of the capital.
Seven women from a broad cross-section of Cambodia, whose lives were irrevocably and violently shattered and reshaped by Pol Pot's marriage policies, were chosen and their ordeal portrayed amid a grim backdrop of absolute tragedy.
"It's about the gender aspects of genocide," said Theresa de Langis, a technical adviser to the project, in regards to women and the Khmer Rouge, whose brutal rule cost the lives of about two million people, or a third of Cambodia's population at the time.
It was not until the wars subsided in the late 1990s that Cambodia went to the United Nations (UN) and requested a war crimes tribunal designed to put senior Khmer Rouge leaders in the dock. But bickering with the UN over the structure of the court followed and the judges were not sworn in until 2006.
Surviving leaders Nuon Chea and Khieu Samphan are currently on trial for genocide. They have already been found guilty of crimes against humanity, along with Kaing Guek Eav, alias Duch, who ran the S-21 center where the exhibition is currently being held.
All three will spend the rest of their lives behind bars.
Pol Pot's Minister for Social Affairs, Ieng Thirith, was ruled mentally unfit for trial and died last year. Despite her death, the tribunal is hearing charges of rape and forced marriage as an inhumane act in Case 002/02.
"There was this idea that sexual violation did not happen under the Khmer Rouge. There's just no way you can say that anymore," de Langis, who works with the Cambodian Women's Oral History Project, said while pointing to the exhibits.
"It is important to stress the role of Tuol Sleng staff in collecting the oral histories and the vision of the management in incorporating oral history as a way of opening the museum to new audiences."
Twenty-one oral histories were conducted and seven chosen for the exhibition detailing forced marriages. De Langis told of how one woman, after refusing to consummate her marriage, was held down by two female cadre members, legs parted as she was repeatedly raped by her designated husband.
"It was all coercion," she said. "Inside of forced marriages, sexual relations were enforced. Outside state-sanctioned marriages, sexual relations between civilians were prohibited: in cases of rape the victim was punished along with the perpetrator."
The husband died in 1993. De Langis quoted his wife as saying "I couldn't have been happier."
One might expect that most in forced marriages separated immediately after the Khmer Rouge was ousted by invading Vietnamese armies. However, this was not always the case.
Research suggests that around half of forced marriage couples did separate but the remaining half did not, particularly those with children living a village life in the remote countryside.
In Thy, now 58, was still a very young girl with scant knowledge of marriage, sex and what either entailed. Shortly after she was forcibly married, there were accusations from the ultra-Maoists that the pair was not getting along: a potential death sentence.
She and her husband made a deal. Neither liked each other but they agreed to have sex in an attempt to placate the spies who took to their charges with the same zeal as the torturers and executioners – they were different jobs – who once worked here in the S21 compound, a former school.
"It was not until I was six-months pregnant that the Khmer Rouge finally believed we were getting along as husband and wife. Up until that time, they continued to spy on us and investigate why I was not yet pregnant. They didn't believe we were having sex," she said in her exhibit testimony.
Meanwhile, the tribunal continues.
Luke Hunt can be followed on Twitter @lukeanthonyhunt