Vietnam's Quest for a Greenwater Navy
Despite the recent headlines, Vietnam still has a lot of ground to cover to establish a revitalized and balanced navy.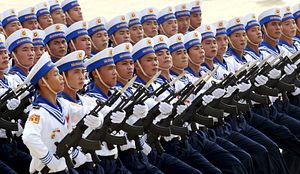 The recent induction of an unarmed, harmless-looking sail training ship stood in sharp contrast to the sleek new surface and sub-surface assets that the Vietnam People's Navy (VPN) has been acquiring in recent years.
Le Quy Don (hull number 286), as this peculiar-looking vessel is christened, after a 18th-century Vietnamese philosopher, is the latest member of what is without a doubt one of Southeast Asia's most rapidly expanding navies. Despite not having invited as much media fanfare as, say, the Kilo-class submarines, the Le Quy Don does signify the growing maturity of a navy that is fast shaking off the brownwater label in favor of greenwater.
Built by Poland, measuring a length of 67 meters long, weighing 857 metric tons and crewed by thirty, the Le Quy Don can accommodate up to 80 naval cadets or midshipmen. It is envisaged as a dual-purpose platform for long-range training cruises and facilitating defense diplomacy through friendly port calls. This sail training ship would be deployed in a similar fashion as its Indian counterpart Tarangini, for example.
Competing Mission Requirements
While one may revel in the Le Quy Don's entry, it is also important not to overlook the fact that this move does in a way reflect the VPN's deep-seated capacity shortfalls.
In the first place, capacity-building funds are divided between the VPN and its civilian counterparts – the Vietnam Coast Guard (VCG) and Vietnam Fisheries Resources Surveillance (VFRS). With limited funds allocated to each service, prioritization naturally becomes the order of the day. As much as the VPN would have liked to obtain more "big ticket" naval assets, for example Gepard-3.9 light frigates, Kilo submarines, and Molniya-class fast attack craft, fiscal realities make it difficult to embark on bigger purchases.
In fact, this fiscal constraint is endemic across all services, not just the military. The VCG and VFRS would also have sought more patrol assets to cope with anticipated maritime challenges, especially bearing in mind lessons learnt from the tense standoff with China over the controversial deep-sea oil rig HYSY981 back in 2014. As it stands, taking both the navy and civilian agencies altogether, Vietnam barely musters sufficient assets to fully police waters under its jurisdiction and to which it lays claim in the South China Sea (SCS).
But peacetime deterrence and sovereignty enforcement are not the only duties the VPN has to contend with. In the recent years, it has seen an increasing expanding defense diplomacy function, described broadly as "external work" by the Vietnamese defense authorities. The ground forces – long the most senior of all services – are earmarked for international peacekeeping operations, an explicitly-stated "external work" for the military. It would be strange to omit the VPN from such a role.
Facing this additional peacetime function, the VPN inevitably faces a degree of strain imposed on its existing capacities. Being newer and equipped with better range and seakeeping qualities compared to its predecessor – the old Soviet-era Petya-class – the Gepard-3.9 light frigate has since become the workhorse of a more extroverted VPN. Besides undertaking regular South China Sea patrols, this particular class also conducts port visits to regional countries. Most notably, the name-ship of the class, Dinh Tien Hoang (HQ-011), even participated in the latest International Fleet Review hosted by India.
However, in the long run, dual-tasking the Gepard-3.9s, the only bluewater-capable surface combatant in VPN service, represents an unsustainable option given the precarious balance to be struck between coping with the simmering tensions in the South China Sea and defense diplomacy functions. Of course, this problem can be best ameliorated if the VPN is able to procure as many surface combatants such as the Gepard-3.9 as it desires. But for now, as the second follow-on pair of Gepard-3.9s, said to be optimized for anti-submarine warfare (ASW), is undergoing advanced stages of construction, the prospects of acquiring more of such oceangoing surface warships remain dim.
Uncertainties over Procurement
The VPN's procurement, as a result of funding constraints, is often characterized by long lead-times and small quantities. The Gepard-3.9 program is instrumental in highlighting not just funding, but also other intervening uncertainties that may potentially stymie fleet expansion programs.
Back when the VPN was busying itself with inducting the first pair of Gepard-3.9s, much effort was made in effecting work on the second pair. The first vessel completed the first phase of construction in Zelenodolsk in December 2013, with an eye on delivering this and the second unit to the VPN in 2016 and 2017 respectively. However, uncertainty soon loomed over the prospect of delays, after relations between Russia and Ukraine broke down over the Crimean crisis. Kiev thereafter severed the export of warship gas turbines to Moscow, thereby imposing a downstream effect affecting many naval shipbuilding projects on hand. But in November 2014, a representative of the Zelenodolsk-based Gorky Shipyard assured that the two "batch 2" Gepard-3.9s would be delivered on schedule to the Vietnamese.
However, in March 2015 construction of the two frigates was reportedly affected as the Russia-Ukraine fallout persisted. In May the same month, the shipyard assured that construction of the two warships has progressed to the stage of installing combat systems on board. But Russian reports which subsequently surfaced indicated that not all has gone well with the project due to the continued rift between Moscow and Kyiv. In June, shipyard authorities admitted that the Ukraine problem resulted in the setback of delivery schedules of the frigates by a year – to 2017 and 2018 instead. They also conceded that propulsion for the Gepard-3.9s was in the process of being obtained from alternative sources through the Vietnamese government.
In March 2016 during a visit to Hanoi, Ralf Brauksiepe, an official of the German Defense Ministry, pledged the ministry's assistance to Vietnam in the area of military training and defense industry. The latter aspect is interesting, since it would envisage Germany's supply of propulsion for the VPN's second pair of Gepard-3.9s still undergoing construction. This would allow Hanoi to circumvent the potential problems of component supply by subcontractors to the frigate program. This episode ought to have driven home a valuable lesson about diversification of sources, especially given that the VPN has been heavily reliant on Russia as the single primary source of equipment all this while.
But the Gepard-3.9 close-shave is not the only problem the VPN has to contend with. The falling-through of the earlier, much-touted SIGMA corvette deal with Dutch shipbuilder Damen represented another lost opportunity to revitalize Vietnam's navy and showcase the ability to diversify equipment sources. Suffice to note, by 2018 the VPN will be bequeathed with only four Gepard-3.9s. Only one, at the most two, of these modern, well-equipped warships might conduct missions at any one time. This tiny force is barely sufficient to meet Vietnam's naval operational needs. In times of contingencies, this handful of frigates and their crews may find themselves stretched to the limits.
Therefore, faced with limited resources and an expanding range of functions, the only option left to the VPN would be to seek alternative approaches. Acquiring the Le Quy Don, which gives the navy a dedicated training ship capable of offering its naval cadets an oceangoing exposure while performing defense diplomacy functions, reflects one such alternative. The sail training ship helps relieve the Gepard-3.9s somewhat by allowing them to focus on peacetime deterrent and enforcement functions in the South China Sea, even though where necessary they could still perform defense diplomacy functions.
Toward a Balanced Fleet
While the Le Quy Don does constitute a prudent purchase decision made by the VPN by ameliorating the potential problems of overtaxing the existing frontline assets, this at best presents a short-term, interim solution. Its entry constitutes part of the efforts to "develop a diverse fleet of naval vessels" for the VPN, according to navy commissar Vice Admiral Dinh Gia That. By that, it should imply Hanoi's quest towards attaining a balanced, greenwater navy.
Compared to its dilapidated state back in the early 1990s, a result of decades of Cold War neglect and disrepair, the VPN today has made noteworthy strides by gaining new and better capabilities. But to build a revitalized and balanced navy is no easy task. Firstly, many of the classes of assets have reached block obsolescence and in need of urgent replacement. Secondly, there are just too many diverse areas of capabilities that require attention.
So far, the predominant focus has been on improving offensive surface strike weaponry, an area that has garnered much attention since the 1990s, which reflected the prevailing operational environment then. Hence, the VPN devoted resources toward replacement of the obsolete, Cold War-era P-15 Termit (SS-N-2 Styx) anti-ship missile with the Kh-35 Uran (SS-N-25 Switchblade). The objective is to standardize this missile as the primary offensive armament on board the VPN's surface combat fleet.
The attention on improving surface strike also extends to other branches of service. Hanoi acquired the Russian-built Bastion-P/Yakhont coastal defense missile batteries to first complement and then gradually supplant the array of different Cold War-era systems. Likewise, land-based Sukhoi fighter jets, especially the latest Su-30MK2V which is optimized for maritime support functions, are equipped with the Kh-31 (AS-17 Krypton) anti-ship missiles.
By the turn of the century, the focus on enhancing surface offensive capabilities overlapped with a new, additional focus on creating a credible subsurface warfare dimension for the VPN. This resulted in the acquisition of six Kilo submarines in 2009 – arguably the most significant post-Cold War single purchase by the VPN. Acquiring an undersea capability essentially helps fulfill multiple operational requirements. First, it bolstered Vietnam's deterrence capabilities, especially in terms of sea denial. Second, the submerge-launched Klub missiles not only offer standoff anti-shipping but also provide a limited force projection capability through land-attack missions.
Currently, the submarines are smoothly being inducted and the squadron is well on the way towards full-operationalization by early-middle of 2017, once the last boat is delivered within this year. It would amount to a colossal feat for the VPN, considering so much has been accomplished over just two decades of its fleet modernization program and in the face of funding constraints and pressing requirements for block replacement of the mostly antiquated  equipment in service.
Too Much on the Navy's Plate
Notwithstanding these recent major enhancements to its anti-surface and anti-submarine dimensions, the VPN remains short on a number of other critical capability areas. Anti-air warfare for fleet self-defense remains weak, especially after the SIGMA program – which would have been equipped with VL-MICA surface-to-air missiles – fell through. There are also no concrete plans conceived to revitalize the Soviet-era fleet of mine countermeasures vessels. In fact, this particular arm of the VPN has always appeared to be the least prioritized, plausibly because of the low threat of state-centric hostile naval mining that threatens sea lines of communications.
Another area that the VPN continues to fall short in has been on overall amphibious capabilities. While the naval infantry, which is tasked for amphibious assault operations and SCS garrison duties, has seen a spate of modernization in small arms and light weapons, as well as protective equipment, it continues to rely on Soviet-era light amphibious tanks and personnel carriers. More crucially, the existing hodgepodge of vintage Soviet and American landing vessels remain in mostly unserviceable conditions. The VPN has so far only inducted locally-built landing vessels that perform mainly roll-on/roll-off functions in support of the offshore garrisons. They do not provide sufficient sealift capabilities for the naval infantry. And they are not specifically configured to conduct opposed amphibious assault landing operations.
A third, final area that has proven critical for Vietnam's naval needs is aerial maritime patrol. The Spanish-built CASA-212 and Canadian-built DHC-6 Twin Otter amphibious planes, equipped with Western and Israeli mission equipment, are handicapped in range, endurance, and sensor capabilities to enable sustained, broad-area surveillance over wide swaths of waters in the South China Sea. Most importantly, these aircraft lack ASW detection capabilities. A long-range maritime patrol aircraft (LRMPA) is necessary, but ever since Hanoi once evinced interest in acquiring used P-3C Orion from the United States, no further news have been forthcoming. The existing C-295 transport planes may be suitable for conversion into a LRMPA, but these were acquired in the first place to replace the aging Soviet-era Antonov airlifters, therefore leaving slim possibility of them being converted for maritime use unless more airframes are acquired.
Nevertheless, the year 2016 would still witness exciting developments for Vietnam's navy, especially once the last Kilo boat is delivered and the Le Quy Don embarks on its regional and even international training cruises. And foreseeably in the next couple of years, the VPN would also see incremental additions to its fleet with the induction of the second pair of Gepard-3.9s and domestically-built patrol and fast attack craft.
All in all, Vietnam is very much well on track towards realizing a credible, balanced greenwater navy if it holds tight onto its present conviction and creates favorable international political circumstances conducive for its quest to diversify naval equipment sources. Yet at the same time, Vietnam's naval planners must seriously think about the long term, and whether the navy can sustain and even hasten its present modernization efforts to cope with uncertainties in the country's security milieu – all in the face of this dual-challenge of foreseeably persistent funding constraints and ever-expanding mission scope of the VPN.
Koh Swee Lean Collin is associate research fellow at the Institute of Defence and Strategic Studies, a constituent unit of the S. Rajaratnam School of International Studies based in Nanyang Technological University, Singapore. Collin's research activities can be found here and he can be contacted at [email protected]