Why ASEAN Must Remain Neutral on the South China Sea
Pressure is growing for the bloc to condemn China. It should resist.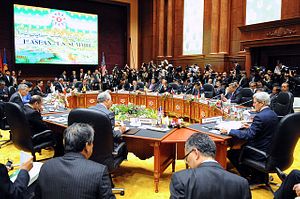 Pressure is growing on ASEAN to choose condemnation of China and both explicit and implicit support of the U.S. in the South China Sea. Proponents argue that this is a way to shift the tide and contain an expanding Chinese presence. And it has come at a time when ASEAN has demonstrated concern over the fast rising tensions in the area and increasing militarization, demonstrated by comments made at the most recent foreign ministers' retreat. Formerly "neutral" states such as Indonesia are also signaling increased concern at the tensions and focusing on China's role.
Clearly, ASEAN should play a significant future role in the South China Sea. If the current pressures find success, however, they could have a host of negative effects on both ASEAN's internal coherency and its ability to play a meaningful role. Instead, ASEAN should continue to focus on its (limited) past success in trust and confidence building, both internally and externally. Trust is important in the region, and this would present an alternative future path for developments in the South China Sea by allowing ASEAN to have conflict-free engagement with China. Just as importantly, it would prevent ASEAN from allowing disagreements to upset intra-regional stability, with the potential to undo the bloc's significant attempts to foster trust among its member states.
Attempts by the United States to engage with ASEAN as a regional bloc, one diplomatic culmination of the US "rebalance" to Asia, are often seen as pressuring ASEAN to take a stronger line in the South China Sea. The February Sunnylands summit, the first held between the leaders of the U.S. and ASEAN in the United States, was representative. Whilst Sunnylands boasted a mixed agenda including areas such as trade and counter-terrorism, observers were quick to demonstrate that the focus would be on the South China Sea, following comments made in the invitation. Despite U.S. President Barack Obama calling for ASEAN to present a united stance on the South China Sea issue, as well as hopes that the summit would result in increased cooperation, the outcome was limited to a vague declaration on shared commitments. Significantly, this declaration avoided explicitly drawing attention to China's role in the emerging issues and tensions, and the summit was considered a failure. Sunnylands is not the first time such divisions have prevented a unified outlook towards the South China Sea; in 2012, for instance, ASEAN could not agree on a joint statement, the first time in 45 years this had happened.
The lack of willingness is seen outside of the region as reflecting a lack of strength or else a desire to appease China. Divisions are cited as a weakness of ASEAN and its policy of consensus which allows the member states to block a united front. These divisions are usually most marked between Vietnam and Philippines on the one hand, which have greater concerns about China, and members such as Cambodia, which has demonstrated a desire to avoid aggravating China. Cambodia has increasing military ties and rising Chinese aid and investment, making such a stance understandable. However, the divisions are not as black and white as made out. There are tangible reasons for ASEAN to maintain its united front – many don't see China as simply a threat.  This is a fact recognized by officials from the countries within ASEAN, including both claimant states such as the Philippines and those that remain neutral such as Indonesia (though Indonesian neutrality may be waning). They argue that the South China Sea marks only one aspect of their extremely complex relations with China.
These perceptions may be changing slowly, seemingly further polarizing divides and pushing many of ASEAN's members to take a harder line against China – desirable on the surface, but also problematic.
The Importance of Consensus
It should be understood that forcing ASEAN to choose sides may actually have dire consequences for the region, especially if states continue to have different (and complex) perceptions of China. Consensus has allowed a degree of trust and confidence to form among ASEAN member states, and this trust is important in an ASEAN with an expanding agenda, as states need to be assured that their interests will not be harmed in the myriad of sectors in which ASEAN wants to get involved. By maintaining consensus ASEAN member states are assured that their interests will be protected, and this has not only allowed an expanding agenda and increasing cooperation in the region, it has also been integral to the lack of conflict within ASEAN.
If ASEAN as a whole chooses to ignore the rationale behind the divisions and push forward with confronting China it may instead create strong distrust internally, as states could not be sure that their interests are secure. This could have disastrous effects on ASEAN as a whole if it creates fissures in other areas of ASEAN cooperation. ASEAN, and the West, should recognize the regional institution has a massive agenda that is not only limited to the South China Sea, and ask whether forcing a focus on this issue is worth the potential costs.
ASEAN choosing sides also undermines any future possibility of mediating tensions. ASEAN has made some progress in the past in attempting engagement with China through confidence building measures. The pinnacle of this was seen to be the 2002 Declaration on the Conduct of Parties in the South China Sea. Building upon the 1992 ASEAN Declaration on the South China Sea, the 2002 Declaration included China and declared a commitment to dialogue, trust-building, and peaceful means of dispute resolution. China, too, was the first external country to sign ASEAN's Treaty of Amity and Cooperation in 2003 which laid out the rules of behavior within ASEAN.
By inviting China into following the same set of rules in the region emphasizing peaceful resolution and dialogue it was hoped confidence could be built and cooperation increased through the evasion of escalation in the South China Sea. While it is clear at this stage that China is ignoring these agreements, if ASEAN were to choose sides it would prevent ASEAN from acting as a mediator in future, and means that militarization would be one of the only options remaining.
ASEAN's Neutrality
Only by a measured response can ASEAN continue attempts at confidence building. While the chairman's statement "reaffirmed the need to enhance mutual trust and confidence, exercise self-restraint in the conduct of activities and avoid actions that may further complicate the situation, and pursue peaceful resolution of disputes in accordance with international law," it is unclear whether ASEAN can undertake such a task if its member states are increasingly divided or if it overtly chooses sides.
By maintaining a degree of impartiality multilaterally, ASEAN can continue to engage in confidence building measures and maintain trust within ASEAN. This does not preclude a harder line against China by the constituent member states, but that should continue to take place bilaterally. Trust is important, and maintaining it through consensus should be prioritized.
Scott Edwards is a doctoral researcher at the University of Birmingham with a research background in the international relations of Southeast Asia.