Business and Human Rights in China: Impact Investing Revisited
Insights from Mattie J. Bekink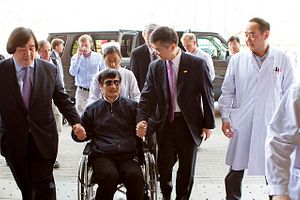 The Rebalance authors Mercy Kuo and Angie Tang regularly engage subject-matter experts, policy practitioners and strategic thinkers across the globe for their diverse insights into the U.S. rebalance to Asia. This conversation with Mattie J. Bekink – president of Martha J. Bekink Consulting, an Amsterdam-based consultant working on human rights, communications, and institutional strategy, with expertise in Chinese law and society, who works with New York University, and was formerly deputy country director of the American Bar Association's Rule of Law Initiative China Program – is the 40th in "The Rebalance Insight Series."
As former special advisor to Chinese "barefoot lawyer" Chen Guangcheng, you played an instrumental role in his transition from China to the United States. In hindsight, how was the Chen case a barometer of human rights trends in China?
Chen Guangcheng's case – his dramatic escape and ultimate arrival in the United States – was unique and perhaps more significant for the role of human rights in Sino-American relations than for human rights trends in China. Chen's story, and the media attention it garnered, seemed to represent a moment of hope for both U.S. foreign policy and human rights in China. However, his story and treatment were actually an anomaly in terms of human rights trends in China. Unfortunately, the media attention on Chen Guangcheng did not lead to significant changes in the treatment of "barefoot lawyers" or human rights lawyers and activists in China. If anything, the social and legal space in which such individuals can currently operate in China seems to be increasingly small.
Where does ethical investing fit in the nexus of business and human rights?
"Ethical investing" was once a term that referred to a narrow slice of the investment community focused on social as well as economic returns. It has and is becoming increasingly mainstream. Just as businesses have recognized that paying attention to the environmental and social implications and impacts of their work is better for the bottom line, investors are recognizing that considering such factors prompts healthy returns in the long run.
What social, legal, judicial and economic conditions are conducive to ethical investing, be it in China or any other country?
For any sort of investment activity, ethical or otherwise, strong rule of law is a prerequisite. Investors need to be assured that their assets will be protected and that they have recourse to judicial remedies and procedures should the need arise. For ethical investing, the necessity of robust rule of law is perhaps even greater. A country with strong environmental protection under the law but weak enforcement could be problematic to investors focusing on environmental issues in their decision-making. For example, an ethical investor focused on risk from climate change would likely be hesitant to commit capital in a country where polluters go unpunished. Consequently, corporations have no incentive to internalize the costs of environmental compliance and high-performing companies are not rewarded. This has certainly been an issue in China, though there have been some promising signs of increased enforcement of environmental regulations.
As economic competition between American and Chinese companies intensifies, what is the role of corporate social responsibility (CSR)?
Corporate social responsibility started out primarily as a public relations exercise. Over time, corporations have come to recognize that focusing on responsibility makes good business sense. As a result, these issues are slowly but steadily being seen as part of core business operations rather than peripheral PR. CSR is perhaps especially important to large, multinational American and Chinese corporations that occupy significant positions of power in the world. The responsibility of corporations that may be more powerful than most countries, or have better tools than the local governments to address governance gaps, is only increasing. The challenge is to encourage recognition that meaningful CSR pays off in the long run rather than allow a "race to the bottom" in the relentless pursuit of short-term profits.
How should the next U.S. president address the intersection of business and human rights in U.S.-China relations?
The greatest challenge for the next U.S. president in addressing business and human rights in China is confronting a legal system that is almost wholly subservient to politics. China rated 76 out of 99 countries in the World Justice Project's recent "Rule of Law Index," which looks at the independence of courts, sanctity of contracts, intellectual property protections, and access to and effectiveness of legal remedies. The increasing crackdown on civil society, human rights, and even the "disappearances" of senior Chinese executives has raised concerns about both business risks and a bleak climate for human rights. The next U.S. president will have to address both of these issues as well as persuasively make the case to the Chinese government and now skittish Western investors that China can and should choose a path respectful of both business and human rights, grounded in the rule of law.