Biden, Xi, and 'Responsible Management' of Atrocity Crimes
The U.S. should not give up on holding China to account for its human rights violations in the name of diplomatic progress.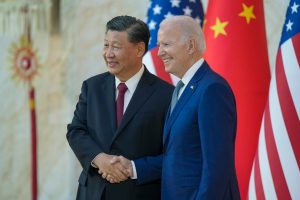 This week, a man U.S. President Joe Biden has accused of genocide will arrive in San Francisco so that the two can meet.

It will be Chinese Communist Party General Secretary Xi Jinping's first trip to the United States since 2017.  During this period, he has presided over atrocity crimes targeting Uyghurs and other Turkic communities, and robbed 7 million Hong Kong people of their human rights and freedoms. Xi's response to the COVID-19 pandemic: to obscure critical information, and to impose a draconian lockdown across the country. Tibetan children are forced to attend assimilationist boarding schools; human rights defenders are detained, silenced, or driven into exile. High-profile businesspeople and government officials, including the most recent defense and foreign ministers, are disappeared when they fall afoul of Xi. 
The Biden administration's responses to these developments have been mixed. In August 2020, the Biden campaign characterized Beijing's policies toward Uyghurs as crimes against humanity and genocide. The administration imposed some sanctions on Chinese officials and companies for their role in human rights violations, but far fewer than facts can substantiate. Biden reluctantly signed into law the Uyghur Forced Labor Prevention Act, which assumes goods from the region are made with forced labor. A belated start to generate support for a United Nations Human Rights Council debate on a U.N. report about abuses in Xinjiang saw that effort fall just two votes short. 
Most of the tougher human rights-related positions were offered up during the period in which high-level meetings were not possible due to Xi's "zero-COVID" policy. Emancipated from the long-standing idea that the run-up to meetings with Beijing required soft-pedaling human rights, American policymakers and diplomats were freer to imagine and pursue alternatives. Ideas that previously would have found little political support – such as challenging Xi's government at the United Nations over human rights violations, and investigating and prosecuting Beijing's transnational repression in the United States – became topics of serious discussion and planning. 
But the resumption of high-level interactions appears to have reversed that trend. Visits to China over the past six months by U.S. Secretary of State Antony Blinken, Secretary for Commerce Gina Raimondo, Secretary of the Treasury Janet Yellen, and Special Presidential Envoy John Kerry have yielded no human rights-related concessions – no releases of those wrongfully detained, including family members of U.S. citizens, no end to atrocity crimes, no commitments to end harassment of U.S. citizens in the United States. Biden's last meeting with Xi in November 2022 in Indonesia yielded only perfunctory human rights rhetoric. 
The Biden administration goes into the Xi meeting explaining its broad approach to China policy as "responsibly managing" competition. On a recent visit to China, California Governor Gavin Newsom proclaimed that "divorce is not an option" between the two countries. But who seeks to "manage" atrocity crimes rather than end them? Newsom's comments are especially offensive to those with communities suffering at the hands of China, the "spouse" in his metaphor. Any ambition to actually resolve these crises appears to be fading.
It's understandable that the Biden administration hopes to make progress on a wide variety of issues, and true that Beijing is intransigent on many of them. At the same time, it's hard to see how meaningful, sustained cooperation – on issues from global public health to the climate crisis to even the prospect of conflict over Taiwan – can succeed with a regime in Beijing that expects impunity for industrial-scale human rights abuses. 
Biden should set out an appropriately pro-rights agenda, informing Xi and the public how the administration can and will pursue justice even if Beijing objects. Biden should announce the launch of a new effort with allies to gather evidence of atrocity crimes in pursuit of accountability. He can challenge Chinese government harassment of people in the United States by publicizing new prosecutions of implicated officials, and commit to ensuring security in the U.S. for all those fleeing Xi's persecution. He should call – by name – for the release of courageous people across China targeted for their peaceful activism.  
A failure to take such steps makes clear to Xi he can continue to commit atrocity crimes and expect impunity. There's nothing responsible about that.