China and Russia to Increase Number of Military Exercises in 2016
The Chinese and Russian defense ministers agreed to hold more joint military drills in 2016 than in previous years.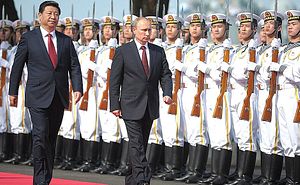 China and Russia are planning to deepen military cooperation and increase the number of joint military exercises in 2016, Russian Defense Minister Sergey Shoigu and his Chinese counterpart, State Councilor and Defense Minister Gen Chang Wanquan, said in a meeting in Moscow on April 27, TASS reports.
"We highly appreciate a high level of Russian-Chinese contacts both at the state and defense levels. This year we are going to hold more exercises and events than in the past years," the Russian defense minister said. "Here I would like to underscore that we will conduct both ground and naval exercises," Shoigu added. "Certainly, the aim is to strengthen mutually beneficial relations of partnership."
The largest scheduled Sino-Russian military exercise this year will be the Joint Sea-2016 naval drill, hosted by China.
Defense Minister General Chang Wanquan, who is in Moscow to attend the Fifth Moscow International Security Conference, emphasized that "opinions should be shared and watches synchronized." In addition, he stated:
Thanks to personal efforts of the two heads of state over the past year, the relations between Russian and Chinese armed forces have been developing at the high level. The sides have been implementing agreements and working side by side in all spheres.
Last week, Russian Deputy Defense Minister Anatoly Antonov in an interview with Xinhua explained:
Military cooperation between the two countries is highly diverse and has improved significantly over the last three years. The sides are conducting many events between their general staffs and exercises that are broadly stirring up interest and even anxiety among certain countries.
Speaking about the multilateral dimension of the partnership Antonov noted:
A more tight interaction between the military departments corresponds to the national interests of all the SCO member countries, and we expect this interaction to proceed.
China and Russia have steadily increased the number of military exercises over the past year. In 2015, both countries held naval and amphibious assault exercises in the Sea of Japan, a smaller naval drill in the Mediterranean, among a number of other bilateral military exchanges. Both countries have also participated in trilateral, and multilateral exercises, for example, under the umbrella of the Shanghai Cooperation Organization (SCO).
Russia and China do not have a formal military alliance and, as a consequence, do not practice complex integrated military operations on the scale NATO countries would.
Joint military exercises still provide several benefits to both countries, in particular for the Chinese People's Liberation Army, Navy, and Air Force given that China has not fought a full-scale war in decades. Next to serving a confidence building function, the drills help improve Chinese and Russian tactical and operational capabilities.
In addition, they send a signal to third parties (e.g., the United States) that both countries have an enduring security partnership.