China Passes Foreign NGO Law Amid National Security Push
China implements new restrictions on foreign NGOs, despite heavy criticism from abroad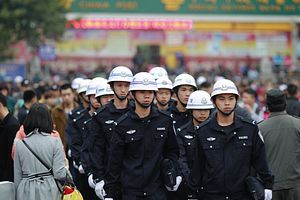 Earlier this month, China celebrated "national security education day" – a large part of which involved reminding Chinese citizens to be on the lookout for foreign threats, whether in the form of actual spies or just nefarious foreign influences. Against this backdrop, it should come as little surprise, then, that China has passed a law restricting the operations of foreign non-governmental organizations (NGOS) in the country.
The Standing Committee of China's National People's Congress passed the bill into law on Thursday at a bi-monthly session. According to Xinhua, the new law will require foreign NGOs to register with Chinese police and the Ministry of Public Security before beginning operations in China. Foreign NGOs will be "banned from engaging in or sponsoring commercial and political activities or illegally engaging in or sponsoring religious activities." There will also be tight restrictions on the funding sources for NGOs. The law will even apply to foreign NGOs seeking temporary operations in China; any NGOs that do not comply "will be punished," Xinhua said, without elaborating. The law is set to take effect on January 1, 2017.
Previous drafts of the law garnered harsh criticism from Western governments as well as rights advocates, who argued China was simply trying to restrict the already tight space for NGO operations. Governments were particularly concerned that drafts had an excessively broad definition of NGOs. As Reuters put it, discussing a draft from the summer of 2015, "the term 'foreign NGO' is so loosely defined it could apply to an American professor planning to speak at a Chinese university, foreign trade associations, and overseas dance troupes performing in China.
As of this writing, the full text of the law had yet to be released. However, Chinese Human Rights Defenders claimed in a statement that "the adopted version [of the NGO law] appears to retain the most troubling elements of the previous draft, and allows for even tighter government control over NGO activities."
China insists that the law is designed to regulate, not end, the operations of foreign NGOs on Chinese soil. "Governments at all levels will be obligated to accommodate the legal operation of overseas NGOs, providing necessary assistance and service," Xinhua notes. The Chinese state-run news agency also takes pains to point out how the new law eases restrictions from previous drafts.
However, the law contains the sort of broad language China uses to crack down on dissidents of all stripes. Foreign NGOs are prohibited, for example, from taking actions that "undermine the country's unity, security, or ethnic solidarity." Those same charges have been used by Chinese authorities to arrest human rights lawyers, journalists, women's rights advocates, and Uyghur and Tibetan activists.
"NGOs will have their registration certificates withdrawn if they are found stealing state secrets, spreading rumors, sponsoring political activities or any other activity that harms state security and interest," Xinhua warns. In China, data on the number of executions is regarded as a "state secret," and anything the government does not want to be public knowledge can be classified as a "rumor." NGO staff members found to violate these ill-defined provisions can face investigation or questioning by Chinese police, and the MPS can order NGOs to cease operations if they are deemed a threat to national security.
The new law is the culmination of China's long-standing distrust of foreign NGOs. Like many authoritarian states, China is obsessed with the idea of "color revolution" – social discord and eventually rebellion fostered by nefarious foreign agents, often working in the guise of nonprofits. China blamed the 2014 "Umbrella Movement" protests in Hong Kong, for example, on manipulation of the public by foreign (read: U.S.) NGOs. Such concerns are not unique to China; Russia famously passed a law in 2012 requiring NGOs to register as "foreign agents." Kyrgyzstan is considering similar legislation.
Though China's law may be new, it has already acted on these concerns. In January 2016, authorities arrested a Swedish citizen, Peter Dahlin, founder of the legal aid organization Chinese Urgent Action Working Group, on charges of harming national security. His organization provided advocacy for Chinese citizens who had suffered human rights violations; he was accused of fabricating information about China. Dahlin was released three weeks later, after making a televised confession in which he admitted to having "violated Chinese law," "caused great harm to the Chinese government," and "hurt the feelings of the Chinese people."
With the new NGO law in place, Dahlin is likely to be only the first of many foreigners working at nonprofits and NGOs in China to be detained on charges of violating China's national security.