China's $50 Trillion Plan for a Global Energy Grid
Plus, Scarborough Shoal, Nepal-China military ties, and myth-busting about China's economy. Friday China links.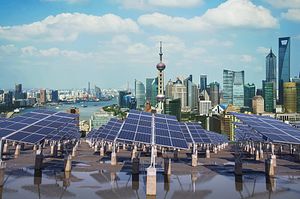 Your Friday roundup of China links…
China's State Grid Corp. has unveiled an ambitious blueprint for creating a global electricity network. As Wall Street Journal reports, on Wednesday State Grid chairman Liu Zhenya outlined the $50 trillion plan, which calls for long-range transmission lines to create a world grid that heavily incorporates wind and solar energy from the Arctic and the Equator regions, respectively. The project could come on line by 2050, but State Grid wants to begin pilot projects in the next 10 years. WSJ explains the plan:
In the near term, the focus will be on long-range interconnection domestically and on developing battery and other technology needed for better transmission of renewable power resources.

Then, over subsequent decades, China's grid would be connected with others, starting with northeast Asian neighbors like Mongolia and South Korea. Construction of the huge solar power bases and Arctic wind farms, as well as long-range power lines to demand centers, would follow.
Elsewhere, the Asia Maritime Transparency Initiative takes a closer look at the rumors surrounding Scarborough Shoal. According to their satellite imagery, as of March 24 there was "no Chinese dredging or construction activity at Scarborough Shoal." ATMI looks in detail at what the implications of (as yet hypothetical) Chinese reclamation at Scarborough Shoal would be – strategically, diplomatically, and environmentally.
Speaking of the South China Sea, Asahi Shimbun focused on that topic during a rare interview with a Chinese military official. Major General Qian Lihua told Asahi that China's artificial island-building and construction "will continue in the future" – but he also said that Beijing was not yet discussing the idea of setting up an Air Defense Identification Zone in the South China Sea.
In other news, a week after Nepali Prime Minister Khadga Prasad Sharma Oli made his first visit to China, Nepal's Chief of Army Staff General Rajendra Chhetri made his own trip to Beijing. China Military Online has more details on Chhetri's meetings with two of China's top military leaders, General Fang Fenghui and General Xu Qiliang, both vice chairs of China's Central Military Commission. In both conversations, Nepal and China pledged to increase defense cooperation, particularly with regards to disaster relief and personnel training.
Meanwhile, China's Ministry of National Defense announced on Thursday that Indian Defense Minister Manohar Parrikar will visit China in 2016, but did not confirm report that Parrikar will head to Beijing in the next few weeks.
Finally, Financial Review looks at Arthur Kroeber's new book, China's Economy: What Everyone Needs to Know. Reviewer Angus Grigg argues that "the book could be called China's Economy: Banishing the popular myths," as it lays out why concerns about an economic collapse in China are overblown. That doesn't mean Kroeber is optimistic however; rather, as Grigg puts it, he foresees "a slow Japanese-style decline" — not an outright crash — ahead for China's economy.