China's Consumer Revolution: Digital Demand, Global Scale
Insights from Andrew Ballen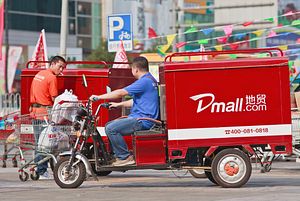 The Rebalance authors Mercy Kuo and Angie Tang regularly engage subject-matter experts, policy practitioners and strategic thinkers across the globe for their diverse insights into the U.S. rebalance to Asia. This conversation with Andrew Ballen – Chief Executive Officer and Founder of AVD Digital Media, named consecutively in 2015 and 2016 to Campaign Asia's Digital A-List, recognizing China's top 100 digital entrepreneurs and innovators, including Jack Ma (Alibaba) and Pony Ma (Tencent), former host of China's first nationally-aired bilingual travel series Getaway, and an early pioneer of Hip-Hop as a marketing and cultural exchange tool in China – is the 41st in "The Rebalance Insight Series."
Briefly describe the main facets and future trends of China's consumer revolution.
China's on-demand economy is light years ahead of the West in terms of ease of ordering, delivery and payment. The "Uberization" of consumer desire and on-demand fulfillment has reached its apogee in the Chinese market, not the West. The Chinese call this the "share economy 共有经济体系." The share economy is primarily driven by two factors: 1) dominance of three state-owned mobile providers, with China Mobile the most dominant at greater than 80 percent market share; this versus the panoply of mobile provider networks in the West, and 2) two dominant 020 [Online-to-Offline] payment systems – Alipay and Wechat Ten-pay. It is difficult to find anyone in China with a smart device, without at least one of these mobile wallet payment systems. So while the West is fragmented in service provision in on-demand consumption and payment, China bears testament to Peter Thiel's assertion that quasi-monopolies can accelerate innovation and catalyze market adoption.
But here is a paradox. While Chinese 020 and e-commerce providers such as Yihaodian, JD.com are thriving due to the omnipresence of Alipay and Tencent/WeChat payment systems, the quality and authenticity of the goods and services purchased are not always so easy to verify. For example, order a kilo of Chilean blueberries from JD.com. The service time, price, and delivery speed will usually meet or beat expectations. But the product ordered may not be the product actually received. Quality and supply chain accountability remains questionable. This fissure in the market is a concern. Still, on-demand convenience is already deeply embedded in the Chinese psyche and will remain the trend to watch in China's consumer-first revolution.
What is the impact of China's digital consumers on global e-commerce?
China's e-commerce market-space is complex. Sheer size of addressable market makes China impossible to ignore. China's e-commerce transaction volume already outpaces U.S. volume by a factor of three, yet only 25 percent of China's populous engage in e-,v-, or m-commerce! The Chinese government believes, with good reason, that there remains huge, untapped potential for increased domestic consumption via digital commerce. China's consumers are also reshaping the way global brands think about local messaging. Apple, Audi, and others have watched as their largest markets shift from the United States to China; this trend will continue. The key issue related to global brand participation in this growth potential will be effective localization of their brand, product and message.
One solution to global brands wishing to meet Chinese consumers' desire to connect with, access, and purchase products is use of interactive in-video engagement. In-depth exploration and immediate purchase of products can be seamless. V-commerce has the potential to dramatically increase audience exploration of locally tuned messaging; enabling highly emotive, deep-dive TOUCH™ based experiences. The sales funnel, from discovery to purchase, can now start and finish in-video, enhancing both brand and consumer ROI [return on investment]! We call this VEO™ [Video Engagement Optimization].
What core elements are transforming the identity, values and tastes of Chinese consumers?
China's consumer has migrated away from the notion that identity, status and prestige are simply about a logo. Today's more discerning, younger Chinese consumer is looking for very specific product differentiators; the goal always being to distance themselves from the crowd.
As a Jamaican-American fluent in Chinese, your personal and professional acculturation in China has been a pioneering journey. From your perspective, how are Chinese and American digital media shaping each country's perceptions of the other for better or worse? 
As China continues to improve product safety and curtail the proliferation of counterfeits – trends well on their way – two outcomes will emerge: 1) both foreign and Chinese brands will learn to leverage interactive content-marketing as both the primary messaging and sales-conversion medium, 2) Chinese brands will enter U.S. and European consumers' consciousness. This will ultimately result in an erosion of transactional boundaries as global consumers begin to experience the diversity of indigenous Chinese brands and product offerings. The result? All consumers will benefit from greater freedom and choice!
How should the next U.S. president more effectively use public and digital diplomacy to strengthen U.S.-China relations?
The "world order" conceptualized circa 1943-1945 largely by George Marshall, Henry Morgenthau and Franklin D. Roosevelt will change – an inexorable fact. Trans-ideological scientific development ("科学发展") is something from which the West can learn. I would advise the next president to disregard semantics and political clichés, and instead work to create real synergies in a reshaped world founded, in part, on "Chinese characteristics." Trust-building measures through candid exchange and action via multilateral and bilateral accords on key common challenges are needed, specifically counterfeiting, cyber-crime, piracy, terrorism, greater financial openness, and transparency. Certainly, issues like climate change and nuclear proliferation should be addressed head on. These are existential threats that recognize no border.
Focusing on China's domestic political affairs is ill-advised. China has consistently shown it will not countenance interference in its domestic affairs, just as the U.S. would not countenance international interference in the recent mass protests in St. Louis. Domestically, China will continue following its own development path. The paternalistic assumption that Western development paradigms are the only viable ones is probably wrong-headed, and of little practical use. The focus should be on issues that concern the planet's posterity; this will more likely be met with a constructive response.