While attending the Nuclear Security Summit in Washington, D.C., Japanese Prime Minster Shinzo Abe was accompanied by Yasuhisa Kawamura, Spokesperson for the Ministry of Foreign Affairs of Japan. The Diplomat sat down with Kawamura on Friday to talk about the bilateral and trilateral meetings Abe attended on the sideline of the summit, and the general state of Japan's regional relationships.
First off was a trilateral meeting between Abe, U.S. President Barack Obama, and South Korean President Park Geun-hye on Thursday morning. It was the first time the three leaders had gathered together in the wake of North Korea's nuclear and missile tests earlier this year, though they have been crafting a coordinated response for months.
"As Prime Minster Abe mentioned in the press announcement yesterday, it was very significant for the three stakeholders in Asia to get together," Kawamura said. "[…]The solidarity was demonstrated very clearly by facing the challenge [posed] by the continuous North Korean provocation, including missile launch and nuclear explosion."
"The solidarity among the three countries is the key for dealing with and preventing the further provocation by North Korea."
He pointed out that Japan and South Korea adopted their own sanctions in response to North Korea's missile test in February, which "facilitated the adoption of the UN resolution. They showed their leadership."
Kawamura said one outcome of the trilateral meeting yesterday was a renewed commitment to "very concrete cooperation in the security and defense areas."
Kawamura also pointed out that the United States and South Korea both expressed their concern and support over the issue of Japanese abductees, which remains a focal point in Japan-North Korea relations. The Japanese government lists 17 of its citizens has having been abducted by North Korean government in the 1970s and '80s. Of those 17, five have since been returned to Japan; Tokyo continues to seek the return of the remaining 12 abductees.
After the trilateral meeting, Abe expressed his appreciation for the "of the kind understanding and support shown by both Presidents" on the abduction issue.
Kawamura emphasized how important that was. Previously, when Seoul and Tokyo remained at odds over historical issues, "especially between South Korea and Japan, [we] could not discuss such a humanitarian and political dimension," he explained. "It's another good effect of the solidarity shown at yesterday's meeting."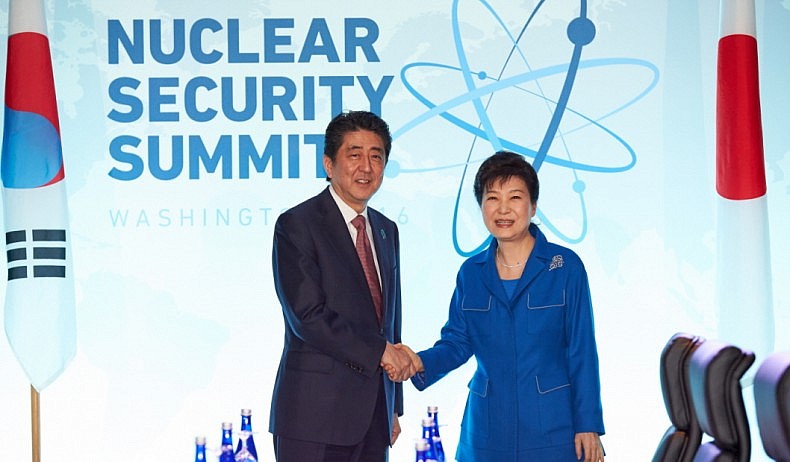 It's also another sign of the improving relationship between South Korea and Japan. In addition to the trilateral summit with Obama, Abe and Park also held a separate bilateral meeting on the sidelines of the NSS. "We recognize that the atmosphere between the two leaders has improved," Kawamura said.
As evidence, he related an anecdote about Abe and Park, both running late for their bilateral meeting thanks to earlier talks going long, meeting outside the meeting venue while waiting to go through a security check. "Without an interpreter, they had a chat – very amicable – [using] body language, Japanese, Korean, and English," Kawamura said.
He also pointed to a picture of Abe and Park shaking hands during their bilateral. Park is smiling broadly in the photo. Her expression, Kawamura said, "is very different" than at previous meetings.
He attributed that difference to an agreement reached last December between Japan and South Korea to address the "comfort women" issue. That agreement saw Shinzo Abe offers his "most sincere apologies and remorse" for the suffering of the women, as well as pledging funds to a foundation set up for the victims. In return, South Korea promised to consider the issue, which has plagued Japan-South Korea ties for decades, finally and irrevocably settled.
"Yesterday as well, the leaders committed again to staying the course for implementing the agreement," Kawamura said. "[…]Both sides are on the same boat. It is encouraging."
Another bilateral meeting was notable for its absence – Abe will not be meeting with Chinese President Xi Jinping, who is also in Washington, D.C. for the summit. "This time we have not planned for the meeting," Kawamura admitted, "but as you know, the two leaders already agreed they will make additional efforts to further improve relations." He pointed out that "relations have witnessed already somewhat gradual improvement since Mr. Abe met with President Xi Jinping" on the sidelines of the 2014 APEC summit in Beijing.
Meanwhile, though Abe and Xi did not meet, Kawamura said foreign ministers Fumio Kishida and Wang Yi did. They discussed "how the countries should improve their interactions and communications." As for a future summit meeting, "our door's open," Kawamura said, pointing to China's hosting of the G20 summit meeting and Japan's hosting of this year's China-Japan-South Korea trilateral summit as possible opportunities.
"Our relations will see improvement," Kawamura predicted, "and both sides should make an effort."
That assessment is at odds with Chinese Foreign Minister Wang Yi's recent comments that there's no cause for optimism about China-Japan relations. Asked about the discrepancy, Kawamura noted a recent opinion poll showing that over 80 percent of Japanese people don't believe the China-Japan relationship is going well. "We need to address this, with both side's efforts. It shouldn't be productive to point the finger at the other side." He also reiterated that Abe and Xi have already agreed to pursue improved relations.
But "we still have issues," Kawamura acknowledged, "especially in the East China Sea situation. It's tense." He said that China is "escalating their approach to the Senkaku [Islands] and their adjacent territorial waters… we are concerned." A unilateral change of the status quo – whether in the East or South China Sea — "is of regional and international concern," Kawamura said.
He added that the United States, Japan, and South Korea had discussed maritime security and China during their trilateral meeting, but declined to go into detail.
Finally, Kawamura was asked whether Japan is concerned by disparaging comments about the U.S.-Japan alliance from Donald Trump, the front-runner for the Republican presidential nominee. Kawamura declined to give a specific response, saying "the Japanese government should refrain from making comments" about a potential U.S. presidential candidate's recommendations (or accusations).
"Having said this," he added, "[… ]whoever becomes the next president of the U.S., the Japan-U.S. alliance will be the cornerstone of Japan's foreign policy. Japan will cooperate closely with the next U.S. government for the peace and stability of the region."
As for Trump's suggestion that Japan could develop nuclear weapons to defend itself from North Korea, Kawamura emphasized Japan's three non-nuclear principles: "not to possess, not to develop, and not to bring in" nuclear weapons. Plus, Japan is a contracting party to the Non-Proliferation Treaty and acts "in full conformity" with NPT, he noted. "Judging from all those elements, Japan wouldn't become a nuclear power."
On the contrary, he pointed to Japan's joint statement with the United States, highlighting progress on reducing Japan's stocks of highly enriched uranium (HEU), which can be used to make nuclear weapons, and replacing them with low-enriched uranium (LEU).