Kyrgyz MP Pushes Back on US Human Rights Assessment
"In the global confrontation it can be observed as part of the information war."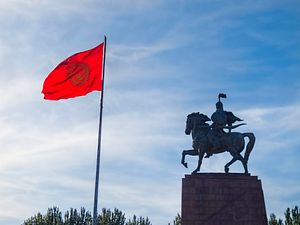 Almaz Baatyrbekov, a Kyrgyz parliamentarian and chairman of the foreign affairs, defense, and security committee, pushed back last week on the U.S. Department of State's assessment of human rights in Kyrgyzstan, calling it "politically motivated."
The U.S. State Department's Bureau of Democracy, Human Rights, and Labor released its 2015 country reports reviewing the human rights practices in many countries around the world. As I wrote last week, the report is heavily critical of most Central Asian countries and Kyrgyzstan does not escape criticism:
The most important human rights problems included routine violations of fundamental procedural protections in all stages of the judicial process; law enforcement officers' use of arbitrary arrest and torture; and attacks, threats, and systematic, police-driven extortion of sexual and ethnic minority groups.
Further problems identified in the report included harassment of NGOs and pressure on independent journalists, "pervasive corruption," and more. "Underscoring the country's human rights problems," the report notes "was an atmosphere of impunity for officials in the security services and elsewhere in government who committed abuses and engaged in corrupt practices."
Baatyrbekov fired back, telling 24.kg that State's "assessment of Kyrgyzstan is politically motivated and doesn't reflect the objective situation." He went on to say "Most likely, this estimate is dictated by greater geopolitical considerations. In the global confrontation it can be observed as part of the information war." These are common motifs in Central Asian rhetoric with regard to the United States: some nefarious geopolitical plot and the information war.
Although Baatyrbekov's comments pushed back on State's assessment, he didn't seem to contest all of the conclusions of that assessment, saying "there are problems in the protection of human rights, in the work of law enforcement agencies, we don't deny, and our media and high tribunes freely write and say about that. Democracy — it is a process and can't be achieved all at once."
Kyrgyzstan has been sensitive about critical comments from the U.S. government with regard to human rights but especially when those comments are tied to the ethnic clashes that erupted in 2010. There are 21 references to the 2010 violence in the Kyrgyzstan report, including a mention of Azimjon Askarov. Askarov is an ethnic Uzbek human rights activist among those convicted for various crimes following the 2010 violence. Last year the Bureau of Democracy, Human Rights, and Labor granted Askarov its 2015 human rights defender award. The award prompted Bishkek to cancel a 1993 cooperation treaty with the United States.
Kyrgyzstan isn't the only country frustrated with the State Department's report. As Shannon Tiezzi reported last week, the Chinese Foreign Ministry spokesperson Lu Kang said, "The section about China politicizes the human rights issue and plots to undermine China's stability and development while turning a blind eye to China's achievement in promoting human rights." In 1998 Beijing began returning Washington's annual human rights report with its own assessment of the United States's human rights record, which it concluded this year is "terrible."