The Taiwan Deportations to China Aren't About Sovereignty
China has a legal right to investigate suspects believed to have harmed Chinese citizens.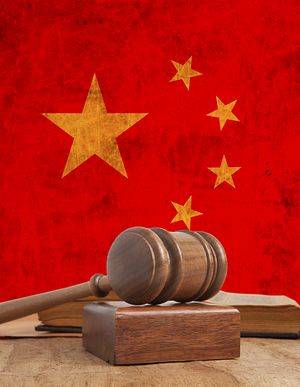 In 2011, when the Philippines repatriated suspects from Taiwan to mainland China for investigation related to an international fraud case, Taiwan's former deputy leader, Annette Lu, clearly pointed out that the case "was not related to the issue of sovereignty." She also said that it the suspects had been repatriated to Taiwan, they would be released due to the lack of appropriate legal procedures.
Unfortunately, this worry has now become a reality. According to local media in Taiwan, 20 suspects from Taiwan in an international telecoms fraud case were released after being repatriated back to Taiwan from Malaysia on April 15. No wonder some legal professionals in Taiwan are remarking sarcastically that "Taiwan is a conman's heaven."
Meanwhile, Kenya deported 45 suspects from Taiwan to mainland China, sparking outrage from some in Taiwan. Critics of the move claim that by having the suspects deported to mainland China, Beijing violated Taiwan's sovereignty and the human rights of the suspects.
In these cross-border fraud cases, the legal details are often very complicated, but there are general principles we can refer to. Legal experts told the South China Morning Post that Beijing has the legal right to demand Kenya deport Taiwanese fraud suspects to China, because the victims of the crime were from the mainland. Plus, there are no formal diplomatic relations between Kenya and Taiwan; the Kenyan government has no official obligation to repatriate suspects to a region that it does not diplomatically recognize as a sovereign state.
The sad truth is that many of the victims of telecoms fraud are mainland Chinese, and many of the perpetrators are based in Taiwan. According to Beijing's Taiwan Affairs Office, every year, over 10 billion yuan ($1.5 billion) stolen in telecoms fraud operations flows from the mainland to Taiwan – and only 200,000 yuan is recovered. People have lost their life's savings and had their businesses bankrupted. Some victims have even committed suicide due to this kind of fraud.
So how it is that a lawful repatriation based on territorial principle in international law became painted as a violation of Taiwan's sovereignty and human rights? There is clearly insufficient cross-strait communication over these issues. This has led some analysts to argue that the deportations are a political signal from Beijing designed to put pressure on Taiwan and especially on the DPP. But the fact is that repatriation of fraud suspects to mainland China, no matter where the suspects are originally from, has been going on for years.
Compared to the response to the Philippines cases in 2011, this time, it is obvious that some in Taiwan have politicized this issue. There are several possible intentions: to further instigate an "anti-China" sentiment among Taiwan's general public in the name of "sovereign rights;" to create precedents that may win Taiwan more initiative in similar cases in the future; and to draw more international attention to Taiwan in the name of protecting "human rights."
Instead of looking at how Beijing has "politicized" the repatriations of the fraud suspects, analysts should also pay attention to how poorly and rashly Taiwan has handled this issue. Taiwan's actions will not help to fight against the fraudulent acts that bring tremendous hurt and damages to victims in mainland China. It may not even help to raise Taiwan's international image as a defender of human rights. After all, when there are no appropriate legal procedures to prosecute those perpetrators who have returned to Taiwan to the name of "human rights," thousands of victims in mainland China have to accept the fact that their rights are being shamelessly violated, over and over.