'Grave Concern' as Cambodia Deports Taiwanese Alleged Scammers to China
The deportations raise questions about Taiwan's ability to participate in joint investigations with Asian trade partners.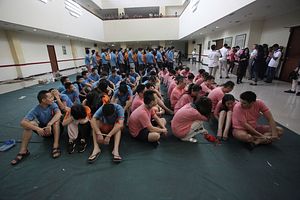 Taiwan's Ministry of Foreign Affairs (MOFA) expressed "grave concern and deep regret" last week after Cambodia deported 46 Republic of China (ROC) citizens accused of telecom fraud to China.
According to Taiwan's Central News Agency, MOFA spokesperson Andrew Lee said that while Taiwan's regional representative office immediately called for the suspects to be repatriated to Taiwan, Cambodia instead heeded a request from Beijing to send them to China, a close ally, in accordance with its support of the One China principle.
It's the latest instance of Taiwan's struggle to participate in regional joint crime-fighting as it bolsters its ties with neighboring South and Southeast Asian countries via President Tsai Ing-wen's signature New Southbound Policy, which aims to deepen economic ties with regional neighbors and lessen the island's reliance on trade with China. While the policy is limited by the fact that no country in Asia has formal diplomatic ties with Taiwan, states like Indonesia, Vietnam, and the Philippines have long had de facto representative offices, generally billed as economic and trade bureaus, in Taipei.
Taiwan's Mainland Affairs Council (MAC), which is responsible for cross-strait policy, said it has asked China to provide personal information and secure visitation rights for the 46 recently deported Taiwanese citizens. Chinese authorities, however, often reject visitation requests. The wife of Lee Ming-che, a Taiwanese activist imprisoned in China for "subverting state power," went months without being granted visitation rights, although the MAC has said she will visit her husband next week.
This is far from the first time Taiwanese crime suspects, usually accused of telecom fraud and often working in conjunction with Chinese nationals, have been deported to China. Taiwanese telecom scammers have operated for decades, targeting potential victims throughout the Chinese-speaking world and demanding payments or access to personal bank accounts. Since the mid-2000s, however, a domestic crackdown has led to their dispersal throughout Southeast Asia, including Cambodia, and to locales as far-flung as Armenia, Spain and Kenya, all of which have deported groups of Taiwanese fraud suspects to China in the past three years.
Beijing, which does not recognize Taiwan's sovereignty, maintains that Taiwanese scamming suspects are Chinese nationals. In many cases, the fraudsters target people living in China and travel using false Chinese documents. This leads to the issue often being cast as a matter of troubled cross-strait relations, and Taiwanese officials have chastised Beijing for not exchanging information in good faith. "Our difficulty at the moment is that mainland China doesn't want to work with us," anti-fraud researcher Chan Chih-wen of Taiwan's Criminal Investigation Bureau told the Associated Press in March 2018.
Chan said at the time that some Taiwanese fraudsters are university students who may not be fully aware they are committing crimes. "Some younger people will think, 'Wow, I can go there and earn some money and even have fun,'" he told the AP. Taiwan's MOFA has warned potential overseas fraud suspects they may wind up in Chinese prisons, where they have received sentences of up to 10 years.
But while all but 17 countries do not formally recognize the ROC, the procedure of deporting Taiwanese crime suspects to China is not uniform. In September 2016, Indonesia sent 11 Taiwanese telecom fraud suspects back to Taiwan. In June 2018, the Philippines repatriated a Taiwanese citizen wanted for drug smuggling. In both cases, the suspects were detained as a result of joint operations involving Taiwanese police.
Such operations are limited, however, as Taiwan's application to join Interpol as an observer has been repeatedly denied despite the support of the United States, France, and 11 of its formal allies. "Interpol's rejection of Taiwan is unreasonable," Taiwan Premier William Lai said in October, "but we know the important reason behind it is China's suppression of Taiwan."
A Thorn in the Side of Taiwan's New Southbound Policy?
But as Taiwan bolsters its relations with Southeast Asian neighbors via its New Southbound Policy initiatives, there are signs that state-to-state obstacles in crime-fighting cooperation may be thawing.
In July 2018, Taiwan deported Filipino fugitive Ricardo "Ardot" Parojinog, a former Ozamiz city councilor suspected by his home country of involvement in the drug trade, after he was arrested in Taiwan in April. In an interview with Taiwan's Central News Agency, Angelito Banayo, the Philippines' top envoy to Taiwan, thanked Taiwanese authorities for their cooperation and expressed regret for the April 2018 deportation of 78 Taiwanese fraud suspects from the Philippines to China, saying the Philippines had been forced to comply with an Interpol Red Alert and insisting the case had nothing to do with his country's own One China policy.
It was a short but significant mea culpa, delivered alongside Banayo's promotion of the New Southbound Policy, which his consular colleague said in June 2018 has the potential to make the Philippines "Taiwan's gateway to Southeast Asia." Taiwan became the Philippines' second-largest foreign direct investor in 2017, trailing only Japan, according to data from the Philippine Statistics Authority.
Taiwan's southward reach has put early numbers on the board: Tsai said in October that bilateral trade with South and Southeast Asian countries increased by 15 percent in 2017, while Taiwanese investment in those countries grew by 54 percent. Tsai also noted Taiwan had accepted over 41,000 new students from New Southbound countries in the first half of 2018, part of the policy's focus on "people-centered" exchanges as outlined in its five "flagship" programs – which some commentators have noted are designed so as not to antagonize Beijing and its own significant interests in the region.
Taiwan, however, is hindered in international crime-fighting due to its inability to join Interpol, and its state-to-state crime cooperation has contrasted its commitment to democracy with the values of its New Southbound counterparts. Its July deportation of Parojinog to the Philippines raised the ire of human rights advocates, concerned that Filipino drug suspects do not receive due process; prison guards have been encouraged to kill inmates suspected of involvement in the drug trade. Phelim Kine, deputy Asia director of Human Rights Watch, told me in an email that Taiwan should "impose an immediate and indefinite suspension of deportations of Philippine drug crime suspects" to their home country, pending an assurance of due process, in order to assert its "respect for human rights and rule of law." Others have called for the New Southbound Policy to incorporate a human rights dimension.
Future questions remain as to what, if any, rights-based lines Tsai's administration will draw with its New Southbound partners ahead of her 2020 re-election campaign. At present, however, Taiwanese fraud suspects detained abroad, even in New Southbound partner countries, remain far more likely than not to wind up in Chinese prisons.