What's the Future of Mainland Southeast Asia's Garment Industry?
New research reveals that the prospects are quite bright.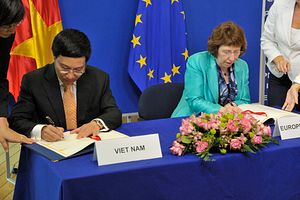 For decades, garment manufacturers in Indochina have led a campaign designed to convince the wider public that their workers ply a menial, unskilled trade undeserving of more than a pitiful wage, currently about $150 a month. Skeptics of course have long refused to believe this narrative.
In the West, garment makers are respected working-class jobs. It has nearly always been that way, although these skills are disappearing with the migration of the industry to countries with cheaper labor pools – particularly China, Vietnam, and Cambodia.
For a few bucks, big brands outsource production, meaning they don't actually make the goods themselves, for named products from denim jeans to lingerie, which are then passed onto consumers for a whole lot more. Add zeroes to the price tag. Still, producers like to yell and scream that any pay rise afforded workers will result in the demise of the industry. This was apparent in Cambodia three years ago when a campaign for a higher living wage was met with a hysterical response from the business community.
Despite those dire warnings and pay rises that manufacturers would describe as generous, the industry survived and foreign investment rose. Now, Melbourne-based ANZ Bank has released an upbeat report covering the industry's future.
" …[T]he outlook on Cambodia's exports of wearing apparel remains positive in light of the consistent foreign investment into the sector," it said.
It expects Vietnam to fully diversify within the industry following the signing of its free trade agreement with the European Union (EU) after two-and-a-half years of talks. The FTA is expected to be ratified next year with a formal launch in 2018.
"Vietnam has already managed to get a foot in the door, with the EU being a key market for its footwear exports. The ratification of the EU-Vietnam Free-Trade Agreement (FTA) will likely benefit textile apparel exports from Vietnam," ANZ said with the release of its latest Greater Mekong Quarterly Outlook.
However, ANZ also said that these benefits would take place over "longer staging periods" of up to seven years and that Hanoi would have to undertake a series of steps to fully realize these gains due to the FTA's strict origin rules.
Contrary to popular belief, it said that the textile apparel industry could not be characterized as a low value-added industry because it possesses labor-intensive and what it described as high value-added segments, which could be traced back to the 1960s. Back then, textile producers began shifting their manufacturing facilities to low-wage countries while keeping the research and development of material technology onshore, ANZ said, with supply chains demarcated by technology and labor.
"Together, these features help the industry evolve and adapt to the fast-changing needs of globalization," it said, rather politely. Others, however, have characterized this as the start of the decline in Western manufacturing with its shift to East Asia.
According to ANZ, China remains the leading textile apparel exporter, while pockets of opportunities still exist for other countries to benefit from further globalization. In particular, it noted that Asia had penetrated the U.S. market, which accounts for 15 percent of world demand for textiles.
The EU remains the biggest importer, it said, and contrary to the conventional wisdom, most of its products are derived from within the 28-nation bloc to reduce the time-to-market of the fashion segment.
But in the final analysis, the textile and apparel industry within Vietnam and Cambodia remain in good shape and on a steady course. It continues to grow and will warrant further pay rises for its well-trained work force, despite anticipated arguments to the contrary from manufacturers.
Luke Hunt can be followed on Twitter @lukeathonyhunt