Why India and Saudi Arabia Continue to Grow Closer
Both India and Saudi Arabia have much to gain from their strategic rapprochement.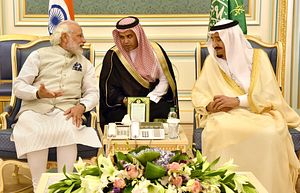 The geopolitical faultlines of the Middle East are always difficult to traverse, even for great powers, as the United States has found to its considerable cost. Today, the Obama administration is desperately trying to reduce its equities in a region that has been in perpetual turmoil, partly due to external interference and partly due to internal contradictions. This has led to an even greater regional turmoil in the process.
Enter China. In an attempt to gingerly probe its ability shape a new regional order, Chinese President Xi Jinping's visit to Iran, Egypt, and Saudi Arabia earlier this year was aimed at gaining greater political and economic salience in a region where Beijing has been reluctant to get involved so far. But as the balance of power in the region unravels, new equations are emerging and older paradigms are no longer sufficient.
Indian Prime Minister Narendra Modi was in the region once again recently for his visit to Saudi Arabia, eight months after his visit to the United Arab Emirates (UAE). There have been calls in India that the country should be willing to insert itself in the broader geopolitical dynamic of the region involving Iran and Saudi Arabia. Modi was right to resist that temptation. Before New Delhi can do that, it needs to make sure that its vital interests are preserved both in Riyadh and Tehran. India's ties with Saudi Arabia have grown significantly over the last two decades based on their burgeoning energy ties and the 2.8 million-strong Indian diaspora in the Saudi kingdom. At a time when Riyadh has been losing its market share with countries such as China and the United States, it has emerged as the top supplier of crude oil to India, supplanting Iraq.
The deportation in 2012 of Sayed Zabiuddin, also known as Abu Jundal, a key suspect in November 2008 Mumbai attacks, also signaled a sea change in Saudi Arabia's counter-terror priorities. While India had looked to the Saudi authorities for help on terrorism-related issues, Riyadh had been reluctant to jettison Pakistan in favor of India. In the past, it was quite common for Indian terrorists living in Pakistan to travel to Saudi Arabia with new names and Pakistani passports. This was also done by Abu Jundal, who went to Saudi Arabia with a Pakistani passport to raise funds and recruit men for future attacks in India. With his deportation, Riyadh was signalling that this won't be allowed to happen any longer.
Ahead of Modi's visit, Saudi Foreign Minister Adel al-Jubeir had insisted that Saudi Arabia's "relations with Pakistan do not come at the expense of [its] relations with India." He was trying to alleviate growing concerns in Pakistan about budding Indo-Saudi ties. Moreover, there is resentment in Riyadh at Islamabad's refusal to commit troops in Yemen for last year's intervention and then to join the Saudi-led "coalition against terrorism" of 34 Islamic nations. Modi has deftly managed to position India in a manner so as to isolate Pakistan's military-industrial complex and their policy of using terrorism as an instrument of state policy.
His visit to the United Arab Emirates last year had resulted in a statement in which the UAE, a close ally of Pakistan, joined India to denounce terrorism in "all forms and manifestations, wherever committed and by whomever, calling on all States to reject and abandon the use of terrorism against other countries, dismantle terrorism infrastructures where they exist, and bring perpetrators of terrorism to justice." Modi managed to accomplish a similar result in Riyadh, where the two nations "called on all states to reject the use of terror against other countries, dismantle terrorism infrastructures where they happen to exist and to cut off any kind of support and financing to the terrorists operating and perpetrating terrorism from their territories against other states; and bring perpetrators of acts of terrorism to justice."
Modi signed five new bilateral agreements with Riyadh, covering intelligence sharing on terrorism financing, increasing private investment and enhancing defense cooperation. Moreover, in a move of some symbolic significance, Saudi Arabia bestowed the King Abdul Aziz Order of Merit medal—the kingdom's highest honor, which has never been given to a civilian Pakistani leader—on the Indian prime minister.
The Saudi government has its own reasons for cultivating Indian ties. The U.S.-Iran rapprochement is raising anxiety in Arab states about a resurgent Iran, forcing them to reorient their diplomacy accordingly. Reaching out to emerging powers such as India is one way to preserve the balance of power in the region.
A strong India-Saudi relationship is important for the global fight against terrorism and India's struggle against Pakistani military and intelligence services. Modi would like to build on its ties with Riyadh and to isolate Islamabad further. This is the only way to put pressure on Pakistan, as it has so far failed to respond to demands from India and the world at large that it should cease exporting terror as the recent "suspension" of peace talks underscores.