Is Pakistan Losing Saudi Arabia?
By attempting to arm-twist Riyadh on the Kashmir issue, Islamabad is undermining relations with a long-time patron.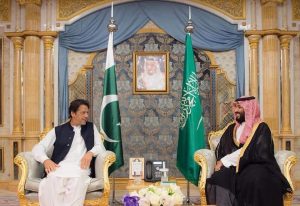 Pakistan's relationship with Saudi Arabia, which has been its friend and benefactor for decades, is in trouble. Last week, Pakistani Foreign Minister Shah Mehmood Qureshi warned the Saudi-led Organization of Islamic Cooperation (OIC) that if it didn't convene a meeting of the OIC's Council of Foreign Ministers to discuss India's abrogation of autonomy to Jammu and Kashmir on August 5 last year, Pakistan would go ahead to call a meeting of Islamic countries that would stand by it on the Kashmir issue.
In effect, Qureshi was threatening the OIC and the Saudis that Pakistan would go outside the OIC to convene a session on Kashmir.
The Saudis didn't take kindly to Pakistan's hectoring and have cracked the whip. They forced Pakistan to return $1 billion recently, which Islamabad repaid after Beijing came to its rescue. The two sides are now locked in tough negotiations for repayment of the rest of the debt.
In 2018, with Islamabad facing a current accounts crisis, the Saudis had extended Pakistan a $6.2 billion package, which included $3 billion in loans and oil on deferred payments worth $3.2 billion. In addition to calling in the loans, Riyadh has frozen the oil credit facility.
This is a major development.
Saudi-Pakistani relations have been strong for decades. Riyadh has been among Pakistan's strongest supporters on the Kashmir issue and the two have been allies for decades in the Afghan conflict. Saudi Arabia is also the source of 50 percent of Pakistan's oil imports and the two countries have strong defense ties too.
Saudi Arabia is also a major source of financial support for Pakistan. Indeed, rarely has Pakistan paid back these loans. That the kingdom is now expecting repayment marks a shift in the bilateral relationship.
There are several reasons for the souring relations. Saudi Arabia is not happy with Pakistan fraternizing with countries like Iran, Turkey, and Malaysia, which are rivals to Riyadh's leadership of the Muslim world. Last year, Pakistan showed much enthusiasm in the planning of a summit of Islamic countries in Malaysia. That drew Saudi ire. Crown Prince Mohammed bin Salman, who allowed Pakistani Prime Minister Imran Khan to ride in his private jet to attend the United Nations summit in New York, abruptly withdrew the jet for the return flight. An embarrassed Khan had to return home on a commercial flight. Khan subsequently stayed away from the Malaysia summit as the Saudis are reported to have warned Pakistan of economic costs.
Another important reason for Saudi Arabia cracking the whip on Pakistan is its strengthening economic and security relationship with India over the past decade. Riyadh and New Delhi are now working together even on counterterrorism issues, which would have been impossible even a few years ago, given Saudi Arabia's long-standing endorsement of Pakistan's policy of supporting anti-India terrorist groups.
With its ties with India on the upswing, the Saudis would like to avoid raising the Kashmir issue. There is nothing to be gained from doing this, and a sure price to be paid in its relations with New Delhi. Hence, Riyadh has repeatedly refused to call a high-level meeting on Kashmir at the OIC.
So what lies behind Qureshi's tirade? Is he trying to position himself in Pakistan's domestic politics as the most vociferous champion of the Kashmiri cause? His rant could be aimed at showing up Khan's ineffectiveness in showing results on the Kashmir issue over the past year. He could be trying to impress the military, which is known to favor a hard line on Kashmir and is said to have become increasingly impatient with Khan.
Qureshi has said that his comment was his personal opinion. However, the Pakistan foreign office subsequently endorsed his position. It is unlikely that Qureshi would have made a provocative statement relating to a key ally without the blessings of the military.
Pakistan's army chief, General Qamar Javed Bajwa, is heading to Saudi Arabia this weekend. Will he be able to smoothen ruffled feathers in Riyadh? New Delhi will be watching.