After Poor State Election Results, Decline Continues for Indian Congress Party
The party's political relevance continues to shrink across India.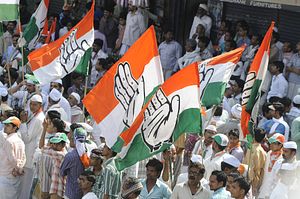 India's grand old party, the Indian National Congress, is in serious trouble. This isn't a particularly new observation—indeed, the party has been in decline since its walloping in the 2014 Lok Sabha elections—but this week's state election results hit home the party's striking decline all over India.
In the states of Assam, Kerala, West Bengal, and Tamil Nadu, the Congress saw poor results. Indeed, only the tiny Indian Union Territory of Puducherry turned out positively for the INC (that too, as a result of its alliance with the Dravida Munnetra Kazhagam [DMK]).
The Congress' slow disappearance from power across India is perhaps best seen on a map. For instance, since 2012, the party has consistently declined in holding state legislations across the country. Karnataka now remains the sole state under Congress control that's an economic heavyweight on the Indian political map.
The 2014 Lok Sabha result, which saw the Congress' seats in the lower house of India's bicameral parliament shrink to the size of an average charter bus, marked an important turning point.
The party was out of power on the national stage after 10 years of rule as the leader of the United Progressive Alliance (UPA). Its time in power was marked by a range of corruption scandals and, while economic growth continued, its pace slowed in the UPA government's final years.
While assessments of India's nationally dominant Bharatiya Janata Party (BJP) government remain mixed, among supporters and critics of Prime Minister Narendra Modi alike, it's clear that the Congress has been unable to pull itself out of a slow drift into political irrelevance.
With the exception of Karnataka and a few other states, the Congress-led UPA coalition does hold a majority in the upper house of India's parliament, the Rajya Sabha. While this has granted the party some veto power over the BJP government's reform agenda, it's far from the kind of bulwark that'll allow a nationwide resurgence.
The core of the party's problem remains its inability to cast off its identity as a dynastic enterprise, lead by Sonia and Rahul Gandhi. Rahul Gandhi, the party's vice president and the supposed inheritor, is seen as lacking in charisma and political acumen. (For more on the dynastic decline of the Congress, see my contribution to The Diplomat magazine's December 2015 issue on Asian political dynasties.)
If the 2014 Lok Sabha result wasn't enough of a wake-up call, this week's state election results should be. If the Congress is to offer an alternative center-left vision for India, compatible with the secularist instincts of many of the party's forebears, including Jawaharlal Nehru, India's first prime minister, it may have to cast off its reputation as a family enterprise.