In a joint effort with Chinese search engine Baidu, tertiary education resource website sdaxue.com published "The Fifth Installment of Chinese University Network False Alerts University List," revealing a list of fake diploma mills from across China. The website has been regularly publishing lists of fake schools since 2013. This year, an additional 73 organizations have been identified as fraudulent tertiary college education institutions in China, bringing the total number of fake colleges to 401.
Many of the websites have shut down since the release of the report, but one example that is still operating is "Qingdao Overseas Chinese Institute of Technology" (http://www.hqlgxyedu.com/), which boasts college assets such as:
[A] building area of ​​280,000 square meters, a teaching building, training embassy building, lecture hall built to high standards of modern teaching building, student dormitory, laboratory, training center, library, stadium, indoor tennis courts, basketball courts, a student activity center, teaching and other sports facilities, and a library collection of millions of paper books copies, as well as electronic journals including more than 5,700 periodicals.
The names of the fake colleges are often slightly altered variations of other prominent and legitimate tertiary institutions, while some have taken up the expired or old names of legal colleges. Many of the phony colleges have sophisticated marketing operations, and often will rent offices on or near the premises of actual universities, with the hope of duping unsuspecting parents, students, and corporations alike.
Education has always played a big part in Chinese society; it is central to Chinese culture. Scholarship is often considered the pinnacle of culture, and it could be argued that the Chinese economic pursuit is also equally a pursuit of education.
"Families of Chinese heritage see taking education seriously as a fundamental pillar of their Chinese identity," Becky Francis, a visiting professor at King's College London and director of education at the Royal Society of Arts, was quoted as saying in a 2011 The Guardian article on education.
With the exception of the period of the Cultural Revolution, education has also traditionally been viewed as a way out of poverty. With the exponential growth of China's middle class in the past two decades, the number of students enrolling into colleges and universities has exploded.
Based on UNESCO data and methodology on tertiary school enrollments, the gross enrollment ratio has increased from 2.9 in 1993 to 30.2 in 2013.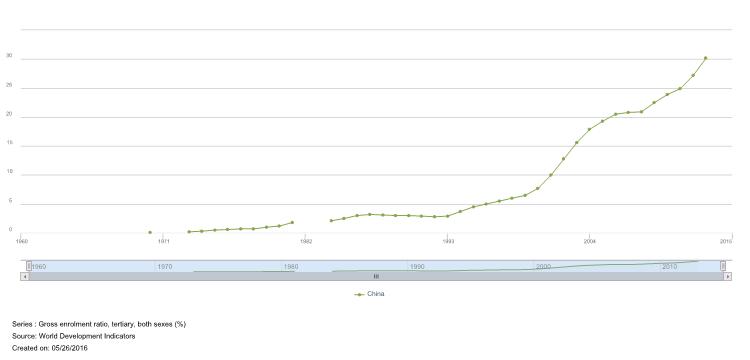 There is strong temptation for these unethical operators, as education is big business. China invested RMB 2.5 trillion ($381 billion) in its education system in 2012 alone, according to the National Bureau of Statistics of China, and this figure will only continue to rise. There is almost exponential upside growth for university enrollments in China, should they try to emulate the West — by way of comparison, while the 2013 enrollment ratio in China was 30.2, it was 88.8 in the United States.
China's most recent Five-Year Plan on National Economic and Social Development has signaled increases in both public and private sector investment into the Chinese education industry.
Beijing's education authorities are working with police to investigate and shut down the fake colleges, reported Xinhua News Agency. However, once exposed, most of these institutes will just change their domain names and continue their fraud, according to China Daily.