Why Does a Top Scientist's Move to US Strike a Nerve in China?
A leading biologist of Tsinghua University took up professorship at Princeton and it triggered a national debate.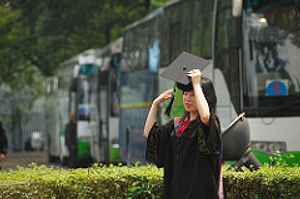 Usually reports about scientists can hardly inspire people's interest in China, but a recent piece of news about a top Chinese biologist was widely circulated in Chinese websites and triggered a national debate.
Nieng Yan, or Ning Yan, a 40-year-old female professor of molecular biology at Tsinghua University, China's top university, is going to take up a professorship at Princeton University and join the faculty this fall.
According to the Howard Hughes Medical Institute, an American non-profit medical research organization, Nieng Yan "combines structural biology, biochemistry, and molecular biophysics to investigate the mechanisms of substrate recognition and transport, as well as electrochemical-mechanical coupling of membrane transport proteins."
Maybe the average person cannot understand Yan's contribution to biology, but we can definitely tell that Yan is a rising star in science by her impressive resume: Yan gained her B.S. from Tsinghua, then studied abroad and received her Ph.D. from Princeton. In her 30s, she was invited back to Tsinghua and became the youngest Ph.D. tutor at the university. She led a lab and published a number of research papers in world-level journals such as Science and Nature during her 10-year stint at Tsinghua.
Thus, Yan's decision to leave immediately led to national discussion and two contrasting thoughts. Some speculated that Yan left Tsinghua out of a grudge — she had complained on her personal blog that China doesn't support fundamental research that yields no specific result. Others believed that Yan's move to the United States was just a common personal choice, part of the global free flow of talent, which also shows Chinese scientists have achieved global recognition.
Yan herself claimed the first speculation was "nonsense" and explained that she took the Princeton's offer because "I am afraid that being in the same environment for too long would lead to personal stagnation. and getting used to it. Changing to a new environment will give me pressure and inspiration which might help me achieve new breakthroughs in science. " Yan also expressed appreciation to Tsinghua for its 10 years of support to her.
Yet her explanation hasn't dispelled people's deep reflections on China's education system: Why can't Chinese universities compete with world-class counterparts? Or in a broader sense, why can't China retain talent returning from abroad?
According to local media reports, which cite survey data from a think tank, the Center for China and Globalization, 68 percent of 918 returnees from abroad wanted to go back to overseas. The main reasons included China's environmental pollution (37.8 percent), low salaries (28.5 percent), no satisfactory positions (26 percent), food safety (24.5 percent), children's education (24.5 percent), no affordable housing (22.9 percent), complicated interpersonal relationships (19.7 percent), and little social appreciation for returnees (16.2 percent).