Foxconn: from Worker Suicides to Plastic Workers
The controversial company is switching to robots, boding ill for China's labor market.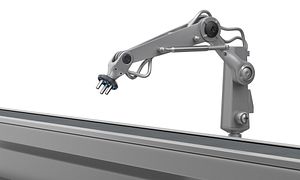 Foxconn, the Taiwanese technology-assembly company infamous several years ago for its spate of worker suicides, has replaced more than half its Kunshan, China workforce with robots. While this reduces Foxconn's labor costs and H-R headaches, it also pushes down employment for migrant workers, and does not bode well for ongoing changes in China's labor market.
Foxconn was never adept in dealing with its employees. In 2010, 18 Foxconn workers attempted or committed suicide (14 died) due to excessive strain, including long working hours, isolation, and punishments. Foxconn's response was to install suicide nets and to force new employees to sign an anti-suicide pledge that states Foxconn will not be held responsible in the case of worker suicides.
The new robots at Foxconn, reportedly used for more mechanized activities, represent a larger trend toward the mechanization of labor in China's work force. According to the BBC's Jane Wakefield, 505 factories in the city of Dongguan in southern China have invested 4.2 billion yuan ($640 million) in robots to replace thousands of workers. This is due in large part to rising wages, which have risen at a rate of 12 percent per year since 2001 in the manufacturing sector. Foxconn wages average around $370 per month or $4,400 per year. Robots cost around $35,000 to purchase and would cost less than a worker after eight years of use.
The government is attempting to increase the number of robots per 10,000 people from about 36 toward developed-country levels, at about 164 robots per 10,000 people in the U.S., and higher in the case of Germany or Japan. The goal is to expand the use and creation of innovation to become a high-tech hub by 2049.
This does not have pleasant implications for China's labor market. The government has stressed that increasing consumption is an important component of the new economy, but without jobs many lower-income individuals well be unable to purchase retail products. Furthermore, as the leadership has stressed that China is moving up its value chain, as it sheds low-skilled jobs, inevitably a large body of the workforce will find themselves left out of the economic growth story. This does not make sense for an economy whose comparative advantage is in labor-intensive production.
Already, China has a problem employing many of its college graduates. There is insufficient job creation in high-skilled manufacturing and the service sector The unemployment rate is even higher for college graduates, who are supposedly high-skilled, than for high school graduates. Those who have a college degree find themselves ill-suited for the labor market, with specializations that do not match most job descriptions.
An increasing number of companies are planning to move to automated production processes. The switch to robotic labor in manufacturing will only serve to increase unemployment in an economy that is moving out of low-skilled manufacturing and into limbo. Opening up the services sectors such as health and education could be promising, but this is happening at a glacial pace as China's leadership strives to combat a massive economic slowdown and mounting debt. Until then, workers will continue to feel the pinch as their livelihoods are encroached upon at both ends.