Foxconn to Shift Some iPad, Macbook Production to Vietnam
Vietnam continues to be the big winner of the Trump administration's trade war with China.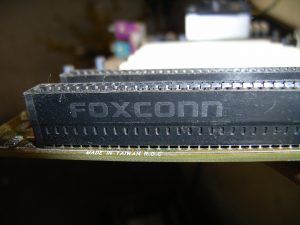 The U.S. tech behemoth Apple has requested that the Taiwanese manufacturing firm Foxconn shift some of its assembly operations from China to Vietnam, in order to minimize the impact of trade tensions between Washington and Beijing.
According to a November 26 report by Reuters, Foxconn is building assembly lines for Apple's iPad tablet and MacBook laptop at its plant Bac Giang province in Vietnam's northeast. "The move was requested by Apple," a source with knowledge of the plan told the news agency. "It wants to diversify production following the trade war." The new production lines are scheduled to begin operations in the first half of 2021.
The source did not say how much production will be relocated from China, but since iPads are all assembled in China, Foxconn's reported move would mark the first time that the device has been made outside of the country.
It would also make Apple just the latest multinational firm to seek to avoid American tariffs by shifting its manufacturing operations from China to Vietnam.
If any nation has benefited from the U.S.-China trade war, it is Vietnam. Over the past few years, multinational corporations and Chinese businesses have moved production to the country to take advantage of its skilled workforce and low labor costs, and to avoid increased American tariffs. In August, Samsung Electronics, which has manufactured smartphones in Vietnam for over a decade, announced that it would move personal computer production there after shutting down a plant in China.
For more than a decade, Vietnam has benefited from a slow relocation of manufacturers from China, due to the latter's increasing labor costs. But the trade war has accelerated the shift, and aided Hanoi's goal of creeping up the value chain toward higher-skilled work, especially advanced tech manufacturing. From Intel to LG, increasing numbers of firms are also choosing to set up in Vietnam in the first instance. Indeed, the demand from foreign manufacturers has been so significant that it has put strains on the Vietnamese workforce, its suppliers, and the available reserves of land for industrial development.
Coupled with Vietnam's effective containment of the coronavirus pandemic, this manufacturing boom explains why Vietnam will be the only country in Southeast Asia set to record net economic growth this year. The nation's economy will grow by 1.6 percent in 2020, according to the International Monetary Fund (IMF), which then projects it to jump up by 6.5 percent in 2021, as the pandemic wanes.
A strong driver of this growth has been growing exports, including from companies that have relocated their manufacturing operations from China. Exports grew 9.9 percent in October, year on year, to $26.7 billion, and the Ministry of Industry and Trade projects a full-year rise of 3 to 4 percent.
All of this has been made possible by Vietnam's successful containment of the coronavirus pandemic. The IMF credited "decisive steps to contain the health and economic fallout from COVID-19" for Vietnam's success. To date, the country has recorded just 1,341 positive cases of the coronavirus and 35 deaths.
The trade war and the pandemic are thus accelerating a slow shift in the economic pecking order in Southeast Asia. According to the IMF, Vietnam will this year become the fourth-largest economy in the Association of Southeast Asian Nations, leapfrogging Singapore and Malaysia, which have been hit hard by the pandemic. In comparison to Vietnam's projected growth of 1.6 percent growth, the IMF predicts that the GDP of Malaysia and Singapore will drop by around 6 percent in 2020. Thailand's economy will contract by 7.1 percent.
This represents a remarkable achievement for a nation whose development was held back by several decades by fierce civil war and Cold War-era isolation that did not end until the early 1990s.
At the same time, Vietnam's leaders cannot take anything for granted. The country is currently under investigation by the U.S. Commerce Department for alleged currency devaluation, and for the fact that the trade war has inflated Vietnam's already large trade surplus with the U.S. On November 5, the Commerce Department announced the imposition of tariffs on imports of tires from Vietnam. Moreover, if the incoming U.S. administration of President-elect Joe Biden decides to scrap Trump's punitive tariffs, manufacturers could have less incentive to migrate their operations from China.
Still, Vietnam's successful balancing of the exigencies of public health and economic growth, as well as the sweet-spot profile of its young labor force, suggests that the good times could continue for some years to come.