G7 Falters on Growth Test
The summit failed to endorse coordinated action, but did make progress on trade and tax.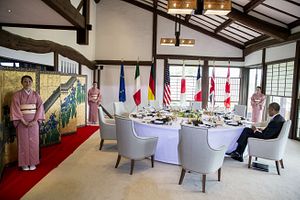 The Group of Seven's (G7) failure to endorse coordinated action on global growth will do little to revive a faltering world economy. However, with progress on trade and tax the first such summit held in Asia for eight years may yet achieve more than the typical talkfest.
On Friday, the G7 wrapped up two days of leaders' talks at Ise-Shima, Japan with a statement that reflected tensions between pro-stimulus Japan and Canada, versus the so-called fiscal hawks of Britain and Germany.
The official statement pledged to make global growth "our urgent priority." But the kicker for Japan was the next line, which said it would take into account "country-specific circumstances" in strengthening economic policy responses in a "cooperative manner" and "employing a more forceful and balanced policy mix."
In shades of Abenomics, the group comprising Britain, Canada, France, Germany, Italy, Japan and the United States vowed to take a "three pronged approach" in employing fiscal, monetary and structural policies "to strengthen global demand and address supply constraints."
"We concur on the importance of strengthening our efforts in a cooperative manner to implement our fiscal strategies flexibly to strengthen growth, job creation and confidence, while enhancing resilience and ensuring debt as a share of GDP on a sustainable path, as well as to advance structural reform decisively," the statement said.
The G7's failure to agree on coordinated economic policy action came despite its admission that "growth remains moderate and uneven, and since we last met downside risks to the global outlook have increased."
The statement also noted weak global trade, soft demand and "potential shocks of a non-economic origin" including a potential "Brexit," geopolitical conflicts, terrorism and refugee flows.
It admitted that "monetary policy alone cannot lead to strong, sustainable and balanced growth," pointing to the need for tax policy and public spending to be made "as growth-friendly as possible".
Yet Japan reportedly failed to have a further warning inserted that the global economy is at risk of "falling into a crisis," according to an earlier draft obtained by Bloomberg News.
"We recognize the risk of the global economy exceeding the normal economic cycle and falling into a crisis if we did not take appropriate policy responses in a timely manner," the Japanese draft had stated.
On Thursday, Abe warned his fellow leaders that the world economy faced the risk of another 2008 "Lehman shock" if appropriate action was not taken. The wording was deliberate for the Japanese leader, who has said only another Lehman shock or major natural disaster would prevent a rise in the consumption tax next April, from 8 to 10 percent.
Abe reportedly presented data at the conference's opening session showing that commodities prices have fallen by 55 percent since 2014 – the same slide seen during the global financial crisis.
As previously noted by Pacific Money, Abe has already flagged plans to postpone the tax increase amid soft domestic consumption and a weak global economy. The latest inflation data has added to his push for restraint on hitting consumers, with the headline consumer price index dropping by 0.3 percent year-on-year in April, although the Bank of Japan's preferred underlying measure rose by 0.9 percent.
The official announcement of a delay could come as early as Wednesday, and could last for up to two years, according to the Nikkei. Abe is also reportedly pushing for a supplementary budget worth up to 10 trillion yen ($91 billion) to fund measures including greater pay for childcare workers and infrastructure projects.
Abe's push at the G7 for greater action on growth was backed by Canadian Prime Minister Justin Trudeau, who favored greater spending as part of his push for increased infrastructure investment.
However, as noted by Deutsche Welle's Christoph Kober: "None of the summit participants subscribe to Abe's assessment of the current situation as being reminiscent of the post-Lehman Brothers meltdown. The summit in Ise-Shima showed just how far apart from each other the G7 countries stand with regard to the main issue: the economy."
German newspaper Die Welt reportedly called the statement "an agreement that hurt no one." Yet with softer growth in China and other emerging economies and the advanced economies' barely sputtering along, the lack of new measures may prove harmful.
"Anger within the middle classes of wealthy countries about slow growth and poor job prospects has opened the door to the rise of populist movements," the Nikkei's Mikio Sugeno said, with U.S. President Barack Obama commenting that world leaders are "rattled" by the prospect of Donald Trump becoming leader of the world's biggest economy.
But with the International Monetary Fund projecting in April economic growth this year of just 0.5 percent for Japan, 1.5 percent for the Eurozone, 1.9 percent for Britain and 2.4 percent for the United States, "the agreement that came out of the Ise-Shima summit can be seen as more of a wake-up call on Japan's issues than anything else," Sugeno said.
Trade, Reform Push
As well as backing the Trans-Pacific Partnership (TPP) and other trade agreements, the summit also may have helped speed a proposed Japan-European Union (EU) trade deal that would lower barriers between the world's third-biggest economy and the globe's biggest economic bloc.
According to the Guardian newspaper, British Prime Minister David Cameron has pushed for an accelerated timetable that could see talks concluded as early as this fall, coming into effect in 2017. Cameron's government sees such a pact as worth 5 billion pounds ($7.3 billion) a year to the British economy – while also highlighting the benefits to Britain of remaining part the EU.
"This agreement underlines once again why we are stronger, safer and better off in a reformed EU. As Prime Minister Abe said when visiting [Britain], Japan's priority is negotiating with large trade blocs – not individual states in Europe. And this is something we hear time and again from foreign leaders," Cameron said.
"Not only will [British] households lose out to the tune of 4,300 British pounds ($6,289) a year if we vote to leave, but we will be turning our backs on global trade deals which underpin our security and prosperity."
Japan's Ministry of Foreign Affairs has described such an agreement as a "mega FTA" along with the TPP and TTIP (Transatlantic Trade and Investment Partnership), noting that the EU accounts for 24 percent of world GDP and around 10 percent of Japan's total trade volumes.
The G7 also pushed structural reform, including "labor market participation by women, the youth and the elderly." It also noted that "global excess capacity in industrial sectors, especially steel, is a pressing structural challenge with global implications" – an issue particularly of concern to Europe, with European Commission President Jean-Claude Juncker saying the EU would "step up" its measures against dumping.
The grouping also underscored its commitment to "refraining from competitive devaluation" of exchange rates, as well as pledging the "elimination of inefficient fossil fuel subsidies" by 2025.
But for a world economy suffering from "too slow growth for too long," the latest G7 summit may be viewed as a missed opportunity, particularly for the other half of global GDP that was not even represented in Japan.