How Far Have India-US Ties Come After Two Years of Modi?
After two years in office, how far have India's ties with the United States come?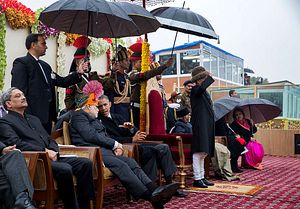 As Indian Prime Minister Narendra Modi's government nears its two-year anniversary, it is worth taking stock of its foreign policy toward the United States, a much-hyped strategic partner. Modi even has a strong personal rapport with U.S. President Barack Obama. So then, where do India's political, defense, and economic relations with the United States stand after two years of the Modi government? So far, the score card shows mixed results.
The Modi government, over the past two years, has certainly scored major victories in building positive ties between India and the United States. The prime minister himself has taken proactive measures to build a rapport with important U.S. political leaders. He met Obama six times just in his first 24 months in office and visited the United States three times. Such is his relationship with Obama that he inspired the leader of the most powerful country in the world to write a note supporting him for Time magazine's 100 Most Influential People list for the year 2015.
Interactions among other leaders in India and the United States have also picked up. Just over the past two years, U.S. Secretary of Defense Ashton Carter has met India's Minister of Defense four times. Secretary of State John Kerry has visited India twice and met Indian Foreign Minister Sushma Swaraj several times. Several influential U.S. congressional committee members have also visited India. Starting in the early months of that new government, Senator John McCain and three cabinet members flew to India to hold consultations about the bilateral relationship. This followed visits by Senator Angus King, member of the Senate Armed Services and Intelligence Committees, and Senator Tim Kaine, chair of the Senate Foreign Relations Subcommittee on South and Central Asian Affairs. Many such high-level visits from the United States have since continued, engaging Indian policymakers and leaders at a steady pace. This trend has accelerated considerably since Obama's visit to India last January, when he graced the Indian Republic Day celebrations as the chief guest. At a political level, it is clear that there have been significant improvements in the bilateral relationship.
Defense relations have also continued their steady pace. The United States has for some time been the country with which India conducts the largest number of military exercises. This engagement is growing in complexity and sophistication. Issues of co-development and co-production of military equipment have also gathered some momentum, but have seen only modest progress over the past two years. Only a couple of low-end projects, such as the research and development of mobile electric hybrid power sources and the next-generation protective body suits, have been taken up, with talk continuing of moving to other more sensitive technologies. The recent signing in principle of the Logistics Exchange Memorandum of Agreement (LEMOA) would allow mutual support for refueling, supplies, and spare parts and is an important sign of both sides overcoming bureaucratic and other logistical hurdles in the pursuit of closer cooperation. In this direction, the creation of the India Rapid Reaction Cell in the Pentagon, the first country-specific cell of its kind, for simplifying defense collaboration, is another small but significant step toward overcoming bureaucratic bottlenecks.
Of course, the India-U.S. bilateral defense relationship also depends on the sale of military equipment. India in recent years has emerged as one of the most important export markets for the U.S. defense industry, with defense trade volume surpassing $10 billion dollars in the past decade. In fact, the Indian market for U.S. defense products might expand considerably as India takes a second look at the Boeing F/A-18 Super Hornet after downsizing a deal to buy French Rafale fighters. No numbers have been officially mentioned yet, and the deal may take years before producing any tangible results. Some conservative estimates suggest that India could be looking to purchase 100 to 150 Boeing jets. If this deal actually goes through, it has the potential to usher in a qualitatively different relationship–one not of buyer-seller, but of co-producers. The Modi government can justifiably take some credit for this change in Indian thinking.
Despite the advances in political and defense ties, one area that has not seen expected results after Modi's first two years is the India-U.S. economic relationship. Although data available from the U.S. Bureau of Economic Analysis shows an upward trend in trade and investment ties, there is a growing feeling among political and economic observers that bilateral economic relationship has reached a plateau. A comparison between the last two years of the Manmohan Singh government and the first two years of the Modi government hits home this point. According to the U.S. Department of Commerce's data, bilateral trade volume stood at $95 and $101 billion respectively in 2012 and 2013, with a net increase of $6 billion dollars between 2012 and 2013. However, under Modi, the improvements have been modest: $104 and a little over $107 billion in 2014 and 2015. The slow pace at which U.S.-India economic ties have expanded under Modi is baffling and concerning.
This slow pace of economic cooperation is particularly concerning for two reasons. First, the Modi government ran on an electoral platform that emphasized boosting India's economic standing in the world, which would have been difficult to achieve without strengthening economic ties with the world's largest economy. Modi's personal reputation as a business-oriented leader was considered a critical component in the achievement of this agenda. So far, that business-friendly reputation appears to have borne little fruit for India. Second, the Obama administration has expended tremendous effort on expanding economic and trade ties with Asian countries, as evidenced by the vigor with which it has  pursued international trade pacts like the Trans-Pacific Partnership. The concern for India is that it might be left behind in Asia as the U.S. advances its trade agreements with other countries. One adverse consequence for India could be that it would remain forever stuck in a middle-income trap, a promising economy never truly materializing its potential.
All said, the past two years of the Modi government paint a mixed picture for the India-U.S. relationship. Defense ties have continued along a decisively upward trajectory of growth and sophistication, but economic ties have lagged behind. Indeed, the political relations between the two countries have benefited the most under Modi. The prime minister has built a good personal rapport with the U.S. president. In the United States, several high-level officials and leaders have shown interest in further improving relations with India. However, as the recent history of India-U.S. ties shows, when the political winds shift their course, it is ultimately the defense and economic ties that keep bilateral relations afloat. It is precisely these areas, particularly the economic component of the bilateral, that the Modi government must emphasize in its future policy toward the United States.
Shivaji Kumar is assistant professor at the Centre for International Politics at Jawaharlal Nehru University's School of International Studies.