Indonesia, Philippines, Malaysia Agree on New Joint Patrols Amid Kidnappings
Patrols part of broader plan to tackle rising maritime security challenges.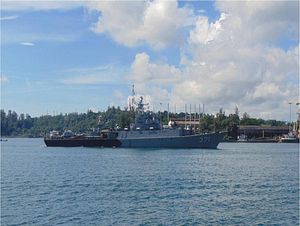 Indonesia, Malaysia, and the Philippines agreed Thursday to conduct coordinated maritime patrols as part of a broader plan to tackle rising security challenges in the waters bordering the three countries.
At a trilateral "2 + 2" meeting of their foreign ministers and military chiefs held in the central Java town of Yogyakarta, the Southeast Asian states agreed to have joint patrols in their surrounding waters. They also said they would set up crisis centers within their countries as well as a hotline between them to ensure speedy communication during maritime emergencies.
Alarm bells have been ringing in three countries for weeks following a series of kidnappings over the past month or so involving 14 Indonesian and four Malaysian sailors. The abductions are believed to have been carried out by gunmen linked to the Abu Sayyaf Group. Of these, ten Indonesians were released earlier this week following close communication between the three countries, while the rest still remain in captivity.
In a joint statement, the three countries said they "recognized the growing security challenges, such as those arising from armed robbery against ships, kidnapping, transnational crimes, and terrorism in the region, particularly in reference to the maritime areas of common concern."
The Sulu Archipelago, where the kidnappings occurred, forms the northern limit of the Celebes Sea and the southern limit of the Sulu Sea. The area is in the southern part of the Philippines, while Indonesia and Malaysia both share a land border on Borneo, which lies southwest of the Sulu Sea.
In 2015, more than 100,000 ships crossed the waters of the Sulu Archipelago carrying 55 million metric tons of cargo and more than 18 million passengers, according to Indonesia's foreign ministry.
Discussions at the meeting centered on not just collaborative endeavors like joint patrols, crisis centers, and hotlines, but also setting out exactly what cooperation will look like in emergency situations, including clear standard operating procedures.
The countries are expected to meet again to work out more specifics including these procedures. As they work out the specifics of their joint patrols, officials have said they may draw on the experience of the Malacca Strait patrols, where sea and aerial patrols as well as intelligence-sharing since 2006 have helped drastically reduce the number of piracy attacks in the world's busiest sea lane.