Trilateral Patrols in the Sulu Sea: Still Coming Soon?
A look at the status of a much-anticipated initiative between Indonesia, Malaysia, and the Philippines.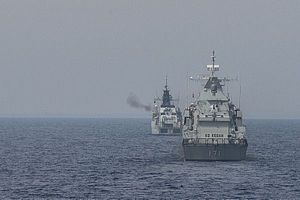 Last year, Indonesia, Malaysia, and the Philippines reached an agreement on limited coordinated trilateral patrols following a meeting in Bali. Though the three sides have since made more progress than skeptics had initially predicted, we have still yet to witness the official launching of these patrols, with reports that they will now occur sometime in the next few weeks.
The strategic significance of these trilateral patrols, if realized and sustained, is clear. As I have pointed out before, the Sulu Sea – or, more specifically, the one million square kilometer tri-border area in the Sulu-Sulawesi Seas between the southern Philippines, Indonesia, and Malaysia – has long been a hub for transnational organized crime and terrorist threats (See: "Confronting Threats in the Sulu-Sulawesi Seas: Opportunities and Challenges"). Greater coordination between the three Southeast Asian states to resolve these nettlesome problems offers hope for their mitigation.
That said, close observers never had any illusions about how difficult it would be to actually get these patrols going (See: "The Other Sea That Dominated the 2016 Shangri-La Dialogue"). As I wrote as the initiative was taking off, there are a range of challenges – from political ones like lingering disputes between these countries to more operational ones such as agreeing on things like standard operating procedures and necessary supporting infrastructure. Little surprise, then, that the trilateral patrols have taken some time to get up and running.
As for the launch date itself, officials had initially indicated that they would try to finalize something for April or May, though specifics have been few and far in between. In March, Philippine Defense Secretary Delfin Lorenzana said that the three countries had agreed to a joint air and maritime patrols of an area to protect commercial vessels passing through, and that a joint patrol of the three nations in that area would be inaugurated "sometime in April or May." And in early April, Malaysian officials had confirmed that the launch would occur at the Sandakan Naval Base in the eastern Malaysian state of Sabah, with reporters being invited to witness the event.
Eventually, that launch ceremony did not take place. Malaysian Defense Minister Hishammuddin Hussein publicly said that the launch was to be moved to a later date because Lorenzana was not able to join his Indonesian and Malaysian counterparts because he was accompanying Philippine President Rodrigo Duterte to a trip to the Middle East.
Last week, Hishammuddin told reporters at the 83rd Royal Malaysian Navy (RMN) anniversary at the Sepanggar naval base that the three defense ministers would meet to have a launch in Bongao in the southern Philippines next month. He also added that subsequent, separate launches were planned in Malaysia and Indonesia as well that would also be attended by the three ministers.
That would make sense. In addition to accommodating the desires of all sides, it would also recognize the trilateral nature of the initiative and also be in line with its structure, which so far seems to be rooted in naval bases in each of the three countries – Bongao in the southern Philippines; Sandakan in eastern Malaysia; and Tarakan in North Kalimantan in Indonesia.
Hishammuddin did not reveal a specific launch date for the trilateral patrols, which, if it occurs in May, would still fall within the rough timeline Lorenzana had provided earlier. But the way things are shaping up, it will not be long before they actually take off, despite the delays we have witnessed so far.