Indonesia Receives First Batch of New German-made Main Battle Tanks
Indonesia took delivery of eight of 61 Leopard 2 main battle tanks upgraded for urban warfare.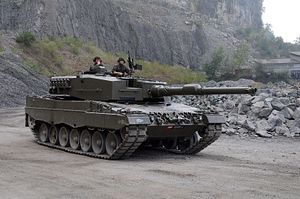 The Indonesian Army (Tentara Nasional Indonesia Angkatan Darat, TNI-AD) has taken delivery of the first eight of 61 Leopard 2A4 third-generation main battle tanks (MBT), according to executives of German defense contractor Rheinmetall, who recently spoke to IHS Jane's Defense Weekly during a company symposium on land forces.
Rheinmetall is currently in the process of upgrading 61 Leopard 2 MBTs to the so-called Revolution standard, an urban warfare upgrade package that requires a number of specific modifications requested by the Indonesian military to make the tank more suitable for urban combat.
Overall, the TNI-AD had ordered 103 used Leopard 2A4, designated Leopard 2 RI (Republic of Indonesia) specifically outfitted with bustle-mounted air conditioning systems to suit Indonesia's Indonesia's tropical climate.
The recent delivery is part of larger Indonesia-German defense deal that, next to the 103 Leopard MBTs, includes 42 upgraded Marder 1A3 infantry fighting vehicles and ten armored recovery, mobile bridges and military engineering vehicles from surplus German Army stocks. The Marder infantry fighting vehicles and the ten armored recovery and engineering vehicles, along with 42 Leopard 2 RI MBTs have already been handed over to the TNI-AD.
In a November 2013 company statement, Rheinmetall states that as the important supplier  it would supply "logistical support, and ammunition worth roughly EUR216 million [USD 290 million]," based on a contract signed in December 2012, which "now comes into full force following the successful completion of all legal formalities."
The Leopard 2 MBT is manufactured by Germany's Krauss-Maffei Wegmann, but the tank's fire control technology and C4I systems, along with its 120 millimeter smoothbore gun plus ammunition is supplied by Rheinmetall.
According to IHS Jane's Defense, "the deal will see the German company transfer undisclosed technologies to Indonesian state-owned land systems specialist PT Pindad (Persero) and the TNI-AD's Ordnance Depot and Signal Corps."
In May 2014, Rheinmetall also received a contract to supply the Indonesian military to supply both a driving and gunnery simulator, Leopard Gunnery Skills Trainer (LGST) and Driver Training Simulator (DTS), in order to train TNI-AD tank crews for the new MBTs.
The German-Indonesia arms deal created domestic controversy in Germany, where tight arms exports restrictions still apply, given Indonesia's poor human rights track record. Concerns over the human rights situation in Indonesia led the Dutch government to veto a possible sale of surplus Royal Netherlands Army Leopard MBTs to Indonesia in 2012. Nevertheless, the German Security Council approved the deal in April 2013.
In the past, Germany—one of the top arms exporting countries in the world—has informally applied the so-called Genscher doctrine, named after former German Foreign Minister Hans Dietrich Genscher, who argued "that which floats is okay. That which rolls is not," when it came to selling military hardware abroad.
Genscher's rationale was simple:  It is much more difficult to suppress a population with ships than with tanks. As a consequence, previous defense deals involving the export of submarines or other naval vessels have proven less controversial than land platforms.