OSCE Hosts Master Class on Media Regulation in Turkmenistan
This is not, apparently, satire.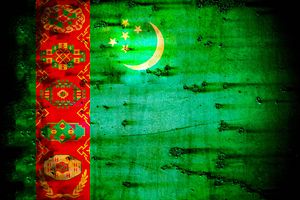 The Organization for Security and Cooperation in Europe (OSCE) has maintained an office in Ashgabat, Turkmenistan since 1999. Ostensibly, the OSCE Centre in Ashgabat is dedicated to working on a range of issues the body views as fundamentally intertwined with security: "arms control; border management; the fight against terrorism; trafficking in human beings, arms and drugs; economic and environmental topics; human rights, good governance, and rule of law issues; elections; and media freedom."
The last few seem like a bad joke; satire riffing off the fact that Turkmenistan is one of the most closed and least media-friendly countries in the world.
On May 4, a press release appeared on the OSCE's website announcing that 25 representatives from "state agencies, parliament, mass media and academia" attended a master class on best practices in "regulating online media and broadcasting":
The two-day event addressed international standards, mechanisms and principles of regulation and self-regulation of online media, as well as models of broadcasting regulation and approaches to broadcasting licensing. Participants were representatives of the Mejlis (parliament), the State Committee for Television, Radio and Cinematography of Turkmenistan, the Supreme Court, the Ministries of Communications and Justice, and representatives from educational and research institutions, national broadcast, print and online media.
In the most recent Freedom of the Press ranking from Freedom House, Turkmenistan comes in with a score of 96 (with 100 being the least free), one point ahead of North Korea (which scored at 97), and one point less free than last year. In the 2015 country report, Freedom House commented that the Turkmen constitution's "nominal protections for press freedom and freedom of expression are not observed in practice." Laws that prohibit censorship are functionally irrelevant, given that there is no space for independent media.
Ivo Petrov, head of the OSCE Center in Ashgabat, said of the recent master class:
While taking many forms such as provisions in national legislation, administrative directives, or technical instructions, regulation may also serve different goals, including public interest, market needs, or technical efficiency… Our event today is held in a new format of a master class, and we organized it to engage participants in an active discussion on concrete practical examples and recommendations on applying efficient mechanisms of regulating online media and broadcasting to promote a free and pluralistic mass media.
Over the years, the OSCE has hosted several media-related workshops in Ashgabat, to little external effect. The Turkmen TV snippets that trickle into the international arena can be best described as propaganda: videos of government employees exercising or President Gurbanguly Berdimuhamedov driving an armored 4×4. Meanwhile, the state has made a habit of tearing down satellite dishes that allow people to access non-government broadcasts and intimidating (or arresting) journalists working with outside media outlets, like RFE/RL.
In 2015, the OSCE provided a training in TV production and one on online journalism. The OSCE also hosted a roundtable on the "rights and duties of editorial offices and journalists." These are all nominally good endeavors, but from the outside (and just about everyone is on the outside) there doesn't seem to be any impact.
The real test will come in September 2017 when Turkmenistan is scheduled to host the Asian Indoor and Martial Arts Games. The closed country will open for the large sporting event–which will draw participants from across Asia –but it's unclear how it will handle media that wish to attend. Journalists find it incredibly difficult to obtain a visas to Turkmenistan, and Ashgabat could take a leaf from Baku's book: Azerbaijan barred several sports journalists from attending the European Games in 2015, worried about critical coverage.