The Belarus Trap: Former Journalist Faces Forced Return to Turkmenistan
While Belarus isn't willing to extradite all rogue Central Asians, Chary Annamuradov might be one of the unlucky ones.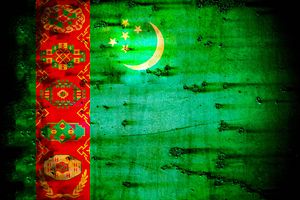 It's a familiar story: a former Central Asian journalist facing extradition to his or her birth country to face criminal charges of one kind or another, often fraud or drugs.
In the latest such incident, Chary Annamuradov, a former Turkmen journalist who had been living in Sweden, was detained by Belarusian authorities last month. Alexander Tishchenko, of the Border Guard Committee of Belarus, told AP that Annamuradov's name was on a wanted list. Belarus is preparing to extradite him to Turkmenistan. He's wanted on fraud charges, AP reports.
This is not Annamuradov's first brush with the Turkmen legal system. In the early 1990s Annamuradov was investigating drug trafficking between Afghanistan and Europe, via Turkmenistan and Russia. He was arrested on drug charges in 1991. Annamuradov was sentenced to 18 years and served six. After his early release, Annamuradov moved first to Moscow and then Prague. In Prague he worked with RFE/RL's Turkmen service. In 2002, Annamuradov was granted asylum by Sweden.
In its 2016 World Press Freedom Index, Reporters Without Borders ranked Turkmenistan 178th out of 180 countries–sitting just above Eritrea and North Korea, and just below Syria and China.
According to AP, the president of the Swedish chapter of Reporters Without Borders, Jonathan Lundqvist, said Annamuradov had not been working as a journalist since his early 2000s arrival in Sweden. A friend, AP reported, said he'd been working as a taxi driver and when he arrived in Minsk didn't use his Swedish passport in order to avoid the visa fee, opting apparently for his Russian passport.
The AP article did not detail why Annamuradov had traveled to Belarus.
The Swedish Foreign Ministry, through spokesman Johan Murray, confirmed to AP that "a Swedish national was being held in Belarus and the embassy there was providing him with assistance and judicial support."
Belarus is a popular jumping point between the states of the former Soviet Union and Europe. It's frequently a conduit for Central Asians–who are able to fly without a visa to Belarus–to flee to Europe for asylum. But Belarus, a member of the Moscow-led Eurasian Economic Union, has an uneven history in terms of extradition. At times, Central Asians are detained and sent packing and at others, Minsk relents in the face of international pressure.
For example, Shabnam Khudoydodova, of the Tajik opposition organization group Group 24, was detained in Belarus last summer. She'd recently entered the country from Russia, one step ahead of Tajik authorities mere months after the head of Group 24 was assassinated in Istanbul. Dushanbe has gone to great lengths to pursue its opponents, even abroad–Turkmenistan is not different in this regard. Khudoydodova, ultimately, was not extradited. After eight months she was released by Belarusian authorities.
Another case is that of former Kyrgyz president, Kurmanbek Baiyev. Bishkek has been seeking Bakiyev's extradition for years following his 2010 ouster, but to no avail. The former president allegedly gained Belarusian citizenship and purchased a home outside of Minsk worth $2 million.
While Belarus isn't willing to extradite all rogue Central Asians–either those with too much international attention or ties to Minsky's political elite–it's not guaranteed that Minsk will refuse Ashgabat's request to send Annamuradov back. If he is returned, activists worry what will happen. For a preview, just look at the case of Saparmamed Nepeskuliev, a freelance journalist detained last summer by Turkmen authorities–coincidentally, on drug charges. Nepeskuliev, who was convicted and sentenced in a closed trial, hasn't been heard from in nearly a year.