Tajikistan Talks the Talk on Rights, But Opposition Trials Continue
Dushanbe says the right things in international forums, but hasn't made measurable progress in fulfilling its rights commitments.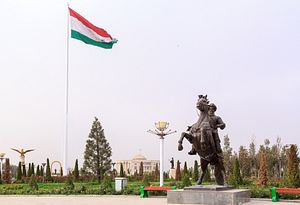 "The Republic of Tajikistan is committed to taking measures to fight extremism and terrorism in strict compliance with international law and legislation on human rights," a member of Tajik delegation to the country's periodic review by the UN Human Rights Council said last week in response to comments offered by a range of countries.
The universal periodic review process–UPR–is the mechanism by which UN member countries have their human rights records assessed. Every UN member state goes through the UPR once every 4.5 years. In a highly bureaucratic session, representatives from more than 70 nations offered comments and recommendations to Tajikistan on May 6.
A number of countries offered clear criticisms of Tajikistan's human rights record. (You can watch the whole thing here.) Topics as varied as poverty, torture, domestic violence, and freedom of expression were raised. The focus of the deepest criticisms emanating, notably, from Western countries were on Dushanbe treatment of political opposition–the IRPT, Group 24, and their lawyers–as well as crackdowns on media, and use of torture.
Norway pressed for the immediate and unconditional release of political prisoners and the United States' representative, Ambassador Keith Harper, said "We are alarmed by the increase in the number of politically-motivated detentions and incarcerations of human rights defenders and prominent opposition figures in the name of national security and stability." Harper also highlighted the plight of human rights lawyers, listing several that Human Rights Watch has published alerts on by name.
While the U.S. did not mention by name the Islamic Renaissance Party (IRPT), several other countries did–Norway, the United Kingdom, and Canada to name a few. Nations like China focused on poverty eradication as a human rights issue and others focused on the rights of children.
Tajikistan's delegation assured the gathered nations that "all possible measures" were being taken to implement Dushanbe's international commitments to human rights and freedoms. They touted laws against torture and those which ensure freedom of the press.
Meanwhile, back in Tajikistan, the trial of more than a dozen IRPT leaders moved closer to its predictable conclusion. The trial, which began in February, has taken place behind closed doors. Lawyers who were set to represent some of the IRPT leaders were themselves detained and also put on trial in closed courts.
According to RFE/RL's Tajik service, the state prosecutor is asking for life sentences for four of those on trial and sentences between eight and 25 years for the rest.