Thailand Mulls Buying New Military Helicopters from Russia
Officials say the country is eyeing purchases to replace US platforms.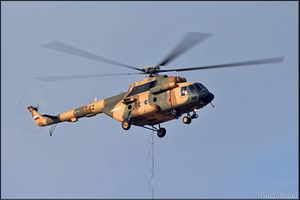 Thailand may look to buy military transport helicopters from Russia, the country's army chief said Tuesday.
According to Army commander-in-chief Teerachai Nakwanich, the Royal Thai Army plans to purchase more Mil Mi-17V-5 helicopters from Russia due to the shortage of funds to replace the U.S. CH-47D Chinook, a supply transport aircraft. The transport helicopters would be used for a variety of purposes including fire-fighting and disaster-relief missions.
The Bangkok Post cited a military source as saying that the Army had proposed buying a total of 12 Mi-17V5 helicopters, though it is awaiting approval from the cabinet which will assess the size of the budget to be allocated.
The Mi-17V-5, which can transport up to 36 soldiers internally or a 4,500 kg load on a sling, can be deployed for a variety of purposes including troop and arms transport, fire support, patrol and search and rescue missions.
The Royal Thai Army already has five platforms ordered in two batches in 2008 and 2014 now operated by its transport unit.
The remarks came as Prime Minister Prayut Chan-o-cha left for Russia for the first formal visit by a Thai premier there in more than a decade.
On Monday, ahead of that trip, Prayut had said that Russian tanks and helicopters would be on the agenda for the visit, which is expected to see the conclusion of several memorandums of understanding. Following those meetings, Prayut will attend the ASEAN-Russia commemorative summit in Sochi before returning to Thailand over the weekend.
Thailand's interest in Russian arms is not new. In February, visits by Deputy Prime Minister Prawit Wongsuwon to Russia had suggested that Bangkok might look to Moscow for its military needs.
On Tuesday, Xinhua cited Prawit as confirming Prayut's comments that Thailand would place an order for helicopters during his visit to Moscow, though the report cited that the deal was for just ten helicopters, not 12, and that the helicopters would incur a combined cost of about $86 million.