The Duke of York and the Kazakh Oligarch
New details on Prince Andrew's dealings with the Kazakh elite further underscore London's relationship with Astana.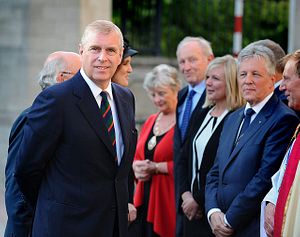 While unprecedented protests rocked Kazakhstan last weekend–ending in hundreds of arrests, including the detentions of dozens of journalists and civic activists–a scandal of a different sort was unfurling that tied back to the Kazakhstani elite. According to a report in the Daily Mail, a series of emails revealed how healthily Britain's Prince Andrew profited from questionable deals involving the son-in-law of President Nursultan Nazarbayev, Timur Kulibayev, and Western companies eager to access the Kazakhstani market.
Some of the information pertaining to Prince Andrew's dealings have been known for years. For instance, the Duke of York's 2007 sale of his Sunninghill Park estate to Kulibayev–which earned Prince Andrew £15 million ($22 million), some £3 million above the asking price–was initially reported soon after the transaction. However, the new emails reveal that, contrary to Buckingham Palace's assertions, Prince Andrew appeared closely tied to the deal's finalization. As The Telegraph summarized, one of Prince Andrew's aides "allegedly discussed interior design and security arrangements with the wealthy Kazakhs," and additionally attempted to land a pair of adjacent fields for a "peppercorn rent." Prince Andrew, meanwhile, made moves to recruit Kulibayev as a client of Coutts, the Queen's bank. As a source at Coutts later said, "Kazakh oligarchs are the sort of people we generally don't touch with a bargepole."
The leaked emails further reveal that Prince Andrew, while in his position as a special representative for trade, attempted to land a £3.83 million commission by linking a Greek utility firm and Swiss finance house with Astana. The deal, as it is, eventually fell through; as The Telegraph clarified, the proposal "fell apart in late 2011 when Kazakh police opened fire on a group of striking oil workers[.]" However, Buckingham Palace initially "suggested the email was a forgery, before seeking to block its publication, saying that while it was genuine it would be a breach of the Prince's privacy."
The leaks are but the latest revelations surrounding Prince Andrew's–and Buckingham Palace's–dodgy relationship with post-Soviet autocracies. The Duke of York already boasts a warm relationship with Azerbaijan's Ilham Aliyev, and a BuzzFeed News report last week uncovered funding from Baku for the Queen's 90th birthday celebration.
However, it is London's relationship with Astana that boasts perhaps the most notable, or at least outsized, track record. Prince Andrew's cozy relations with Astana are already well-documented: Not only is he reportedly close to socialite Goga Ashkenazi, who has a pair of children with Kulibayev, but he's gone goose-hunting with Nazarbayev. Likewise, former Prime Minister Tony Blair has helped spin Astana's rights record on numerous occasions, while Blair's former home secretary, Jack Straw, picked up a part-time job in 2015 paid for by Astana. Those tied to Blair who've profited from Astana's largesse also include both his wife and former PR head.
London, of course, has come under unstinting fire recently for its role in allowing post-Soviet elites to park their ill-gotten gains abroad–such that "Kleptocracy Tours" have begun shining light on the U.K.'s role as a supply-side vehicle for transnational corruption. In light of the latest revelations, numerous U.K. MPs have called for a probe into the Duke of York's relations with Astana. As Chris Bryant, the Shadow Commons leader, said, "When I was at the Foreign Office, nobody could ever tell whether [Prince Andrew] was looking out for himself or whether he really had the interests of the country at heart."
Unfortunately, it doesn't appear the new revelations–nor the hundreds of arrests a few days ago–will slow those Westerners bent on softening Kazakhstan's image in the West. On Wednesday Astana shared a photo of Nazarbayev chortling along with a trio of Western members of the Kazakhstani president's "International Advisory Board": former Austrian Chancellor Alfred Gusenbauer, former Italian Prime Minister Romano Prodi, and former Polish President Aleksander Kwasniewski. (Despite being a member of the council, Blair was not featured in the shot.)
None of these Westerners have begun spinning last weekend's mass crackdown, but a recent report from The Astana Times may offer a taste of what line of rhetoric will come. According to The Astana Times–a publication founded by a public relations firm at the behest of the Kazakh government–the protesters were merely "some citizens concerned about [proposed land reform] changes" and "apparently unaware" of a commission tasked with handling the proposed reforms. The outlet offered no further commentary on the protests and those Westerners close to Nazarbayev's inner circle, including Prince Andrew, have thus far remained silent on the matter.