The Implications of Tightening Russia-Uzbekistan Ties
By improving frosty relations with Tashkent, Moscow can boost its leverage over Central Asia as a whole.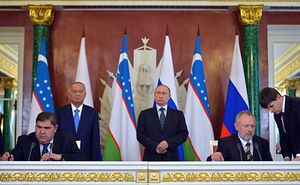 On March 30, 2016, TASS news agency reported that Russia agreed to pardon 95 percent of Uzbekistan's outstanding debt to Moscow. This landmark deal was heralded by the Russian state media as a major breakthrough in improving the often-strained relationship between Russia and Uzbekistan.
Negotiations between Moscow and Tashkent over Soviet-era debt had been suspended for two decades, due to Uzbekistan's insistence on claiming its share of the Russian Diamond Fund. Due to the opacity of Uzbekistan's state media and political system, the exact terms of the debt agreement remain shrouded in secrecy.
Nevertheless, a settlement on this historical dispute is a major U-turn from the nationalist sentiments so frequently voiced by Uzbekistan's president, Islam Karimov. Karimov has consistently shunned the legacy of Soviet leaders like Vladimir Lenin and Joseph Stalin in his speeches and has expressed his disdain for "Russian imperialism" in all of its forms, from the looting of Uzbekistan's cultural heritage to a potential Russian military base presence.
Despite lingering question marks surrounding the debt deal's terms, Russia's thaw in relations with Tashkent is a shrewd foreign policy decision that will contribute greatly to bolstering Russian leverage over Central Asia for two reasons. First, it will allow Russia to strengthen its economic position relative to China in Central Asia. Second, common security interests between Moscow and Tashkent provide the foundations for a security partnership that could be vital for long-term stability in Eurasia.
Economic Implications of the Tightened Russia-Uzbekistan Partnership
Uzbekistan's weakening economic position provides Russia with an opportunity to consolidate a durable trade partnership with Tashkent. While official and IMF statistics pin Uzbek economic growth levels at 7.5 to 7.8 percent, Bruce Pannier for RFE/RL recently argued that there are serious economic problems behind this favorable growth façade. Rising inflation, a black market charging twice the official rate for the national currency, and difficulties paying state employees all suggest that Uzbekistan is in need of foreign investment.
By settling a debt dispute with Tashkent that dates back to the early 1990s, Russia has taken its first step toward capitalizing on Uzbekistan's growing vulnerability. It also allows Russia to harness its competitive advantages relative to its principal trade rivals in Uzbekistan: China and South Korea. These advantages are derived from Russia's considerable leverage over the Uzbek economy. Three million Uzbek migrant workers live in Russia, and their productivity is responsible for 25 percent of Uzbekistan's GDP.
The energy sector promises to be a particularly lucrative source of joint Russia-Uzbekistan investment. In synchrony with its debt forgiveness pledge, Russian natural gas giant Gazprom signed a landmark agreement with Uzbekistan's state gas company UzbekNefteGaz to purchase 4 billion cubic meters of Uzbek natural gas. While Russia maintains an entrenched energy trade partnership with Kazakhstan, it has historically looked to supplement its ties with Astana with deeper relations with another energy-rich Central Asian partner.
Turkmenistan was the Kremlin's trade partner of choice for much of the post-1991 period. But distrust has brewed since Ashgabat alleged that Gazprom exploded its Turkmen pipeline in 2008. The complete suspension of energy linkages with Turkmenistan earlier this year left Russia without a viable alternative partner. Russia's gas deal with Uzbekistan arrives at a perfect time, as Moscow seeks to fill that void and enhance its stature as an energy superpower.
Improved relations between Uzbekistan and Russia will also enhance the modest uptick in manufacturing trade linkages between the two countries. Western sanctions against Russia had severe reverberations for Central Asian economies, especially in the manufacturing sector. Automobile sales to Russia from GM Uzbekistan had fallen to one-sixth of their 2012 levels by January 2016, though a subsequent recent 3 month increase (the most consistent growth since the pre-sanctions period) is a positive sign.
A more liberal flow of investments resulting from the recent debt deal should escalate this improvement. Uzbekistan has ruled out joining the EEU, due to Karimov's concerns about potential Russian sovereignty violations. But expanded Moscow-Tashkent trade linkages in a diverse array of sectors could allow Uzbekistan to eventually form a trade partnership resembling the association agreement pact the EU recently signed with Ukraine. This development would greatly strengthen Russia's position as it seeks to prevent China from emerging as the undisputed economic hegemon in Central Asia.
Security Implications of a Potential Russia-Uzbekistan Thaw
Closer Russian economic ties with Uzbekistan could also result in tighter bilateral security cooperation. Even though Uzbekistan is a member of the Shanghai Cooperation Organization (SCO), Russian journalist Sergei Blagov recently noted that Tashkent's historic reluctance to cooperate with the Russian-led Collective Security Treaty Organization (CSTO) has stymied progress toward durable security policy coordination against common threats facing the region.
Putin's efforts to restrict the intake of or pressure Uzbek guest workers into leaving Russia could give Uzbekistan the impetus it needs to change its policy towards the CSTO. In order to pander to nationalist anti-immigrant sentiments in Russia during a time of economic recession, and restrict the prospect of radicalization from Islamic immigrants, Putin has imposed Russian-language tests on new migrants and denied entry to 1.5 million migrants from 2013-2015 for previously tolerated immigration law violations.
As a result of these restrictions, the Uzbek migrant population declined by 17 percent in 2015. This trend is very problematic for Karimov, as job opportunities in Uzbekistan that provide the quality of life guest workers have become accustomed to in Russia are scarce. These discontented workers could become attracted to liberal or Islamic extremist organizations, undermining Karimov's regime security. This is an outcome that both Moscow and Tashkent would seek to avoid. And the fear of instability in Uzbekistan could also be a catalyst for deeper security cooperation and/or a deal to prevent a mass exodus of Uzbek migrant workers from Russia.
In tandem with improved bilateral economic ties, Uzbekistan's rhetorical willingness to cooperate with Russia on combating Islamic extremism has expanded over time. In December 2014, Karimov asked Putin for Russian military assistance in combating ISIS. He also praised Russian military forces in Central Asia for their role in preserving regional peace and security. Uzbekistan has also mirrored Russia's hardline anti-Islamist stance, with the arrest of at least 200 migrant workers returning home in November 2015, demonstrating its commitment to pre-empting possible domestic terrorism.
In addition to improved counter-terrorism cooperation, Uzbekistan has a vested interest in cooperating with Russia to ensure that its borders with Kyrgyzstan, Tajikistan and Afghanistan remain secure. After Kyrgyzstan sought assistance from the CSTO in March 2016, Uzbekistan agreed to withdraw troops from the border town of Chalasart. This resolved the diplomatic crisis precipitated by an Uzbek military deployment to Chalasart, which had resulted in the shutdown of Kyrgyzstan's border with Uzbekistan.
Political instability in Tajikistan also poses a threat to Uzbekistan's security, due to the strained relations between the two countries. The presence of Russian peacekeepers in Tajikistan is reassuring for Uzbekistan. As Dushanbe's economic viability and Rahmon's regime security depend so greatly on Moscow's assistance, Russia can use its strengthened relationship with Uzbekistan to deter a flare-up of tensions between the two countries.
Uzbek officials have also been critical of NATO's swift withdrawal of troops from Afghanistan. The recent Taliban strike in Kaldor, near Uzbekistan's eastern border with Afghanistan is yet another reminder of the need for a stable military presence in Afghanistan to restrict the spillover of terrorism. In light of these lingering threats, Russia's greater willingness to intervene militarily to pre-empt security crises could enhance its stature amongst Uzbek officials fearful of growing instability in Central Asia.
However, as Catherine Putz noted in her recent article for The Diplomat, Uzbekistan has been opposed to SCO involvement in Afghanistan, but is open to Russian peacekeepers operating outside the SCO umbrella. These demands will have to be reconciled for durable cooperation between Moscow and Tashkent on Afghanistan to become a reality.
Despite many lingering sources of disagreement, Russia's decision to thaw relations with Uzbekistan through debt forgiveness is a vital step toward expanding its influence in Central Asia. In addition to consolidating an economic partnership with Tashkent, a host of common security concerns have the potential to make Uzbekistan a valuable strategic ally for Russia in the region, should the normalization process continue. While Russia's efforts to build a viable EEU have gained widespread coverage, this much more subtle, under-the-radar diplomatic gesture from Putin to Karimov might end up having even greater implications for Eurasian security and Russian geopolitical influence in the years to come.
Samuel Ramani is an MPhil student in Russian and East European Studies at St. Antony's College, University of Oxford, specializing in post-1991 Russian foreign policy. He writes regularly for the Washington Post, Huffington Post, Kyiv Post and his work has been featured in the Moscow Times, Carnegie Endowment, and Hudson Institute amongst others.