Russia Fearmongering About Afghan Refugees
Putin is warning of "militants under the guise of refugees" in an effort to dissuade Central Asian states from cooperating with U.S. evacuation efforts.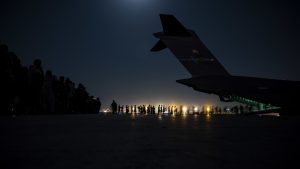 As the United States and its allies rush to extract thousands of people from Afghanistan, Russian President Vladimir Putin has warned about "militants under the guise of refugees." Tapping into long-running tropes about the spillover of extremism from Afghanistan into Central Asia, Putin is clearly pushing Central Asian states to limit the extent of their cooperation with the Western airlifts out of Kabul.
On August 22, in a meeting of United Russia party members, Putin derided Western requests for staging assistance from Afghanistan's neighbors.
"Our Western, let's say, partners are persistently raising the issue of placing refugees in Central Asian countries before those [refugees] receive visas from the United States or other countries… They think they can send them without visas to our neighbors [Central Asian states], but refuse to receive them in their own countries without visas? What a humiliating approach to solving this issue is it?" 
Putin made the argument that if refugees entered Central Asia, they could easily get to Russia.
"They are in one way or another our closest partners and allies. We share common borders, but there are no visa restrictions. Imagine that refugees entered any of these countries. Who is among these refugees, how do we know? There may be thousands of them, or even hundreds of thousands, and maybe even millions. But we and our closest allies do not even have any visa restrictions. And what about our [common] border? It is thousands of kilometers [long]! One can get a car or even ride a donkey, and can go across the steppe. What are we going to do about it?"
Hyperbolic and cold-hearted as Putin's comments are, they resonate with Central Asian governments, which have long had the mantra of "spillover of extremism" echoing in their ears. Moreover, this fear has provided the bedrock on which contemporary Central Asian security policies — including crackdowns on political opposition, Islamist or not — rest.
On August 23, Putin joined in a video conferenced extraordinary session of the Collective Security Treaty Organization's Collective Security Council that Russia initiated, specifically considering the matter of Afghanistan. The extraordinary session — chaired by Tajik President Emomali Rahmon — was extra extraordinary thanks to the attendance of Uzbek President Shavkat Mirziyoyev. Uzbekistan is not a member of the CSTO, having left the organization twice (in 1999 and 2012). The leaders of member states Armenia, Belarus, and Kyrgyzstan also attended, in addition to the CSTO Secretary General Stanislav Zas.
A Kremlin readout of the meeting highlighted the "importance of preventing the infiltration of radical Islamism in the CSTO member states" as a topic of discussion, alongside extremist recruitment via the internet and social media and drug trafficking. 
Russia intends to keep this theme alive. Foreign Minister Sergey Lavrov said on August 24 that the Afghanistan issue will top agendas at both the CSTO and SCO summits — both scheduled for September in Dushanbe, Tajikistan.
"Dushanbe will host a CSTO summit in a couple of weeks, in mid-September, and also an SCO summit," Lavrov said. "Clearly, the issue of Afghanistan and the consequences of U.S. actions, which haven't been agreed with anyone and are now affecting our neighbors, will be the focus of attention."
Belarusian President Alexander Lukashenko suggested a joint meeting between the CSTO and SCO. The two organizations largely share rosters, with the major exception being that the SCO also includes China, India, and Pakistan (and Uzbekistan). The idea of uniting in some form is not new. In October 2007, in Dushanbe, a memorandum of understanding was signed between the twp secretariats and in 2018 then-CSTO Secretary General Yuri Khachaturov said closer ties were in the offing.
While Russia is certain to push its point with Central Asian leaders, the countries of the region have long engaged with the U.S. withdrawal process. For example, Uzbekistan hosted several Taliban delegations in pursuit of a negotiated settlement to the war and worked closely with the United States in doing so.
Despite a rough beginning — including mixed signals from Uzbek authorities — both Uzbekistan and Tajikistan have accepted flights of those fleeing Afghanistan. For example, on August 21 four Turkish military planes landed in Tajikistan, evacuating Turkish troops. At the same time, according to an RFE/RL report, Uzbekistan accepted 400 refugees. On August 20 U.S. State Department Spokesperson Ned Price included Kazakhstan, Tajikistan, and Uzbekistan on a list of countries through which Americans, and others in some circumstances, had already or would soon begin transiting on the way out of Afghanistan. 
Putin's comments, noted above, point to visas being the reason the U.S. wasn't taking direct flights of refugees. And it's no secret that there is broad anti-immigrant and anti-refugee sentiment in some segments of the American public. At the same time, other Americans are fundraising and organizing to welcome Afghan refugees. The more practical matters of distance and immediacy are important to consider when looking at the U.S. airlifts out of Kabul.
With the Taliban drawing a "red line" on August 31 and a spokesman telling Sky News Monday that there would be "consequences" if U.S. forces — such as those manning the airport in Kabul — stayed beyond August, the rush is on to get as many people as possible out of immediate danger in Afghanistan as quickly as possible.  
U.S. President Joe Biden suggested on August 22 that U.S. evacuation efforts might extended beyond August 31, if necessary, and he's now expected to make a decision soon on whether to formally extend the withdrawal deadline, under pressure from military advisers.
In the meantime, the U.S. is relying on an array of countries — including in Central Asia — to help facilitate a massive humanitarian evacuation. Putin warning of "militants under the guise of refugees" is a clear effort to undercut the United States as it tries to save Afghan lives.