What's Behind Russia's Rapprochement With Pakistan?
What does the Kremlin's emphasis on Pakistan say about the state of Russia-India ties?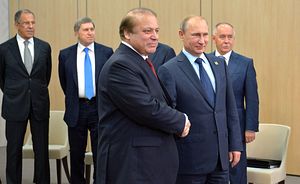 A Russian-Pakistani renaissance started in 2014 when the Kremlin removed its arms embargo against Islamabad. In 2015, Moscow agreed to sell four Mi-35M helicopters to Pakistan and welcomed Islamabad to join the Shanghai Cooperation Organization (SCO). This year already, Russian Army Commander-in-Chief Oleg Salyukov has announced the first-ever "mutual special drills in mountainous terrain," and Khawaja Asif, defense minister of Pakistan, visited Moscow to further discuss enhancing cooperation.
Both nations additionally agreed on a construction project to transfer liquefied natural gas (LNG) from Karachi to Lahore. The pipeline could potentially supply 30 percent of the Pakistani population and assist in resolving the country's ravaging energy crisis, as well as extol Russia's influence.
The current rapprochement has taken many by surprise, as it might impinge upon Moscow and New Delhi's cooperation in the long-term. However, Russia is still willing to proceed. What stands behind the Kremlin's motives?
Russia still reveres its strategic and lengthy partnership with India and remains its largest arm supplier over the past three years. Both nations also are experiencing blossoming economic relations, with Narendra Modi and Vladimir Putin looking for a bright future together.
Russian-Indian relations might seem flourishing on the outside; inside, however, they have experienced a downward trend.
The Kremlin has grown cautious lately about India's augmenting defense cooperation with the United States and other Western nations. Selling weapon remains a tenet of Russia's foreign policy strategy and its soft power outreach; however, the country's market share in India has been on a gradual decline for the past several years. In contrast, the U.S.-India arms deals  have topped a record amount of $9 billion.
New Delhi is also planning to spend an additional $250 billion in the forthcoming decade for strengthening its defense. Therefore, it is becoming evident to the Kremlin that the total share of the Western nations and the United States, in particular, will increase amid the continuous erosion of Russia's current monopoly.
Russia remains one of the major contenders for a tendering procedure for building India's fourth aircraft carrier; however, Indian defense officials have already grown concerned about Russia's ethics after INS Vikramaditya's three-fold cost increase and a five-year delay. Moreover, Moscow agreed to participate in India's "Make in India" national program, but this has only further revealed its inability to live up to many of New Delhi's expectations. In particular, difficulties are coming to light during the Indo-Russian fifth generation fighter jet multibillion-dollar program, with Russia currently failing to fulfill most of India's indigenous production goals.
New Delhi's growing dissatisfaction with the mutual partnership and the country's quest for diversification are perpetuating the shift. India needs improvements and is keen on trying other suppliers; however, Moscow sees these moves as impinging on its current stance.
The Kremlin wants to slow down the impending downward trend, as well as leverage its influence over New Delhi, by skillfully utilizing the "Pakistan card." By engaging with Pakistan, Russia leaves New Delhi with a hard choice: to honor its strategic commitment to Russia and make concessions or to observe Russian-Pakistani rapprochement, which could potentially erode India's military advantage.
This maneuver comes in line with the Kremlin's realpolitik strategy, which has become traditional over the recent years. In 2010, Vladimir Putin famously said that "Russia is not maintaining military cooperation with Pakistan as it takes into account the concerns of Indian partners." Moscow was sensitive to the India-Pakistan rivalry before; however, altering geopolitical realities goaded Russian foreign policy into exploring new horizons.
Russian-Pakistani relations were far from harmonious during the previous decades. The Kremlin supplied Pakistan with weapons in 1960s but both countries eventually faced a major split, as Moscow selected New Delhi to be its strategic regional partner. Furthermore, Moscow and Islamabad had a proxy conflict during the Soviet invasion of Afghanistan, with Pakistan openly supporting the mujahideen. The geopolitical vector did not change after the USSR's collapse. It is only now, after a quarter of a century, that Moscow is looking to rekindle bilateral relations.
The Kremlin has chosen its moment wisely. Islamabad has grown cautious lately about its alliance with the United States, as it perceives a lack of reliability from the White House. In particular, the recent U.S. refusal to subsidize Pakistan's purchase of F-16 fighter jets may have pushed both countries farther away from each other, with Russia potentially emerging as an alternative supplier.
Interestingly, though, Moscow is not ready to move full-speed ahead and is keen on maintaining its distance while portraying other reasons for its recent engagements with Islamabad.
It is not a secret that Russia is extremely alarmed by the growth of ISIS and a possible collapse of Afghanistan, to the extent that it is even ready to engage with the Taliban. By actively coordinating with Pakistan, Moscow should be able to halt the radical jihadists' future spillover to Central Asia. Therefore, Russia is trying to portray its own security concerns as the raison d'être behind the rapprochement.
Russia will not become a major Pakistani partner any time soon, and will remain closely connected to India. Still, the Kremlin's move delivers a strong message to the Modi administration. In effect, New Delhi acknowledges Moscow's security concerns but also understands that the Russia-Pakistani partnership would continue to evolve proportionally to India's cooperation with the West.
Dmitriy Frolovskiy is a Moscow-based political analyst and writer. His writings have been featured in the Huffington Post, Foreign Policy Association, Russian International Affairs Council and others. Follow him on Twitter and Facebook.