US Won't Subsidize Pakistan's Purchase of F-16 Fighter Jets
The United States told Pakistan to "put forward national funds" for the purchase of eight F-16 fighter aircraft.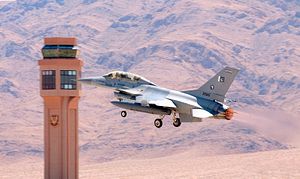 Yesterday, the U.S. State Department told reporters that Pakistan will not receive a loan under the so-called Foreign Military Financing (FMF) program to finance the purchase of eight U.S.-made F-16 Block-52 fighters due to opposition by U.S. lawmakers.
"While Congress has approved the sale, key members have made clear that they object to using FMF (foreign military financing) to support it. Given Congressional objections, we have told the Pakistanis that they should put forward national funds for that purpose," U.S. State Department spokesman John Kirby said.
This means that Pakistan will have to pay the $700 million bill for the weapons deal all by itself—a very unlikely scenario. Originally, Islamabad was supposed to pay around $270 million, with the rest of the money made available by the United States through a FMF subsidy. Without the FMF allocation, the price tag for the eight F-16 fighter aircraft would increase by two-and-a-half times the original cost.
"I continue to oppose any taxpayer dollars being used at this time to support this sale given that Pakistan is providing safe haven to terrorist groups and refusing to target the Haqqani network, which attacks U.S. troops and threatens the future of Afghanistan," said Senator Bob Corker (R-Tennessee), chairman of the Senate Foreign Relations Committee, in statement in March. "Prohibiting a taxpayer subsidy sends a much-needed message to Pakistan that it needs to change its behavior (…)."
U.S. lawmaker opposition is nothing new. As I reported previously (See: "Will US Congress Stonewall F-16 Sale to Pakistan?"), even generally Pakistan-friendly lawmakers of the Republican Party fear that the F-16s will not be used to battle militants within Pakistan but rather be deployed to deter India. In March 2015, the U.S. House Committee on Foreign Affairs already froze $150 million in FMF and put a hold on the delivery of a number of used U.S. Navy cutter vessels given that they were not considered critical in helping fight extremists in Pakistan.
Syed Tariq Fatemi, special assistant on foreign affairs to Pakistani Prime Minister Nawaz Sharif, said in comments not specifically addressing the sale that "lack of sufficient appreciation for Pakistan's whole-hearted efforts it was undertaking jointly with the U.S. administration, in countering the threat posed by terrorism," Reuters reports. It is now highly unlikely that Pakistan will procure the U.S.-made aircraft.
The Pakistan Air Force operates around 70 F-16 fighter aircraft, as I explained in October 2015:
Forty F-16 fighters were first introduced to Pakistan's Air Force (PAF) in the 1980s. However, due to the 1985 Pressler Amendment, the United States cancelled the sale of an additional 28 F-16s in 1990 and imposed sanctions on Pakistan because of its burgeoning nuclear weapons program.

In 2006, a contract was signed between the United States and Pakistan over the purchase of 18 new F-16C/D block 50/52 aircraft with an option for another 18 more. The first three F-16C/Ds were delivered in June 2010 with the rest inducted into the PAF by the end of 2012. That same year, the United States delivered 14 used F-16s to the PAF.
It was only in February of this year that the U.S. State Department approved the possible sale of the F-16 fighter jets to Pakistan.