What's Behind the New Singapore-Australia Defense Deal?
The significance of an agreement on military training needs to be put into perspective.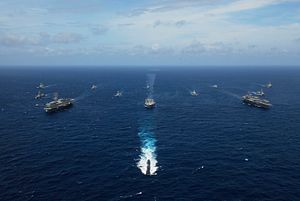 On May 6, Singapore and Australia announced a series of moves that they had undertaken to boost their defense relationship. While much of the initial media coverage has focused narrowly on a new, multi-billion dollar agreement to jointly develop military training areas and facilities in Australia and what it says about China's regional role, this development is in fact better understood within the broader strategic context of expanding bilateral ties between the two capable Asian states to address an array of shared challenges.
According to Singaporean and Australian officials, Singapore will invest A$2.25 billion ($1.7 billion) to expand its military facilities in northeastern Australia, which will see the number of Singapore Armed Forces (SAF) troops the city-state has on rotation in the country go from 6,000 to 14,000 over the next 25 years. This includes the upgrading of facilities in Townsville and Shoalwater Bay in Queensland.
The move is without doubt significant. Land-scarce Singapore has long looked to other countries for room to train its armed forces, and locking in such an important arrangement for a quarter-century is no small feat. Defense officials have said that the expanded area – ten times the size of Singapore – would create room for new projects, including a new range as well as a mock city for troops to hone urban warfare skills. The city-state's defense minister, Ng Eng Hen, sees this as a "quantum jump" in the quality of SAF training.
But while the move is notable, it is also important to put it in context in a number of ways. First, as both Singapore and Australia correctly emphasized, the arrangement on military facilities represents an expansion of something existing rather than just a reaction to new developments. Singaporean troops have been training in Australia since 1990, and the defense relationship dates back further to 1971 when both countries joined the Five Power Defense Arrangement along with the United Kingdom, New Zealand and Malaysia. Canberra is also just one of several countries that the city-state has such an agreement with.
Second, this is only one of several important new initiatives that the two sides have decided to undertake in the defense realm. According to a press release issued by Singapore's Ministry of Foreign Affairs (MFA) last Friday, apart from the military training pact, both countries have agreed to upgrade most of the key building blocks of their defense relationship – including exchanges, exercises and dialogues. This too is a significant development in its own right. Among other things, they have agreed to elevate Exercise Trident, first held in 2013, to a signature joint bilateral military exercise; enhance military and civilian personnel exchanges; boost intelligence and information-sharing in areas such as counterterrorism; and launch a new Track 1.5 Dialogue later this year to discuss regional and security issues.
The broadening of defense ties is also occurring as only one aspect of a broader boost to the overall Singapore-Australia relationship. Indeed, a point that some media accounts missed is that the defense moves revealed by the two countries recently are part of an ongoing effort to implement a comprehensive strategic partnership (CSP) that they inked last June during the fiftieth anniversary of their diplomatic relations. The landmark agreement reached by the two sides announced last week also included other areas such as trade, innovation and the arts. Even the defense aspects of the boost also have spillover effects on other dimensions as well. To take one example, the military training agreement affects politics and economics as well since Singaporean investment could boost jobs and trade in Queensland, a fact not missed by Australian Prime Minister Malcolm Turnbull who may call an early election in July.
Third and lastly, while concerns about a rising China do factor into defense arrangements by countries in the region such as this one between Singapore and Australia, it is only one of several considerations. Like many other countries in the region, Singapore's military needs are based off of an analysis of the full range of security challenges it needs to cope with, including maritime piracy, counterterrorism and a continued wariness with neighbors like Malaysia and Indonesia. The expansion of military training – an arrangement which began in 1990 and was motivated by a changing regional balance of power in the Asia-Pacific following the end of the Cold War rather than the concerns about Chinese assertiveness we hear today – is designed to help the city-state confront this full set of challenges rather than any single one in particular.
So while the Singapore-Australia military training deal is without doubt significant, we ought to view its significance as part of a broader, decades-long story of the growing strategic convergence between two capable Asian partners rather than some sort of knee-jerk reaction to Chinese moves in the region.