Why is Singapore Eying a Military Base Deal With New Zealand?
A closer look at a new potential opportunity for the city-state to train its fighter pilots.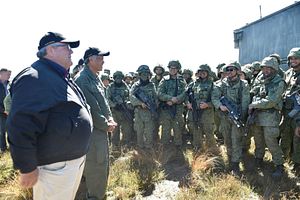 Over the weekend, New Zealand's Defense Minister Gerry Brownlee confirmed that Singapore and New Zealand were in discussions that could see the city-state set up a pilot's training base at Ohakea Air Base.
Talk of such a deal itself is not new, since both sides have been exploring such additional training opportunities. Nonetheless, it does reflect Singapore's need for new areas as well as the growing importance of the Singapore-New Zealand relationship.
"I can confirm early discussions have taken place between New Zealand and Singapore about Ohakea being used as a potential training base for Singapore pilots," Brownlee said according to Radio New Zealand. According to local media reports, the training would be for F-15 fighter jets and would see up to 500 extra personnel stationed there.
Brownlee's confirmation comes as no surprise. Singapore already does some training in New Zealand, and both sides had already been exploring additional training opportunities. Indeed, two Singapore F-15s were at the base this weekend for celebrations commemorating the 80th anniversary of the Royal New Zealand Air Force.
More broadly, as a land-scarce country, Singapore has long looked to other countries for room to train its armed forces. For instance, during the visit of Singapore's Prime Minister Lee Hsien Loong to Washington last August, both sides announced that they were exploring the possibility of the Singapore Armed Forces to conduct training in Guam in the western Pacific, which would constitute an expansion of existing training that the city-state already does in the United States (See: "Strengthening US-Singapore Strategic Partnership").
Finding new opportunities for training has not always been an easy task. A case in point is the deal that Singapore reached with Australia last year, which has since run into some domestic headwinds in spite of the enduring logic of the agreement itself for both sides (See: "The Enduring Logic of the New Australia-Singapore Military Training Deal").
New Zealand is among the stronger candidates for the expansion of training opportunities. Singapore and New Zealand have a defense relationship that dates back decades, with both joining the Five Power Defense Arrangement back in 1971 along with the United Kingdom, Australia, and Malaysia. Brownlee has previously described Singapore as one of the closest military relationships that New Zealand has.
That relationship has also shown signs of strengthening even further of late. When both sides held their inaugural defense ministers' meeting in New Zealand in January, they discussed boosting cooperation through various ways including establishing an annual air force staff talks, starting an education and training working group and operational working group to explore new cooperation initiatives, and mulling further training opportunities.
To be sure, there are other more specific, military-related reasons that New Zealand was chosen for these areas beyond the aforementioned strategic logic. And just like other mulled deals of this ilk, strategic logic is no guarantee of operational realization. Getting there will require the completion of an ongoing feasibility study, as well as an examination of what this would entail. For instance, Chief of Air Force Tony Davies has indicated that certain adjustments would need to be made for F-15s to operate there, including lengthening the runway. Singapore would also have to chip in for the costs and the local community would have to be convinced of the benefits of the move.
New Zealand and Singapore officials have both stressed that the proposal is still in its early stages. But if it does go through, its significance would be clear.