Zeenat Shahzadi's Story: A Young Reporter, 'Disappeared' in Pakistan
In a first, a female journalist in Pakistan has been "disappeared," allegedly by Pakistani intelligence.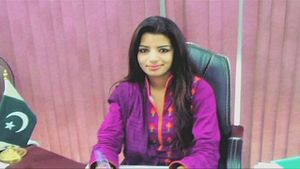 A 24-year-old freelance reporter in Pakistan is thought to be the first female journalist in that country to have been "forcibly disappeared." Zeenat Shahzadi was hot on the trail of a story, tracking the events that led to the disappearance of Indian citizen Hamid Ansari in Pakistan in November 2012, when she fell off the map. An investigation by Saba Eitizaz for the BBC found that her family and human rights organizations in Pakistan believe "she was abducted by security agencies who have been accused of illegally detaining thousands of people under the guise of anti-terrorism operations."
Pakistan's external intelligence agency, the Inter-Services Intelligence (ISI), has been known to target journalists and activists in the past. In 2014, Amnesty International noted that 34 journalists had been killed in Pakistan for their work since the country returned to democratic rule in 2008, after years of rule by General Pervez Musharraf, Pakistan's Chief of Army Staff who staged a bloodless coup against the civilian government in 1999.
Journalists and activists who've reported extensively on the activities of Pakistani intelligence agencies or enabled other public figures to speak on the activities of Pakistani intelligence have been targeted. For instance, Hamid Mir, a journalist for Geo TV was the victim of an assassination attempt in 2014. Last year, Sabeen Mahmud, a human rights activist, was killed by unknown assailants—Mahmud's organization, The Second Floor, had hosted events exploring the ISI's activities. Just last week, Khurram Zaki, a prominent human rights activist, was shot dead by unknown assailants.
Despite her disappearance, Zeenat's case hasn't received the sort of attention afforded to higher profile incidents involving journalists and activists in Pakistan—probably owing to her lack of national fame. But still, as the first female journalist to be "disappeared" in Pakistan, her case merits international attention. As Eitizaz's investigation notes, Zeenat's probe into the circumstances surrounding Ansari's disappearance in Pakistan may have drawn unwanted attention.
Zeenat reportedly forced the hand of a Pakistani government commission to investigate the circumstances of Ansari's disappearance. As a result of her work, Eitizaz notes, "security agencies admitted to the commission that Hamid [Ansari] was in their custody." Ansari was later jailed by a military court and, like clockwork, Zeenat went missing—ostensibly in retaliation for her role in uncovering Ansari's fate.
Hina Jillani, a human rights lawyer who spoke to Eitizaz, notes that the circumstances of Zeenat's disappearance—which occurred in broad daylight in Lahore, a major metropolis—points to the involvement of Pakistani intelligence. "We are convinced that this is the work of the secret government agencies, because when someone is detained by them, the police can be quite helpless, and we have seen that in this case," she said.
Reporters Sans Frontières ranks Pakistan 147 out of 180 in its press freedom index. Given the reach of Pakistani intelligence agencies and their total avoidance of accountability, journalists working in Pakistan that dare probe into their affairs risk paying the ultimate price. This risk is amplified for women journalists—especially those working as freelancers, without the backing of a major agency or national prominence. Zeenat Shahzadi's story, sadly, may not be the last of its kind in Pakistan.