Afghan Air Force's A-29s Only Drop 'Dumb' Bombs in Air Strikes so far
Until now, Afghanistan's new A-29 light attack aircraft have only been using unguided bombs against Taliban targets.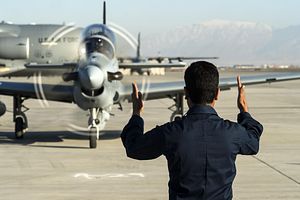 Two months into this year's fighting season, the Afghan Air Force's (AAF) most anticipated new weapon system, the Embraer/Sierra Nevada Corporation A-29 Super Tucano light attack aircraft, has only been using unguided "dumb" bombs for striking Taliban targets, the chief spokesperson for U.S. Forces-Afghanistan and NATO's Resolute Support mission said in a briefing, military.com reports.
"At this point, they are not using precision-guided munitions," U.S. Army General Charles Cleveland said of the A-29 light attack aircraft, "but that certainly is in the forecast and we expect to see that in the coming months."
The aircraft can be armed with up to two 500-pound (226 kilogram) conventional or smart freefall bombs, in addition to short-range air-to-air missiles, machine guns and rockets. The turboprop aircraft is cheap to operate and specifically designed for counterinsurgency missions.
According to General Cleveland four A-29 light attack aircraft "have reached their initial operating capability. So as of about the first of April, those four aircraft were certified to begin conducting close air support operations."
As I reported previously (See: "First 4 A-29 Light Attack Aircraft Arrive in Afghanistan"), the four A-29 aircraft arrived in January 15 of this year in Afghanistan. Another four aircraft arrived at the end of March.
"The other four are still going through their train-up period. I don't know exactly when they will become active, but we think it will be sometime in June," he added. Twelve more A-29 aircraft are slated to be handed over to the AAF by the end of 2018.
As of the middle of last month, the AAF's new light attack aircraft have flown over 260 sorties. As I reported previously, the first confirmed A-29 combat mission was flown in Afghanistan's northeastern province of Badakhshan on April 15. "Three airstrikes were conducted in the Khostak valley during a night sortie killing a total of 12 including three insurgent commanders," I reported.
However, it remains unclear exactly how many combat missions the AAF's A-29 are flying each week. "I would characterize it as they are conducting multiple strikes a week. When I say multiple, we're not talking double digits, but they are certainly conducting two, three, four strikes at this point every week, maybe even more," Cleveland said.
The U.S. general is optimistic about the Afghan National Security and Defense Forces' (ANDSF) performance during this year's fighting season.  "We do believe that the ANDSF has performed better this year than they were performing last year," he said. "They are getting better in employing their newer capabilities."
As I explained previously (See: "Afghanistan: Will the Afghan Air Force Make A Difference in the 2016 Fighting Season?"):
What will determine the impact of the new aircraft more than anything else, however, is how the A-29 will be used during the 2016 fighting season by senior Afghan military leadership, since this will have an direct impact on the military culture of the ANA for the years to come. (…) 

Overall, the induction of the A-29 light attack aircraft will bring the ANDSF a step closer to becoming a more professional fighting force. However, we should not expect that the new planes will be able to reverse overall battlefield failures and the aircraft will certainly not be capable of guaranteeing battlefield successes on its own.
The United States Air Force is spending a total of $427 million under its so-called Light Air Support program to fund the A-29 warplanes. Since 2009, the United States has allocated $2.5$ billion to support the AAF.