Afghanistan: 14 Nepali Security Guards Killed in Suicide Bomber Attack in Kabul
Bomb attacks in Kabul and other parts of the country killed at least 23 on Monday.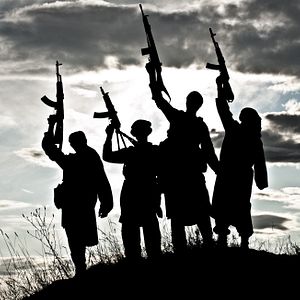 A suicide bomber attack killed at least 14 Nepali security contractors working for the Canadian Embassy on Monday morning in Kabul, Reuters reports. A separate attack targeting an Afghan politician in eastern Kabul left at least one dead and injured five other including the lawmaker. The Taliban claimed responsibility for both attacks.
A third attack took place in Afghanistan's northeastern province of Badakhshan, killing at least eight and wounding 18. The Taliban denied responsibility for the attack. According to Afghan provincial officials, a bomb was planted on a motorbike in a crowded market place. No additional details are available as of now, but the casualty count could rise, the official told Reuters.
The first attack in Kabul occurred at approximately 5:40 a.m. Monday morning in the city's Banae district on the main road to the eastern city of Jalalabad. A suicide bomber on foot struck a minivan filled with Nepali security guards en route to the Canadian Embassy right after it exited a compound housing the security contractors.
The attack killed at least 14 and injured eight. The Afghan Ministry of Interior confirmed that all the victims are Nepali citizens. "A suicide bomber targeted a minibus which was carrying employees working for a foreign company in Banae area, PD9 Kabul city, today at 05:40 AM. As a result, 14 foreign (Nepalese citizen) were killed and nine others were wounded including five Nepalese and four Afghans," a statement on the ministry's homepage reads.
"Shocked to hear the death of 14 Nepalese in a terrorist attack in Kabul today. Strongly condemned this heinous crime against innocent people," Nepal's Deputy Prime Minister and Foreign Minister Kamal Thapa said on Twitter.
Indian Prime Minister Narendra Modi also took to Twitter to condemn the attack and offer India's support: "We strongly condemn the horrible tragedy in Kabul. Our deep condolences to people and governments of Afghanistan and Nepal on loss of innocent lives."
"By organizing this attack, we wanted to show Americans and NATO military officials that we can conduct attacks wherever, and whenever, we want," a Taliban spokesperson said of the attack. The Islamic State affiliate in Afghanistan and Pakistan (Daesh) also claimed responsibility for the attack, releasing the name of the alleged suicide bomber. However, the Taliban mocked the Islamic State's claim.
"They neither have the capability to carry out attacks in Kabul, and nor are they supported by people. Today's attack was carried out by one of our mujahideen, and Daesh claiming they did it, is baseless and hollow," Taliban spokesperson Zabihullah Mujahid told AFP. 
Three hours later, a magnetic bomb purportedly planted in the vehicle of provincial council member Ataullah Faizani detonated in Kabul's Chel Siton area. The blast killed one and wounded the politician and at least three of his bodyguards. The Taliban claimed both attacks were in response to the recent execution of six Taliban prisoners. (On May 8, six Taliban were hanged at Pul-i-Charki prison, located in the outskirts of Kabul.)
The last large scale attack in Kabul occurred on April 19 and left 64 dead and more than 340 injured. Today's bombings marked the first attacks since the beginning of the Islamic holy fasting month of Ramadan on June 6.