Cambodia and Laos: Toward A New Era?
Recent signals suggest that there might be a new era of better ties between the two Southeast Asian states.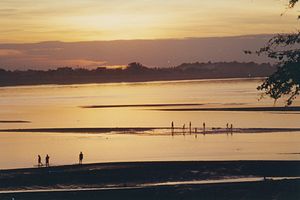 VIENTIANE – Relations between Laos and its neighbors have strained in recent years, particularly over its rush to dam the Mekong River, threatening the food security of 70 million people who live downstream in the delta regions of Cambodia and Vietnam.
But talks between Cambodian Prime Minister Hun Sen and his counterpart in Laos, the recently appointed Thongloun Sisoulith, appear to have improved ties, with plans to lift trade and investment between the two strategically positioned countries. The Hun Sen-Thongloun meeting was also timely given Laos' turn as this year's chair of ASEAN and efforts to improve the country's standing at a broader regional level.
New border crossings are planned amid hopes of lifting tourism numbers, with cash-strapped Laos struggling in the aftermath of political ructions that might spell the end of big spending infrastructure programs as touted by Thongloun's predecessor, Thongsing Thammavong.
Government corruption and the bullying of the Mekong River Commission (MRC) into accepting Thongsing's line on dam construction pushed foreign donors into the sidelines, resulting in the restructuring and financial gutting of the MRC.
Scientists say plans to build dozens of dams along the Mekong River and its tributaries, primarily in Laos, will cause irreparable damage to fish stocks. That catch has been valued at around $17 billion annually by the MRC and is also a much-needed source of protein for people living along its banks.
Additionally, Thongsing had cozied up to Beijing and its expansion plans, which included the construction of railways linking the Laos border frontier with Thailand.
Beijing also wants overland access to Cambodia, a traditional ally, and in particular the port in the southern town of Sihanoukville, from where Beijing had hoped to construct oil and gas pipelines across Cambodia and through Laos to its southern flank.
It was a grand plan. But with the relationship between Laos and Cambodia stuck on the back-burner amid rows over dam construction, any further cooperation on major projects seemed unlikely.
That appears to be changing with the appointment of Thongloun, who is widely seen as pro-Vietnamese, a stance that could upset the Chinese.
Thongloun has also moved on other fronts since coming to power in April. He has ordered officials in the heavily-polluted southern province of Attapeu to reject new mining projects, citing severe damage already caused to the local environment, particularly the muddying of water supplies.
Thongloun has also announced a crackdown on illegal logging and a suspension of the quota system on timber – widely seen as corrupted – and moved to implement educational goals as prescribed by the United Nations.
Trade figures from communist Laos – with ASEAN and individual members — are not made public but reports suggest the numbers remain small. As an indicator, one report quoted government officials in Phnom Penh as saying that Cambodian investments in Laos totaled just $84 million. Among its biggest investors is Acleda Bank, which has built 41 branches across Laos and a loan portfolio valued at more than $90 million.
Observers said this was a start.
Thongsing's tenure at the helm of the one-party state was marred by his attempts to borrow billions of dollars – which economists say his impoverished country could ill-afford – for the construction of rail lines across the country, dams, airports and roads.
His human rights record was atrocious, with a refusal by the authorities to thoroughly investigate the disappearance of civil rights activist Sombath Somphone – who was captured by CCTV footage being whisked away by police. It was a dreadful blight on Thongsing's record.
But it was his inability to maintain friendly ties with Laos' neighbors that had caused unnecessary friction within Indochina and ASEAN, and much concern over trade and the management of the all-important Mekong River.
As such, Thongloun's talks with Hun Sen were a breath of fresh air and perhaps signal an era of better ties between the two countries is to come.
Luke Hunt can be followed on Twitter @lukeanthonyhunt