Chinese Firms Buy Up Global Sporting Icons
China's sports investments — overseas and at home — are booming, thanks to friendly government policies.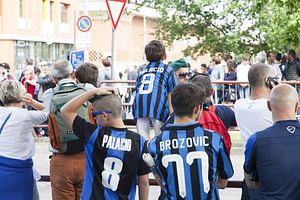 Over the past two years, Chinese firms have been snapping up stakes in big name global sports teams including Inter Milan, Atletico de Madrid, The World Triathlon Corporation and its Ironman brand, Manchester City, and Yokohama Marinos, to name a few.
But what is driving this rush in sports investments?
The government is a major factor. In October 2014, China's State Council announced guidelines, named "Opinions on Accelerating the Development of Sports Industry and Promoting Sports Consumption," that mapped out a plan for expediting the growth of the sports industry. With a target year of 2025, the value of the overall sports industry is expected to reach RMB5 trillion (approximately $850 billion). The guideline also said that government-identified high-tech sports companies will have their corporate income tax rate reduced from 25 percent to 15 percent and that identified companies engaging in cultural and sports activities will have their operations tax reduced to 3 percent.
Chinese investors were quick to move on the policy plan. In 2014, Alibaba's charismatic Jack Ma acquired 50 percent of Guangzhou Evergrande Football Club for $192 million. In early 2015, fellow billionaire Wang Jianlin, chairman of the Dalian Wanda property group purchased a 20 percent stake in Spain's Atletico Madrid for $52 million. Late last year Shanghai-based CMC Holdings made a $400 million investment in City Football Group, the owners of the Manchester City, New York City, Melbourne City, and Yokohama Marinos football clubs. In April, Alisport, Alibaba's sports division, inked a multi-million U.S. dollar deal to develop and to broadcast rugby in China. In May of this year, Chinese electronics and home appliances retailer Suning, of which Alibaba is also part owner, bought a 69 percent stake in the legendary Italian football club Inter Milan for €280 million.
Soccer teams have been the major targets of Chinese enterprises, in part, due to Xi Jinping's self-confessed love for the sport. Prior to assuming the top role, Xi expressed his three wishes for Chinese football, namely: China's qualifying for the World Cup, hosting the World Cup, and winning the World Cup. To date, China has made it to only one World Cup, in 2002.
The other major factor in this new front of Chinese investment is the gradual deregulation of the media sector. Traditionally, almost all sport was broadcast on the government-controlled sports channel, CCTV5. However, this arrangement did not work well with the negotiation of broadcast rights deals. With the relative relaxation of media enterprises in China, alternatives are now becoming available to the increasingly sizable Chinese middle class.
Earlier this week, Baofeng, a Shenzhen-listed video-streaming firm announced its new subsidiary, Baofeng Sports, providing live telecasts and virtual reality content on PC and mobile platforms, beginning with the Chinese Super League in 2016-2017. While LeTV, the internet steaming platform, has obtained the rights for Major League Baseball, the ATP tour, the U.S. Open golf championship, and most recently the World Rally Championships.
"The competition is fierce; major technology and media players will fight hard for good-quality sports media, broadcasting rights firms and sports agencies, while those with global ambitions like Alibaba and Tencent could seek to own international teams," an analyst at Guotai Junan Securities in Hong Kong told the South China Morning Post. China's sports market and related services, from online-to-offline, from content to merchandise is a trillion-yuan business and that is why Alibaba, Tencent, and Wanda are all going after a share of the market.
However, there are also a number of hurdles the Chinese sports market must overcome if it is to achieve the 2025 target. Match-fixing and corruption still plague many Chinese sports. The Chinese Football Association (CFA) is taking it seriously, though. In late 2012, the CFA fined 12 club teams and punished 58 current and former football officials, players, and referees for match-fixing and bribery, including lifetime bans from the sport and even jail terms of up to 5 and a half years for some individuals.
Despite this, Ma Dexing, the deputy editor-in-chief of the popular Chinese sports magazine Titan Weekly, told The Guardian that the CFA still had some way to go: "They will punish athletes or punish teams or punish referees, but they haven't punished any local government officials. In reality, it's local government officials who are conducting things from behind the scenes." Ma said that local officials often had enormous power over football teams within their jurisdictions.